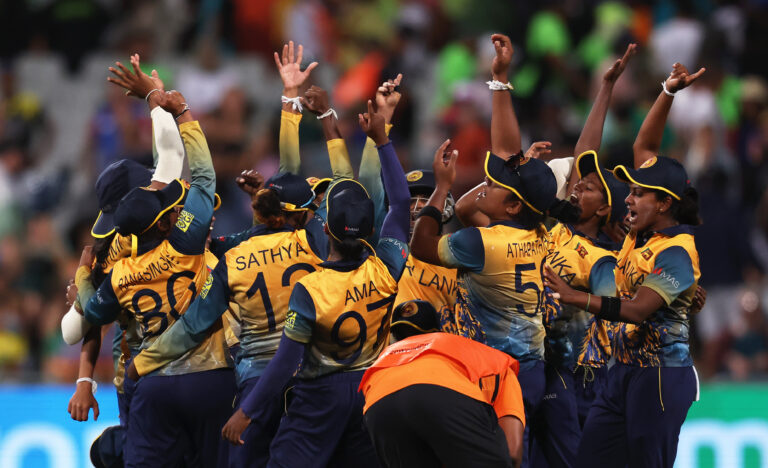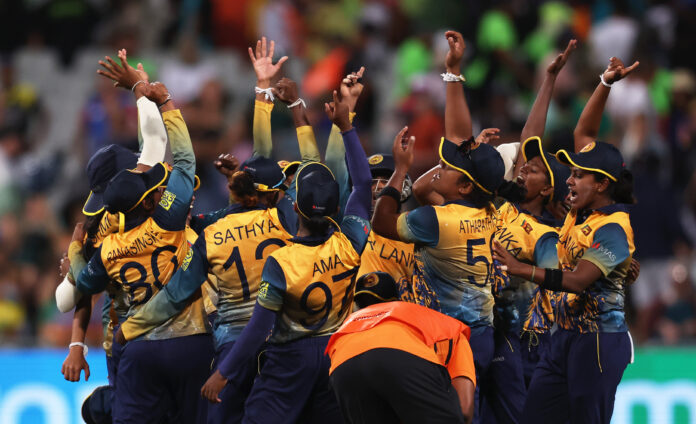 Inoka Ranaweera drops her arms and turns away in frustration, Shabnim Ismail has managed to find the boundary in her first delivery at the crease thanks to a misfield by Oshadi Ranasinghe at short third.
The camera pans to Ranasinghe and you can barely make out her muttering 'Bole ehata kapuna' (the ball spun away) to Sugandika Kumari as the ball is retrieved from the boundary. This is the latest of a string of fielding mishaps Sri Lanka have committed in the last 3 overs, just as they had begun tightening the screws on South Africa.
It started with Nilakshi de Silva mis-judging a catch off Sune Luus in the 17th over. Until that point, Sri Lanka's ground fielding had been excellent, and they had held on to every opportunity that came their way. De Silva, one of Sri Lanka's better fielders was in the hotspot at long on when Luus charged Oshadi Ranasinghe and lofted one towards the boundary. Seemingly more intent on parrying the ball back into play instead of catching it, de Silva's feet just didn't get off the ground and she ended up neither catching nor saving the extra runs.
Read – Athapaththu, Ranaweera star in thrilling upset over South Africa
Luus' wicket at that point, with South Africa needing 40+ in the last four would almost certainly have meant curtains for the hosts, instead, now they were 6 runs closer to the target. Sri Lanka had another chance to close things out in the 19th over when a miscommunication saw both Luus and Sinalo Jafta struggling to get back into their creases – Sri Lanka somehow managed to miss the opportunities at both ends. Having done so well, would it be the fielding that saw them throw away a winnable game? This wouldn't be the first time, as those who have followed the team over the past couple of years could attest.
Despite the bungled chances in the field, fortunately for Sri Lanka, the hosts handled the situation even worse than they did and ended up losing by 3, a result that has been recognized as a massive upset, nearly unanimously. Also, a significant result in terms of Group A, which was expected to be dominated by Australia, New Zealand and South Africa.
Just how momentous was the win for Sri Lanka? Well, the last time the two teams met just a few months ago in August 2022, at the Commonwealth Games in Birmingham, Sri Lanka were bowled out for 46 and lost by 10 wickets. They haven't beaten South Africa at all since 2016 (overall T20I record 10 losses to 4 wins) and their last win in the country came in 2013.
Read More – Can Sri Lanka cause a few upsets in Group A?
Off the field, things haven't been ideal for Sri Lanka. Following the last T20 World Cup in 2020, they spent a year and 8 months on the sidelines with no international cricket. Since then, things have been marginally better (and the bar is LOW), playing 21 T20Is in 2022, a number largely bolstered by the Commonwealth Games and the Asia Cup.
After Sri Lanka's surprise finish as runners up at the Asia Cup last October, their Head Coach Hashan Thilakaratne stepped down and they didn't play any international cricket until this game against South Africa. Preparation for the World Cup involved training camps under one of Sri Lanka Cricket's high-performance coaches Rumesh Rathnayake and a domestic T20 competition that lasted 10 days.
The last time Sri Lanka beat a host nation in a World Cup was back in 2013. The 2013 ODI World Cup in India saw them beat the hosts and England for the first time, an achievement so momentous that those in the Women's cricket circuit still talk about it, a decade later.
Chamari Athapaththu and Inoka Ranaweera, the stars of Sri Lanka's win at the Wanderers, were just making their way into International Cricket in 2013. Athapaththu was a couple years into her career and already showing signs of promise, Ranaweera was in her 2nd game when Sri Lanka beat India in Mumbai.
Read Also – Gunaratne returns as Sri Lanka name squad for T20 World Cup
In the years that followed, they (and those who watched Sri Lanka at that World Cup) would have expected fewer and fewer of these wins to be termed 'upsets'. Yet, in 2023, a decade later, the fact that beating South Africa is a shock shows how little Sri Lanka have progressed in a decade or indeed regressed.
2013 SHOULD have been a watershed moment in Sri Lanka's cricketing history, the springboard to greater things. It didn't turn out that way. As much as the team's fielding has cost them games in the past, dysfunction, mismanagement or just general apathy towards the women's game, has cost them far more. The running of the game has failed the Athapaththus and Ranaweeras of the last decade. 2023 might be too late for them, but the powers that be owe it to the Vishmi Gunaratnes and Harshitha Samarawickramas of the next decade to not blow it again.