Sri Lanka Women's 3×3 basketball team hit the streets of Birmingham on the 29th of July 2022, taking on Kenya & Scotland on the first day of the tournament.
It was a disappointing start for the Lankan lasses as they were defeated with huge margins and then lost again to Australia the following day to be knocked out of the tournament.
Individual Points Scored
| | | | | |
| --- | --- | --- | --- | --- |
| Name | Kenya | Scotland | Australia | Total points Scored |
| Taniya Perera | 3 | 3 | 0 | 6 |
| Nihari Perera | 3 | 2 | 0 | 5 |
| Chalani Perera [C] | 2 | 0 | 0 | 2 |
| Lubna Morseth | 0 | 0 | 2 | 2 |
Game 1 – Kenya Vs Sri Lanka
In the game of 3×3 basketball, matching up to the opponents' intensity and tempo is a key component of success. With the youngsters in the Sri Lankan side, you would expect that not to be a problem.
Kenya started off the game by drawing first blood, while Chalani Perera scored first for SL. Kenya found their pace in the game and dominated the court. They used their height efficiently and created mismatches in nearly all offensive plays to score.
Taniya Perera and Nihari Perera made their way to rim for a couple of buckets but Sri Lanka's accuracy in shooting in tough situations cost them the win as Kenya won comfortably.
Final Scores: Kenya 21 – Sri Lanka 8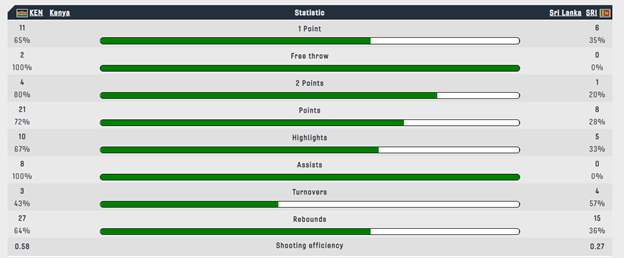 Game 2- Scotland Vs Sri Lanka
Sri Lanka struggled from the start in all departments. The Scots kept them scoreless for the first 5 minutes until Taniya Perera broke the silence with a penetration towards the rim.
The Lankans missed their chances in scoring beyond the arc on account of the Scots' intense defensive strategy.
Sri Lanka showed some good defensive skills but the Scots created ample second chances to score with the rebounds.
Final Scores: Scotland 21 – Sri Lanka 5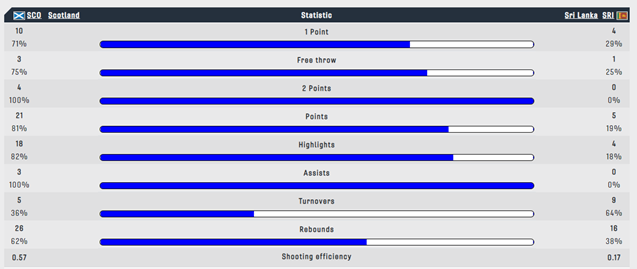 Game 3 – Sri Lanka Vs Australia
Sri Lanka's disappointing run at the tournament continued, this game was all Australia. However, the Aussies are the defending Champions, so it was always going to be a tough game for Sri Lanka.
With shots selections at its best, Australia dominated the game right throughout. The Lankan ladies missed a few shots but managed a couple of steals, the only positive for them from their last game of the competition.
Final Scores: Sri Lanka 2 – Australia 21