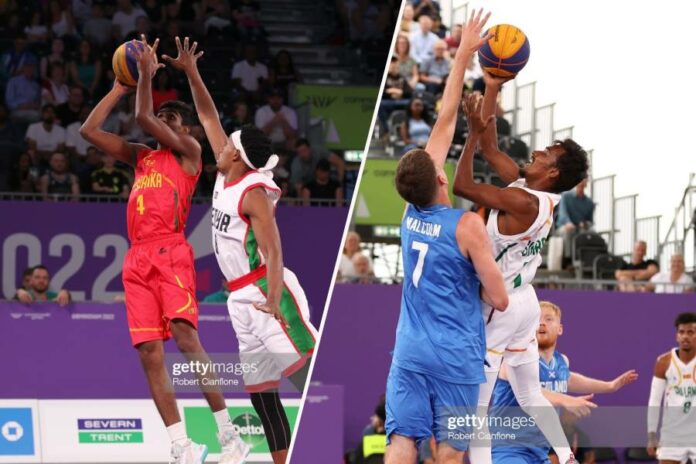 Sri Lanka's 3×3 Men's team said their goodbyes to the Commonwealth Games arena on the 31st of July 2022.
The Lankans took on Scotland, Kenya and Canada in their group stage respectively. The side finished with three losses but will take heart from the fact that they fought hard throughout the competition despite being one the youngest outfits in Birmingham.
Individual points scored
| | | | | |
| --- | --- | --- | --- | --- |
| Name | Scotland | Kenya | Canada | Total Points Scored |
| Simron Yoganathan | 5 | 13 | 6 | 24 |
| Rukshan Athapaththu [C] | 4 | 2 | 1 | 7 |
| Arnold Brent | 0 | 2 | 1 | 3 |
| Janith Gamage | 0 | 1 | 0 | 1 |
Game 1- Sri Lanka Vs Scotland
Sri Lanka took on Scotland on the 29th of July as their first game. Scotland drew first blood with a two pointer. Sri Lanka had their best defensive players on board and tried to establish a defensive strategy against the Scots.
Though their defense was on point, it was the point-scoring that let them down. Rukshan Athapaththu scored 4 points and Simron Yoganathan scored 5 but Arnold Brent and Janith Gamage remained scoreless in the game. Lankans maintained a 75% percentage success rate in 3 pointers whilst Scots dominated the stats chart in all other areas. The final scores read 16 – 9 in favor of Scotland.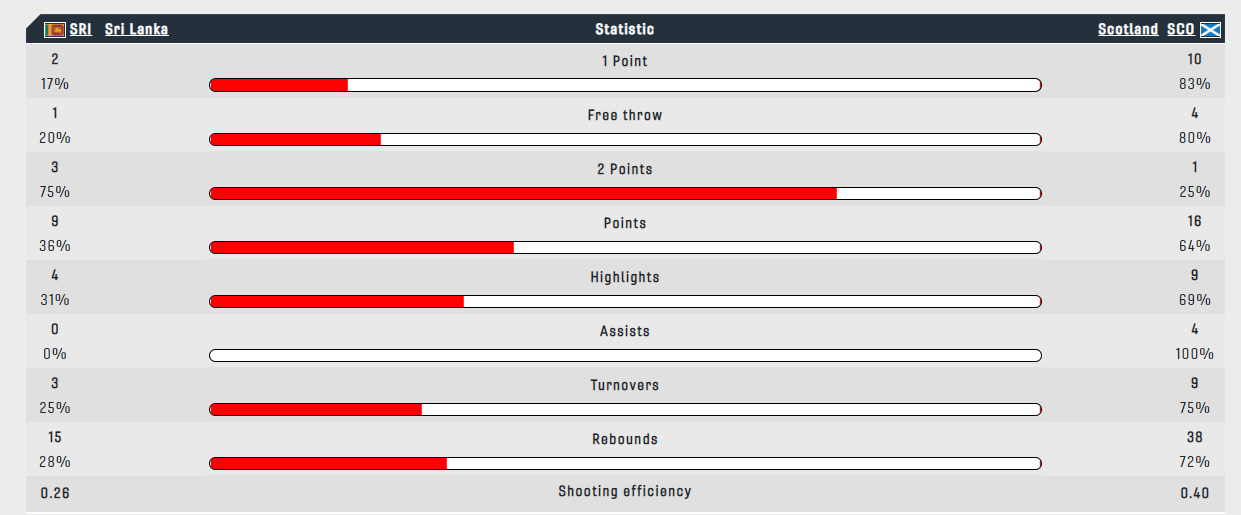 Game 2- Sri Lanka Vs Kenya
SL got off to a good start against the brawny Kenyan lads. The Islanders played an extraordinary game till the very last second, giving hopes to their fans but their luck ran out in the last two minutes.
Shots were attempted, penetrations were made, defense was on point but the Kenyans also were fortunate with their shots. Simron Yoganathan was exceptional with his performance, he added 13 massive points to Sri Lanka's scorecard and earned a spot at the 'Individual statistics leaders' list.
Sri Lanka trailed the game by a point with a minute and 50 seconds remaining but Larry Aligula swishing the nets beyond the arc sealed the victory for Kenya.
Full Time Score- Kenya 21 – Sri Lanka 18
Game 3 – Canada Vs Sri Lanka
Sri Lanka had the first possession in the game but failed to tick the board. Canada took control of the game and ended with a massive win 8-21.
Canadians used both their offensive and defensive tactics perfectly against the Lankans and got themselves an early lead in the game. Lankans couldn't muster up their offense, as the game progressed the Canadians tightened their defense leaving Sri Lanka with no choice but to restrict their offense beyond the 3-point area.