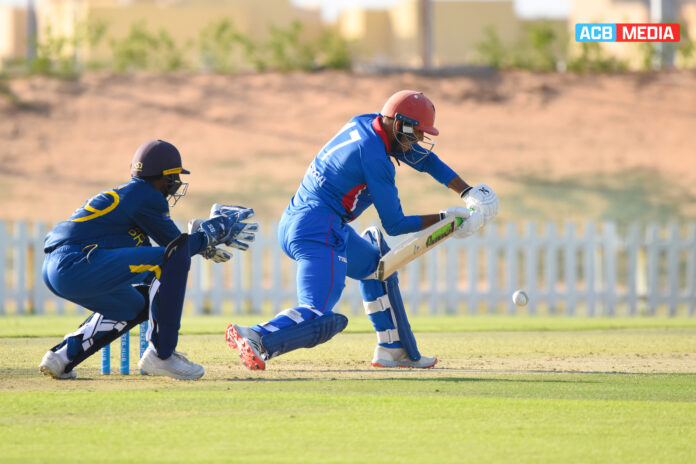 The 3rd match of the U19 Tri-Series between Sri Lanka, Afghanistan and Bangladesh was played today (22nd March), as Sri Lanka faced Afghanistan at Tolerance oval in Abu Dhabi.
The stage was set at Tolerance Oval, Abu Dhabi, as Afghan Skipper Noman Shah won the toss and decided to bat first. Sulaiman Arabzai and Hezbullah Dorani walked out to open the innings for Afghanistan, but their partnership was short-lived, with Dorani getting dismissed for just 6 runs and Arabzai following soon after, scoring 20 runs.
Afghanistan found themselves in a tight spot at 93 for 4, but they were saved by the heroics of Haroon Khan and Khalid Taniwal, who put together a massive 135-run partnership for the 5th wicket. Haroon Khan's brilliant knock of 88 runs off just 57 balls was a treat to watch, but unfortunately, he missed out on a well-deserved century when he was dismissed by Dinura Kalupahana. Taniwal also fell victim to Kalupahana's bowling, getting out cheaply for 45 runs.
With the score at 241-6 in 40.1 overs, Afghanistan looked to finish strongly, and Kamran Hotak's quick-fire 43 off 33 deliveries helped them post a mammoth total of 298 runs before getting all out in 49.2 overs. Sri Lanka's Duvindu Ranatunga (8.2-0-51-4) and Dinura Kalupahana (7.0-0-13-3) were the pick of the bowlers, taking four and three wickets respectively.
In reply, the young Sri Lankans had a rough start to their innings, losing two crucial wickets when they had only mustered 10 runs on the scoreboard. With the pressure mounting on their backs, the Sri Lankans continued to lose wickets at regular intervals, leaving them with an uphill battle to fight. Despite the efforts of Sineth Jayawardena and Vishwa Rajapaksha, who both scored 41 and 45 respectively, they were unable to capitalize on the strong start they had been given.
With the score at 150-8, it seemed like the young Afghan team was on their way to a commanding victory. But the Sri Lankan duo of Duvindu Ranathunga and Traveen Mathew refused to give up without a fight. Their outstanding 9th wicket partnership worth 74 runs gave the Sri Lankan supporters a glimmer of hope. Unfortunately, their brave efforts were not enough, as Sri Lanka eventually succumbed to a 62-run defeat. The pick of the Afghan bowlers was Kamran Hotak, who finished with impressive figures of 8.0-0-29-4
Brief Scores:

Afghanistan U19 298/10 (49.2) Haroon Khan 88, Khalid Taniwal 45, Kamran Hotak 43, Duvindu Ranatunga 4/51, Dinura Kalupahana 3/52

Sri Lanka U19 236/10 (41) Duvindu Ranathunga 46, Vishwa Rajapakse 45, Sineth Jayawardena 41, Kamran Hotak 4/29, Yama Arab 4/41

Result: Afghanistan won by 62 Runs


Batsmen
R
B
4s
6s
SR
Suliman Arabzai
b Vishva Lahiru
20
21
2
1
95.24
Hezbullah Dorani
c Vishwa Rajapakse b Duvindu Ranathunga
6
2
0
1
300.00
Sohail Khan
run out (Hirun Kapurubandara)
34
61
1
1
55.74
Noman Shah
lbw b Garuka Sanketh
26
41
4
0
63.41
Mohammad Haroon
c Vishva Lahiru b Dinura Kalupahana
88
59
7
4
149.15
Khalid Taniwal
c Malsha Tharupathi b Dinura Kalupahana
45
52
2
0
86.54
Kamran Hotak
c Vishva Lahiru b Duvindu Ranathunga
43
33
1
2
130.30
Farhad Usmani
c Hiran Jayasundara b Dinura Kalupahana
9
11
0
0
81.82
Khalil Ahmad
c Hiran Jayasundara b Duvindu Ranathunga
1
6
0
0
16.67
Yama Arab
b Duvindu Ranathunga
5
6
0
0
83.33
Bashir Ahmad
not out
3
5
0
0
60.00
| | |
| --- | --- |
| Extras | 18 (b 0 , lb 1 , nb 1, w 16, pen 0) |
| Total | 298/10 (49.2 Overs, RR: 6.04) |
| Bowling | O | M | R | W | Econ |
| --- | --- | --- | --- | --- | --- |
| Duvindu Ranathunga | 8.2 | 0 | 51 | 4 | 6.22 |
| Garuka Sanketh | 5 | 0 | 43 | 1 | 8.60 |
| Vishva Lahiru | 10 | 0 | 39 | 1 | 3.90 |
| Traveen Mathew | 10 | 0 | 37 | 0 | 3.70 |
| Malsha Tharupathi | 7 | 0 | 63 | 0 | 9.00 |
| Shevon Daniel | 2 | 0 | 12 | 0 | 6.00 |
| Dinura Kalupahana | 7 | 0 | 52 | 2 | 7.43 |


Batsmen
R
B
4s
6s
SR
Hirun Kapurubandara
lbw b Yama Arab
10
5
0
0
200.00
Sineth Jayawardena
c Kamran Hotak b Khalil Ahmad
41
41
7
0
100.00
Dinura Kalupahana
b Yama Arab
0
1
0
0
0.00
Shevon Daniel
c Khalid Taniwal b Yama Arab
10
11
2
0
90.91
Hiran Jayasundara
b Khalil Ahmad
8
16
0
0
50.00
Vishwa Rajapakse
c Farhan Zakhail b Nangyal Shafiq Ghafari
45
46
7
1
97.83
Malsha Tharupathi
c Khalid Taniwal b Khalil Ahmad
0
4
0
0
0.00
Vishva Lahiru
c Khalid Taniwal b Kamran Hotak
6
12
0
0
50.00
Duvindu Ranathunga
c Farhad Usmani b Yama Arab
46
50
5
1
92.00
Traveen Mathew
c Suliman Arabzai b Kamran Hotak
34
57
3
0
59.65
Garuka Sanketh
not out
2
8
0
0
25.00
| | |
| --- | --- |
| Extras | 34 (b 0 , lb 3 , nb 5, w 26, pen 0) |
| Total | 236/10 (41 Overs, RR: 5.76) |
| Bowling | O | M | R | W | Econ |
| --- | --- | --- | --- | --- | --- |
| Yama Arab | 8 | 0 | 35 | 4 | 4.38 |
| Bashir Ahmad | 7 | 0 | 55 | 1 | 7.86 |
| Khalil Ahmad | 9 | 0 | 55 | 3 | 6.11 |
| Farhad Usmani | 8 | 0 | 44 | 0 | 5.50 |
| Kamran Hotak | 8 | 0 | 29 | 2 | 3.62 |
| Khalid Taniwal | 1 | 0 | 9 | 0 | 9.00 |