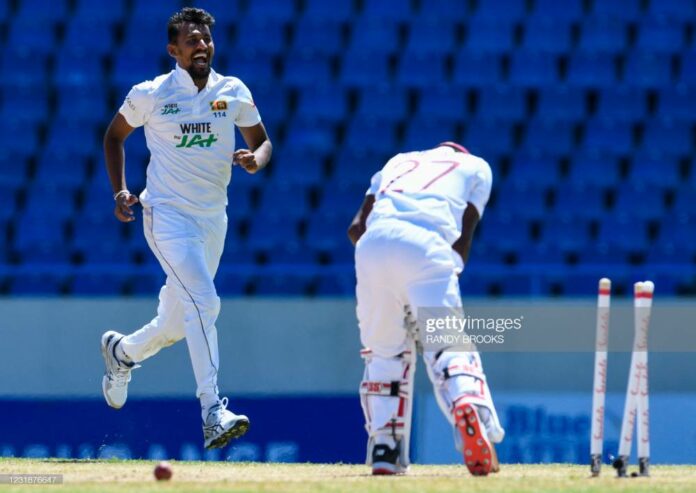 Sri Lanka's veteran seamer Suranga Lakmal produced a dreamy spell to restrict the West Indian 1st innings on day two of the first Test match between the two sides at Sir Vivian Richards Stadium in Antigua as the hosts ended up on 268/8 at stumps.
After yesterday evening's disciplined bowling effort, the duo Suranga Lakmal and Vishwa Fernando continued their good work in the morning session, bowling 4 maidens on the trot  and keeping the pressure steady on the West Indian openers John Campbell and Kraigg Brathwaite.
Read – Sri Lanka skittled out for 169 as West Indies take control on Day 01
Skipper Braithwaite fell victim to Lakmal's mastery, without adding anything to his overnight score, edging one to Dhananjaya de Silva at 2nd slip as the seamer swung a length delivery away from the right-hander.
Lakmal worked overtime in the morning session, sending 8 overs back-to-back while the left arm fast bowler Vishwa Fernando launched a probing spell from the other end, constantly testing the patience of Campbell and Nkrumah Bonner. However, the pair was unlucky as the edges failed to reach the slip cordon.
Left arm spinner Lasith Embuldeniya who had a successful run at home against England in the last Test series managed to break through the defenses of Bonner to restrict the number 3 batsman to 33 runs. 
Read More – Sri Lanka Legends fall just short after fierce battle
Sri Lanka's fastest bowler on tour, Chameera was impressive throughout the day, continuously hitting that 140kph mark and sometimes even touching 147 clicks with control. Sri Lanka will consider themselves unfortunate as a few opportunities slipped out of their hands at crucial times. One of which was the (non)dismissal of Bonner off Chameera's bowling which turned out to be a no-ball. 
Sri Lanka also missed a runout opportunity of Campbell early in his innings as Vishwa Fernando missed a direct hit opportunity. There were also a controversial DRS call from the TV umpire Nigel Duguid where he turned down a Sri Lankan review on the basis of the absence of clear evidence in the 73rd over off Embuldeniya's bowling.
However, the day belonged to that 34-year-old, the resolute Suranga Lakmal who decimated the West Indies top order, bagging a 5-fer to his name. Be it old ball or new ball, a right hander or left hander, Lakmal always had a plan and that plan was consistency. With only 169 on the board, under the hot Caribbean sun, Lakmal's length never quivered, his spirit never wavered.
This is Lakmal's 4th 5-fer in Test cricket as now he holds a 5-fer in South Africa, Australia, New Zealand and West Indies.
Lakmal's 5-fers in Test Cricket
Vs South Africa – Port Elizabeth – 2016

Vs New Zealand – Christchurch – 2018

Vs Australia – Brisbane – 2018

Vs West Indies – Antigua – 2021
It is no doubt that Lakmal is one of the most improved Test cricketers in the world in recent years. Since 2018, the pacer has taken 60 wickets at an average of 23.33. Before that his Test bowling average was 44.94.
After that spell of Lakmal, things started to go south for the Sri Lankans as Rahkeem Cornwall and Joshua Da Silva produced two special innings bringing up a record partnership of 90 runs after being 7/171. (Highest 8th wicket partnership against Sri Lanka by West Indies pair | Previous Best – Shane Dowrich, & Kemar Roach – 2018 – 80 runs)
>> Visit the Sri Lanka v West Indies 2021 Hub <<
The mighty Antiguan brought up his maiden half century as he drove the 1st innings lead to 99 runs, derailing Sri Lankan hopes of a comeback into this game. He scored an unbeaten 60 off just 79 balls including 9 boundaries and 2 sixes and will look to stretch that lead past 150 in the morning of day 03 which will possibly be the deciding day of this Test match.
169/10 (69.4) & 476/10 (149.5)
271/10 (103) & 236/4 (100)


Batsmen
R
B
4s
6s
SR
Dimuth Karunarathne
c John Campbell b Rahkeem Cornwall
12
43
1
0
27.91
Lahiru Thirimanne
b Jason Holder
70
180
4
0
38.89
Oshada Fernando
run out ()
4
11
0
0
36.36
Dinesh Chandimal
c Joshua Da Silva b Jason Holder
4
25
0
0
16.00
Dhananjaya de Silva
b Kemar Roach
13
26
2
0
50.00
Pathum Nissanka
c Jason Holder b Kemar Roach
9
12
2
0
75.00
Niroshan Dickwella
c Rahkeem Cornwall b Jason Holder
32
76
2
0
42.11
Suranga Lakmal
c Kraig Brathwaite b Jason Holder
3
13
0
0
23.08
Dushmantha Chameera
b Kemar Roach
2
7
0
0
28.57
Lasith Embuldeniya
lbw b Jason Holder
3
15
0
0
20.00
Vishwa Fernando
not out
1
11
0
0
9.09
| | |
| --- | --- |
| Extras | 16 (b 4 , lb 6 , nb 1, w 5, pen 0) |
| Total | 169/10 (69.4 Overs, RR: 2.43) |
| Bowling | O | M | R | W | Econ |
| --- | --- | --- | --- | --- | --- |
| Kemar Roach | 16 | 2 | 47 | 3 | 2.94 |
| Shannon Gabriel | 9 | 2 | 22 | 0 | 2.44 |
| Rahkeem Cornwall | 14 | 6 | 25 | 1 | 1.79 |
| Alzarri Joseph | 11 | 2 | 32 | 0 | 2.91 |
| Jason Holder | 17.4 | 6 | 27 | 5 | 1.55 |
| Kyle Mayers | 2 | 0 | 6 | 0 | 3.00 |


Batsmen
R
B
4s
6s
SR
Kraig Brathwaite
c Dhananjaya de Silva b Suranga Lakmal
3
43
0
0
6.98
John Campbell
c Niroshan Dickwella b Dushmantha Chameera
42
148
4
0
28.38
Nkrumah Bonner
lbw b Lasith Embuldeniya
31
63
5
0
49.21
Kyle Mayers
c Dhananjaya de Silva b Suranga Lakmal
45
70
6
2
64.29
Jermaine Blackwood
b Suranga Lakmal
2
7
0
0
28.57
Jason Holder
b Suranga Lakmal
19
61
2
0
31.15
Joshua Da Silva
c Niroshan Dickwella b Dushmantha Chameera
46
124
5
0
37.10
Alzarri Joseph
c Dinesh Chandimal b Suranga Lakmal
0
8
0
0
0.00
Rahkeem Cornwall
b Vishwa Fernando
61
85
9
2
71.76
Kemar Roach
not out
5
15
1
0
33.33
Shannon Gabriel
lbw b Vishwa Fernando
0
3
0
0
0.00
| | |
| --- | --- |
| Extras | 17 (b 1 , lb 6 , nb 9, w 1, pen 0) |
| Total | 271/10 (103 Overs, RR: 2.63) |
| Bowling | O | M | R | W | Econ |
| --- | --- | --- | --- | --- | --- |
| Suranga Lakmal | 25 | 9 | 47 | 5 | 1.88 |
| Vishwa Fernando | 17 | 6 | 52 | 2 | 3.06 |
| Dushmantha Chameera | 22 | 1 | 71 | 2 | 3.23 |
| Lasith Embuldeniya | 28 | 6 | 64 | 1 | 2.29 |
| Dhananjaya de Silva | 11 | 2 | 30 | 0 | 2.73 |


Batsmen
R
B
4s
6s
SR
Lahiru Thirimanne
b Kemar Roach
76
201
4
0
37.81
Dimuth Karunarathne
c John Campbell b Kemar Roach
3
13
0
0
23.08
Oshada Fernando
c Joshua Da Silva b Kyle Mayers
91
149
11
0
61.07
Dinesh Chandimal
c Joshua Da Silva b Kyle Mayers
4
9
0
0
44.44
Dhananjaya de Silva
b Alzarri Joseph
50
79
6
0
63.29
Pathum Nissanka
c Kemar Roach b Rahkeem Cornwall
103
252
6
0
40.87
Niroshan Dickwella
b Kemar Roach
96
163
8
0
58.90
Suranga Lakmal
run out ()
8
24
0
0
33.33
Lasith Embuldeniya
c Kyle Mayers b Rahkeem Cornwall
6
9
0
0
66.67
Dushmantha Chameera
c Jason Holder b Rahkeem Cornwall
10
11
0
1
90.91
Vishwa Fernando
not out
0
0
0
0
0.00
| | |
| --- | --- |
| Extras | 29 (b 13 , lb 5 , nb 11, w 0, pen 0) |
| Total | 476/10 (149.5 Overs, RR: 3.18) |
| Bowling | O | M | R | W | Econ |
| --- | --- | --- | --- | --- | --- |
| Kemar Roach | 27 | 3 | 74 | 3 | 2.74 |
| Shannon Gabriel | 18 | 2 | 67 | 0 | 3.72 |
| Jason Holder | 22 | 4 | 40 | 0 | 1.82 |
| Alzarri Joseph | 21 | 2 | 83 | 1 | 3.95 |
| Rahkeem Cornwall | 42.5 | 4 | 137 | 3 | 3.22 |
| Kraig Brathwaite | 9 | 1 | 30 | 0 | 3.33 |
| Kyle Mayers | 9 | 2 | 24 | 2 | 2.67 |
| Jermaine Blackwood | 1 | 0 | 3 | 0 | 3.00 |


Batsmen
R
B
4s
6s
SR
Kraig Brathwaite
b Lasith Embuldeniya
23
124
0
0
18.55
John Campbell
c Niroshan Dickwella b Vishwa Fernando
11
15
2
0
73.33
Nkrumah Bonner
not out
113
274
13
1
41.24
Kyle Mayers
c Lahiru Thirimanne b Lasith Embuldeniya
52
113
5
0
46.02
Jermaine Blackwood
b Vishwa Fernando
4
29
0
0
13.79
Jason Holder
not out
18
48
4
0
37.50
| | |
| --- | --- |
| Extras | 15 (b 4 , lb 8 , nb 3, w 0, pen 0) |
| Total | 236/4 (100 Overs, RR: 2.36) |
| Bowling | O | M | R | W | Econ |
| --- | --- | --- | --- | --- | --- |
| Suranga Lakmal | 25 | 10 | 33 | 0 | 1.32 |
| Vishwa Fernando | 19 | 0 | 73 | 2 | 3.84 |
| Lasith Embuldeniya | 28 | 9 | 62 | 2 | 2.21 |
| Dushmantha Chameera | 18 | 3 | 44 | 0 | 2.44 |
| Dhananjaya de Silva | 10 | 5 | 12 | 0 | 1.20 |