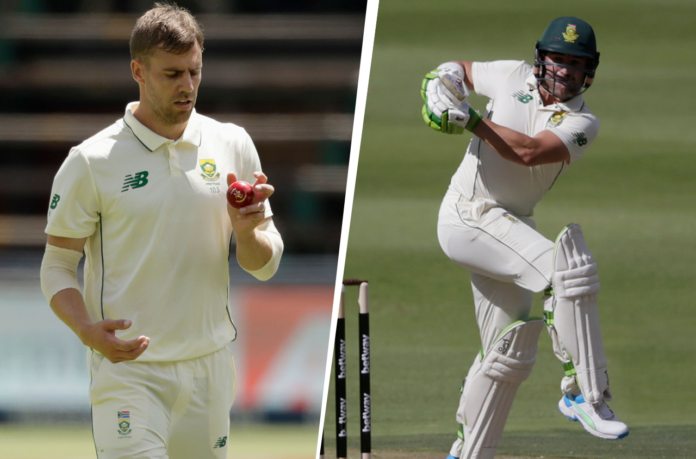 South Africa ended day one on top as they seem to have laid the base right for a whitewash on the count of their loss in 2019 against the Lankans.
Sri Lanka won the toss and opted to bat first, they seemed to be tentative and cautious at the start of this Test match whereas the South African seamers found their length pretty early. Yet, Kusal Perera showcased a flamboyant knock of 60 runs but threw his wicket away in a pretty soft manner. Batting as Perera did for a window of about an hour or so on the first day morning was no easy task. He thrashed Lutho Sipamla with his flashy drives and put Lungi Ngidi off his rhythm with his aggressive strokeplay.
But then Wiaan Mulder happened – Sri Lanka had already lost their skipper Dimuth Karunaratne, who gloved an Anrich Nortje delivery which bounced steeply from good-length, and it was bad timing to lose the set batsman, Kusal Perera, with just about 30 minutes for lunch.
Read: Lakmal, Oshada and Chandimal out of Second Test; two debuts likely
Mulder operated in such a delusive line where he pulls the batsman forward and then leaves them off guard as the ball moves away from them late. His ability to move the ball both ways disregards the batsman's attribute. He found the outside edges of both Kusal Perera and Kusal Mendis in his second over of the match, which was a double-wicket maiden. 
Flood gates opened thereafter for Sri Lanka as they stalled from 71 for 1 in 20 overs to 85 for 5 within 4 overs. Lahiru Thirimanne also offered his outside edge to make Wiaan Mulder an exceptional find for South Africa while the debutant Minod Bhanuka was rushed by sheer pace from Nortje as he also was out by edging one to the slips.
This could well be a great opportunity for Niroshan Dickwella, who doesn't have a Test century after 38 Tests in his 6-year career, to finally step up and play a knock of his true potential. Just like the top-four who collectively averages only about 120 runs altogether in their relatively long careers, he also showed no intent and succumbed to the pressure.
He stuck his bat out with no footwork whatsoever at Anrich Nortje's full-length delivery which took an edge and was pouched by Quinton de Kock. 
Nortje just elevated from thereon as he went on to renew his best figures with 6 for 56 to his name. He was rapid, tidy, and consistent. The bounce he obtained intimidated the batsmen, but there was one thing that they could have done to survive in this innings, 'Leave the ball.'
Read More: Proteas go 1-0 in the series, handing an innings defeat to the visitors
Of all the deliveries that the Proteas bowled today, only 5% would have gone on to hit the stumps. It was that the Lankans were all over the place and never really knew where their off-stump was. 
Sri Lanka kept rolling down the hill as they were wrapped for their lowest total against the Proteas (157).
In contrast, the host had a calm start from their openers who walked back for tea while the board displayed 22 for none in the 5 overs they played. Dean Elgar had already struck 4 boundaries in that tiny passage of play. Soon after tea, Aiden Markram was undone by a ripper from the debutant, Asitha Fernando. 
Elgar though never looked troubled at the crease as he stacked 92 runs at a steady pace and looked to be dominating the bowlers. The southpaw was impeccable in his square-batted strokes on the off-side and flicks off his pads. 
He was partnered by Rassie van der Dussen in a firm partnership of 114 runs to which Rassie contributed 40 runs. The right-hander played some delightful pulls off the Lankan seamers, giving them no room for error. 
South Africa comfortably ended day one at 148 for 1. With the lone spinner, Wanidu Hasaranga not offering a lot with the ball, the visiting speedsters will have to produce a wonder if Lankans are to get back into the Test. 
302/10 (75.4) & 67/0 (13.2)
157/10 (40.3) & 211/10 (56.5)


Batsmen
R
B
4s
6s
SR
Dimuth Karunarathne
c Quinton de Kock b Anrich Nortje
2
32
0
0
6.25
Kusal Perera
c Aiden Markram b Wiaan Mulder
60
67
11
0
89.55
Lahiru Thirimanne
c Faf du Plessis b Wiaan Mulder
17
30
3
0
56.67
Kusal Mendis
c Rassie van der Dussen b Wiaan Mulder
0
4
0
0
0.00
Minod Bhanuka
c Rassie van der Dussen b Anrich Nortje
5
10
1
0
50.00
Niroshan Dickwella
c Quinton de Kock b Anrich Nortje
7
10
1
0
70.00
Dasun Shanaka
c Quinton de Kock b Anrich Nortje
4
17
0
0
23.53
Wanindu Hasaranga
c Quinton de Kock b Lutho Sipamla
29
27
5
0
107.41
Dushmantha Chameera
c Quinton de Kock b Anrich Nortje
22
29
4
0
75.86
Vishwa Fernando
not out
2
11
0
0
18.18
Asitha Fernando
b Anrich Nortje
4
6
1
0
66.67
| | |
| --- | --- |
| Extras | 5 (b 0 , lb 5 , nb 0, w 0, pen 0) |
| Total | 157/10 (40.3 Overs, RR: 3.88) |
| Bowling | O | M | R | W | Econ |
| --- | --- | --- | --- | --- | --- |
| Lungi Ngidi | 10 | 3 | 44 | 0 | 4.40 |
| Anrich Nortje | 14.3 | 1 | 56 | 6 | 3.92 |
| Lutho Sipamla | 9 | 3 | 27 | 1 | 3.00 |
| Wiaan Mulder | 7 | 3 | 25 | 3 | 3.57 |


Batsmen
R
B
4s
6s
SR
Dean Elgar
c Lahiru Thirimanne b Dushmantha Chameera
127
163
22
0
77.91
Aiden Markram
c Kusal Mendis b Asitha Fernando
5
21
0
0
23.81
Rassie van der Dussen
c Niroshan Dickwella b Dasun Shanaka
67
127
12
0
52.76
Quinton de Kock
c Kusal Mendis b Vishwa Fernando
10
20
1
0
50.00
Faf du Plessis
c Niroshan Dickwella b Dasun Shanaka
8
15
1
0
53.33
Temba Bavuma
lbw b Vishwa Fernando
19
30
3
1
63.33
Wiaan Mulder
lbw b Vishwa Fernando
7
17
1
0
41.18
Keshav Maharaj
c Niroshan Dickwella b Asitha Fernando
2
8
0
0
25.00
Anrich Nortje
c Kusal Mendis b Vishwa Fernando
13
16
2
0
81.25
Lutho Sipamla
c Dasun Shanaka b Vishwa Fernando
5
19
1
0
26.32
Lungi Ngidi
not out
14
18
3
0
77.78
| | |
| --- | --- |
| Extras | 25 (b 8 , lb 14 , nb 0, w 3, pen 0) |
| Total | 302/10 (75.4 Overs, RR: 3.99) |
| Bowling | O | M | R | W | Econ |
| --- | --- | --- | --- | --- | --- |
| Vishwa Fernando | 23.4 | 0 | 101 | 5 | 4.32 |
| Asitha Fernando | 19 | 5 | 61 | 2 | 3.21 |
| Dushmantha Chameera | 14 | 1 | 53 | 1 | 3.79 |
| Dasun Shanaka | 15 | 4 | 42 | 2 | 2.80 |
| Wanindu Hasaranga | 4 | 0 | 23 | 0 | 5.75 |


Batsmen
R
B
4s
6s
SR
Dimuth Karunarathne
c Wiaan Mulder b Anrich Nortje
103
128
19
0
80.47
Kusal Perera
b Lungi Ngidi
1
7
0
0
14.29
Lahiru Thirimanne
c Quinton de Kock b Lungi Ngidi
31
57
7
0
54.39
Kusal Mendis
c Quinton de Kock b Lungi Ngidi
0
1
0
0
0.00
Minod Bhanuka
c Keshav Maharaj b Anrich Nortje
1
7
0
0
14.29
Niroshan Dickwella
c Temba Bavuma b Lungi Ngidi
36
68
6
0
52.94
Dasun Shanaka
c Lutho Sipamla b Wiaan Mulder
8
24
1
0
33.33
Wanindu Hasaranga
b Lutho Sipamla
16
32
2
0
50.00
Dushmantha Chameera
c Quinton de Kock b Lutho Sipamla
0
10
0
0
0.00
Vishwa Fernando
not out
1
7
0
0
14.29
Asitha Fernando
b Lutho Sipamla
0
2
0
0
0.00
| | |
| --- | --- |
| Extras | 14 (b 9 , lb 2 , nb 2, w 1, pen 0) |
| Total | 211/10 (56.5 Overs, RR: 3.71) |
| Bowling | O | M | R | W | Econ |
| --- | --- | --- | --- | --- | --- |
| Lungi Ngidi | 15 | 5 | 44 | 4 | 2.93 |
| Anrich Nortje | 19 | 2 | 64 | 2 | 3.37 |
| Wiaan Mulder | 13 | 3 | 52 | 1 | 4.00 |
| Lutho Sipamla | 9.5 | 1 | 39 | 3 | 4.11 |


Batsmen
R
B
4s
6s
SR
Dean Elgar
not out
31
27
5
0
114.81
Aiden Markram
not out
36
53
4
0
67.92
| | |
| --- | --- |
| Extras | 0 (b 0 , lb 0 , nb 0, w 0, pen 0) |
| Total | 67/0 (13.2 Overs, RR: 5.03) |
| Bowling | O | M | R | W | Econ |
| --- | --- | --- | --- | --- | --- |
| Vishwa Fernando | 4 | 0 | 23 | 0 | 5.75 |
| Asitha Fernando | 4 | 1 | 20 | 0 | 5.00 |
| Wanindu Hasaranga | 2.2 | 0 | 16 | 0 | 7.27 |
| Dasun Shanaka | 3 | 1 | 8 | 0 | 2.67 |