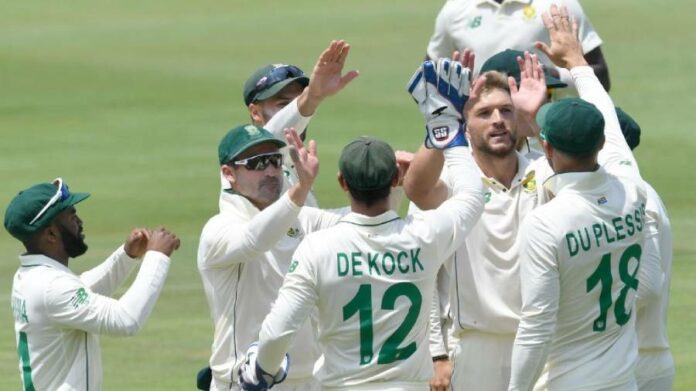 The visiting Sri Lankans were defeated by an innings and 45 runs by South Africa at the SuperSport Park Stadium, Centurion in the first Test match of the 2-match series.
Read More : Sri Lanka in deep trouble after Du Plessis' 199
The Proteas seamers wasted no time, picking 5 wickets in the morning session to reduce the islanders to 148/7 and eventually roll them out for 180 runs to register a commanding victory.
The Sri Lankan defeat was inevitable with them carrying quite a few injuries in the playing XI and as the South African batsmen milked them for runs on day 3, setting a lead of 225 in the first innings. Sri Lanka lost Skipper Dimuth Karunaratne and Kusal Mendis on the 3rd day evening.
Dinesh Chandimal and Kusal Perera looked promising in the morning on day 04, but Chandimal eventually fell for a snorter of a delivery from Wiaan Mulder for 25. However Kusal Perera went on his usual attacking game against the South African pacers and reached 1000 Test runs plus another half-century century in the rainbow nation.
Video – "We have five injured players in this Test match" – Mickey Arthur 
Apart from Perera, no other specialized batsmen contributed to the Sri Lankan total much, as Sri Lanka lost wickets in regular intervals. Perera raced to 64 before he nicked one to Quinton de Kock off Anrich Nortje's bowling.
The only other commendable batting effort was delivered by the debutant Wanindu Hasaranga, who smashed 59 off 53 balls, but it still was not enough to save Sri Lanka from an innings defeat. Hasaranga became the second Sri Lankan to score a fifty and pick up a 4-fer in a Test debut after Chamani Seneviratne.
Video – A guide to Sri Lanka's injury woes
South African fast bowling quartet Nortje, Lungi Ngidi, Wiaan Mulder and Lutho Sipamla shared two wickets a piece as they reduced Sri Lanka to 180/9 to stamp their victory (Dhananjaya de Silva did not bat). Kasun Rajitha and Lahiru Kumara returned for batting in the lost cause, even though they did not bowl due to injuries.
The second Test of the series will commence on 3rd January 2021 at The Wanderers Stadium, Johannesburg. Keep logged in to ThePapare.com for the latest updates, news, photos and videos of Sri Lanka Tour of South Africa.
>>Sri Lanka v South Africa 2020/21<<
396/10 (96) & 180/10 (46.1)


Batsmen
R
B
4s
6s
SR
Dimuth Karunarathne
b Lungi Ngidi
22
20
4
0
110.00
Kusal Perera
c Quinton de Kock b Wiaan Mulder
16
29
2
0
55.17
Kusal Mendis
c Lungi Ngidi b Anrich Nortje
12
16
2
0
75.00
Dinesh Chandimal
c Faf du Plessis b Wiaan Mulder
85
161
11
0
52.80
Dhananjaya de Silva
retired
79
105
11
1
75.24
Niroshan Dickwella
lbw b Wiaan Mulder
49
86
6
0
56.98
Dasun Shanaka
not out
66
87
3
5
75.86
Wanindu Hasaranga
b Lutho Sipamla
18
20
3
0
90.00
Kasun Rajitha
c Dean Elgar b Lutho Sipamla
12
49
2
0
24.49
Vishwa Fernando
b Lutho Sipamla
0
1
0
0
0.00
Lahiru Kumara
c Rassie van der Dussen b Lutho Sipamla
0
7
0
0
0.00
| | |
| --- | --- |
| Extras | 37 (b 16 , lb 9 , nb 6, w 6, pen 0) |
| Total | 396/10 (96 Overs, RR: 4.12) |
| Fall of Wickets | 1-28 (4.5) Dimuth Karunarathne, 2-54 (9.5) Kusal Mendis, 3-54 (10.5) Kusal Perera, 4-284 (65.4) Dinesh Chandimal, 5-296 (70.3) Niroshan Dickwella, 6-320 (76.3) Wanindu Hasaranga, 7-387 (93.2) Kasun Rajitha, 8-387 (93.3) Vishwa Fernando, 9-396 (95.6) Lahiru Kumara, |
| Bowling | O | M | R | W | Econ |
| --- | --- | --- | --- | --- | --- |
| Lungi Ngidi | 19 | 3 | 64 | 1 | 3.37 |
| Lutho Sipamla | 16 | 1 | 76 | 4 | 4.75 |
| Anrich Nortje | 22 | 3 | 88 | 1 | 4.00 |
| Wiaan Mulder | 20 | 4 | 69 | 3 | 3.45 |
| Keshav Maharaj | 19 | 3 | 74 | 0 | 3.89 |


Batsmen
R
B
4s
6s
SR
Dean Elgar
c & b Dasun Shanaka
95
130
16
0
73.08
Aiden Markram
c Dasun Shanaka b Vishwa Fernando
68
94
14
0
72.34
Rassie van der Dussen
c Niroshan Dickwella b Lahiru Kumara
15
42
2
0
35.71
Faf du Plessis
c & b
199
276
24
0
72.10
Quinton de Kock
c Lahiru Thirimanne b Wanindu Hasaranga
18
11
3
0
163.64
Temba Bavuma
c Niroshan Dickwella b Dasun Shanaka
71
125
7
0
56.80
Wiaan Mulder
c Niroshan Dickwella b Wanindu Hasaranga
36
63
4
1
57.14
Keshav Maharaj
c Wanindu Hasaranga b Vishwa Fernando
73
106
6
2
68.87
Anrich Nortje
c Niroshan Dickwella b Vishwa Fernando
0
3
0
0
0.00
Lutho Sipamla
lbw b Wanindu Hasaranga
0
1
0
0
0.00
Lungi Ngidi
not out
2
9
0
0
22.22
| | |
| --- | --- |
| Extras | 44 (b 9 , lb 18 , nb 7, w 10, pen 0) |
| Total | 621/10 (142.1 Overs, RR: 4.37) |
| Fall of Wickets | 1-141 (28.4) Aiden Markram, 2-200 (42.6) Rassie van der Dussen, 3-200 (43.4) Dean Elgar, 4-220 (47.1) Quinton de Kock, |
| Bowling | O | M | R | W | Econ |
| --- | --- | --- | --- | --- | --- |
| Vishwa Fernando | 31.1 | 2 | 130 | 2 | 4.18 |
| Kasun Rajitha | 2.1 | 0 | 16 | 0 | 7.62 |
| Dasun Shanaka | 28.5 | 2 | 98 | 2 | 3.44 |
| Wanindu Hasaranga | 45 | 5 | 171 | 4 | 3.80 |
| Lahiru Kumara | 21.1 | 0 | 103 | 1 | 4.88 |
| Dimuth Karunarathne | 6.5 | 0 | 36 | 0 | 5.54 |
| Kusal Mendis | 7 | 0 | 41 | 0 | 5.86 |


Batsmen
R
B
4s
6s
SR
Dimuth Karunarathne
b Lungi Ngidi
6
8
1
0
75.00
Kusal Perera
c Quinton de Kock b Anrich Nortje
64
87
10
0
73.56
Kusal Mendis
c Rassie van der Dussen b Lungi Ngidi
0
5
0
0
0.00
Dinesh Chandimal
b Wiaan Mulder
25
45
4
0
55.56
Niroshan Dickwella
c Quinton de Kock b Wiaan Mulder
10
15
2
0
66.67
Dasun Shanaka
c Quinton de Kock b Lutho Sipamla
6
35
0
0
17.14
Wanindu Hasaranga
c Temba Bavuma b Lutho Sipamla
59
53
12
1
111.32
Vishwa Fernando
run out (Wiaan Mulder)
0
1
0
0
0.00
Kasun Rajitha
c Keshav Maharaj b Anrich Nortje
0
27
0
0
0.00
Lahiru Kumara
not out
0
5
0
0
0.00
Dhananjaya de Silva
retired
0
0
0
0
0.00
| | |
| --- | --- |
| Extras | 10 (b 4 , lb 2 , nb 4, w 0, pen 0) |
| Total | 180/10 (46.1 Overs, RR: 3.9) |
| Fall of Wickets | 1-10 (2.6) Dimuth Karunarathne, 2-22 (4.5) Kusal Mendis, 3-85 (19.5) Dinesh Chandimal, 4-99 (23.6) Niroshan Dickwella, 5-114 (28.4) Kusal Perera, 6-142 (35.5) Dasun Shanaka, 7-148 (36.6) Vishwa Fernando, 8-179 (45.2) Wanindu Hasaranga, 9-180 (46.1) Kasun Rajitha, |
| Bowling | O | M | R | W | Econ |
| --- | --- | --- | --- | --- | --- |
| Lungi Ngidi | 10 | 2 | 38 | 2 | 3.80 |
| Anrich Nortje | 10.1 | 1 | 47 | 2 | 4.65 |
| Wiaan Mulder | 12 | 1 | 39 | 2 | 3.25 |
| Lutho Sipamla | 5 | 0 | 24 | 2 | 4.80 |
| Keshav Maharaj | 6 | 3 | 20 | 0 | 3.33 |
| Aiden Markram | 3 | 2 | 6 | 0 | 2.00 |