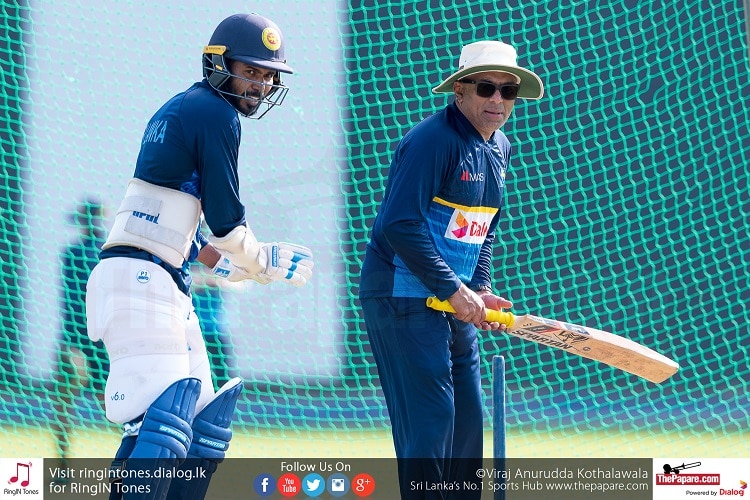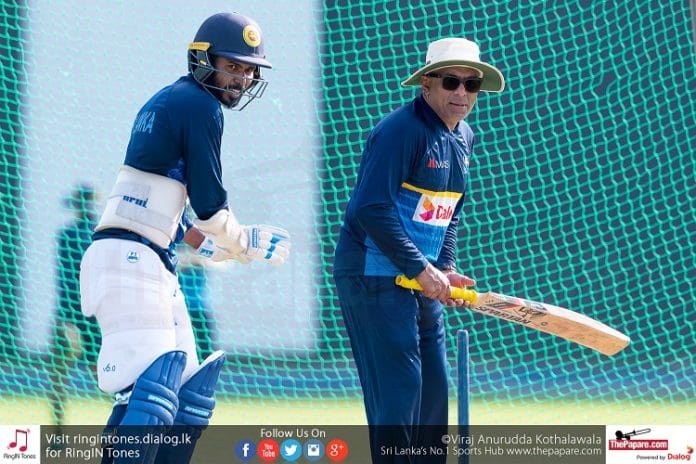 Sri Lanka cricketers began training ahead of their five-week tour of Bangladesh on Thursday (December 28) in Colombo, and new Head Coach Chandika Hathurusingha while speaking to the media revealed that among other things, the team is lacking intensity. Hathurusingha, who conducted a meeting for the 23 players picked in the initial pool at 10 in the morning, outlined his priorities before conducting a lengthy training session at the R. Premadasa Stadium from 1 PM to 5 PM.
The arrival of new Head Coach Chandika Hathurusingha will certainly…
"Quite a few things we are not doing right at the moment and that's why we are in this situation. But no doubt about the skill we have. There are so many cricketers that I can see that they can go onto become one of the top five players in the world. If they are not doing justice to their talent, that means that lot of things are going wrong," Hathurusingha said on Thursday.
As the team hit new lows, there have been allegations of indiscipline, and opening batsman Danushka Gunathilaka had ended up serving a five-match suspension in September that forced him to miss the ODI leg of Sri Lanka's tour of UAE.
"In future it is not going to happen. If someone wants to listen to music during training, he can pack his bags and go home. I can't talk on what happened in the past, I don't want to assume things. But I will get a first-hand feel of what is going on. I have told them that preparation is the key. If we prepare well, we are giving ourselves a good chance to do well," Hathurusingha noted.
Top-order batsman Kusal Mendis, who was dropped for the recent tour of India, is once back in Sri Lanka colours. The 22-year-old has been in prolific form in domestic cricket since being overlooked.
"Mendis is an exceptional talent. The 174 he scored against Australia was a stunning knock. Then again to score that 194 against Bangladesh, he showed that he is capable of playing big knocks and batting for long hours."
There was lot of intensity during the training session with lot of emphasis placed on fielding. "We were really focusing on our basics. We had four stations. One area we were working on playing spin. Fast bowlers were doing spot bowling; working on their stock ball. I was working with the batsmen trying to [get them to hit] boundaries and trying to find out what their strengths are and giving them freedom to express themselves.
"I have spoken to them about how to get better.. what we need to do to get better.. I asked them whether they knew what they are doing. We need to know what we are doing to get better. I am pretty confident that we can do better. There's lot of talent in this squad and that excites me. That is what encouraged me to take up this position. I am hundred percent sure that we are can get better," Hathurusingha explained.
Right at the outset itself, Hathurusingha has changed a few things.
The man of the moment, the beacon of our hope, the messiah; a red…
"I want to change the way they are approaching the training. That is somewhere we can make a big impact. To build their confidence, we need to change the environment; how we train and how we communicate. Those are the things that we need to work on quickly," he added.
Hathurusingha will be using the services of psychologist Dr. Phil Johnsy from Brisbane for two weeks prior to the team's departure to Bangladesh. In his first training session with the Sri Lankan players, the coach handed them a questionnaire that had 40 questions in an attempt to understand the players better.
"It's not my questionnaire, but the 40 questions were prepared by the psychologist. I have worked with him for the last four years. I intend to bring him time to time. Ideally bring him down four times in a year, dpends on his availability and stuff. The questionnaire was prepared by him to understand players and profiling of players," Hathurusingha elaborated.
Photo Album : Head Coach Chandika Hathurusingha's first training session
"I met him for the first time [at] in Sydney Thunder. Mike Hussey introduced me to him. He had been using him as a personal psychologist. He might be on some tours as well with us. It will help me to identify players. He has been with Australian Olympics team and worked with Cricket Australia when John Buchanan was their coach."
Hathurusingha will also have a say on the support staff of the side. "I have the freedom to choose. At the moment, I am going to work with what I have. If I feel that I need some additions, I have the opportunity to add someone," Hathurusingha mentioned.
He also went onto say that he will bring in the expertise of former great Kumar Sangakkara, with whom he worked closely during his brief tenure with the senior Sri Lankan side in 2009.
"I will get Kumar's expertise. I will invite him to help us. If I don't get him in, I am doing a disservice. Not only him, I will also get Mahela Jayawardene and Muttiah Muralitharan to work with me on different occasions. Will see whether they have time."
Hathurusingha's first challenge will be against the same set of players (Bangladesh) that he had been coaching till less than three months ago. "It generates lot of interest as I am going back to Bangladesh. We are not performing to our capabilities and Bangladesh are strong at home in the last two years. Massive challenge for us.
"But we have to look at the larger picture. My challenge is to make most of the talent that this team has. My target is the next World Cup when it comes to white-ball cricket. In red-ball cricket, my challenge is the next series. We pick sides accordingly. We need to identify players for World Cup."
Sri Lanka leave for Bangladesh on January 13. They will be involved in a tri-nation series that also has Zimbabwe. Then they play two Tests and two T20Is against Bangladesh.