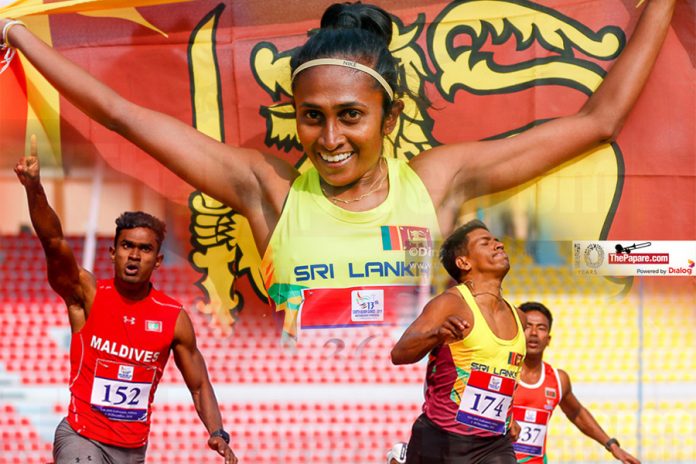 Nilani Ratnayake put in an excellent run in the Women's 1500m to claim Sri Lanka's 1st Gold in the Athletics arena at the South Asian Games in Nepal. Sri Lanka claimed a further 3 silvers and 2 bronze medals in the 100m Men's and Women's events, the Women's High Jump as well as the Women's 10000m event.
Ratnayake, scheduled only to run the 5000m at the games, was slotted into the 1500m line-up at the last moment to replace the injured Nimali Liyanarachchi. What a stroke of luck it turned out to be for Ratnayake, who is known for her exploits in the 3000 Steeplechase but with the event not being included at the games, she opted for the 5000m event and now in a surprising turn of events has won a Gold in the 1500m with a timing of 4:34.34.
An unfortunate incident saw Liyanarachchi, the national 800m and 1500m Champion, miss out on the games as she was involved in a motor accident a day before the team's departure to Nepal; she suffered a broken arm. Gayanthika Abeyratne, unfortunately, could not medal in the 1500m event. 
Meanwhile in the sprints, Himasha Eshan missed out on the Gold medal by a whisker and had to settle for the Silver in the Men's 100m Final, with a timing of 10.50s. Dubbed the fasted man in South Asia, he ran a personal best of 10.22 at the Athletic trials in Sri Lanka earlier this year and 10.26 at the previous South Asian Games in 2016 setting a new meet record. Saaid Hassan of Maldives finished 1st with a timing of 10.49s while Sami Ullah of Pakistan claimed Bronze with a timing of 10.66s.
Amasha De Silva and Lakshika Sugandi snatched Silver and Bronze in the Women's 100m final. Amasha crossed the line with a timing of 11.82s (Season's Best) while Sugandi managed a Personal Best of 11.84s. The Gold medal went to Archana Suseenth of India (11.80s).
>>>Photos: Day 3 | South Asian Games 2019<<<
Sri Lanka were expecting big things in the Women's 10000m but unfortunately had to settle for just the Bronze as Nilanthi Lanka Ariyadasa finished ahead of Hiruni Wijeratne with a timing of 35:59.02. Wijeratne would be disappointed with her 4th place finish (timing 36:22.85) and will hope to make up for it in the Marathon event later in the competition.
Dulanjalee Ranasinghe was placed 2nd in the Women's High Jump event, clearing a height of 1.69m. Indians Jishna M and Rubina Yadav claimed Gold and Bronze respectively with jumps of 1.73m and 1.69m. Though clearing the same height as the Bronze medalist, Ranasinghe had fewer failed attempts in the lead up to her last successful jump, helping her claim the Silver. Sri Lanka's other jumper in the event, Muditha Madushani was placed 4th, with a height of 1.65m.
Other results
Ushan Thiwanka – 4th Place Men's High Jump
Sanjeewa Lakmal – 4th Place Men's 1500m
Kupun Kushantha – 5th Place Men's 1500m
Vinoj Suranjaya – 6th Place Men's 100m
Keep it logged on to ThePapare.com for more real-time updates on Sri Lanka's performance at the South Asian Games 2019. 
South Asian Games 2019 | Live Blog | Day 2