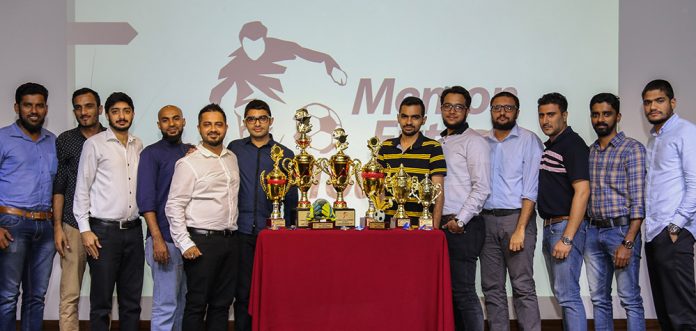 Ten teams of the Memon Community will vie for honours in the second consecutive Memon Futsal Tournament to be played at the Futsal World indoor, Darley Road on January 14th Sunday from 8.00am onwards.
Defending champions Futsal Amigos and last year's runner-up 8 Containers were unfortunately drawn in the same group when the open draw took place at the Expo Lanka Auditorium in Orugodawatte last Tuesday.
Along with these two teams, Khatra FC, CKR FC and United Kickers are also in Group A.
Jolly Boys, Flamingo FC, M Boys, Renegades and Gunners FC are pitted against each other in Group B.
The tournament will be conducted on a league basis and at the end of the league stage the first two teams will play in the cup semi-finals and the teams placed third and fourth will vie for the plate championship.
The Cup champions will be awarded a cash prize of Rs. 50,000/- along with a trophy and the runner-up will get Rs. 30,000/- plus trophy.
The Plate champions and the runner-up will get cash prizes of Rs. 25,000/- and Rs. 15,000/- respectively along with the trophies. The team with the best jersey will get a cash prize worth Rs.10,000/-.
Special trophies for the Best Player and the Best Goalkeeper are also on offer.
There will also be a tournament for the juniors of the Memon Community where four teams will take part.
Killer Cleats, Memon Knight Riders, Seven Buddies and United 7s will play in a round robin basis and the top two teams will play in the final.
Speaking at this occasion, The Founder and President of Colombo FC and promoter of Football in Sri Lanka Saif Yousuf thanked Mohamed Shifan for taking the initiative to organize this tournament amongst the small community of Memons in Sri Lanka and making sure it does not die off.
He also stated, "Our community is a small one but very much Sri Lankan first and Memons is something we identify our roots, language, our culture, history, religion and where it came from. Although we are a small community we got ten wonderfull teams. Having ten teams from the same community to play in futsal I am extremely proud and happy to be part of it and assure to support this to continue in the future as well."