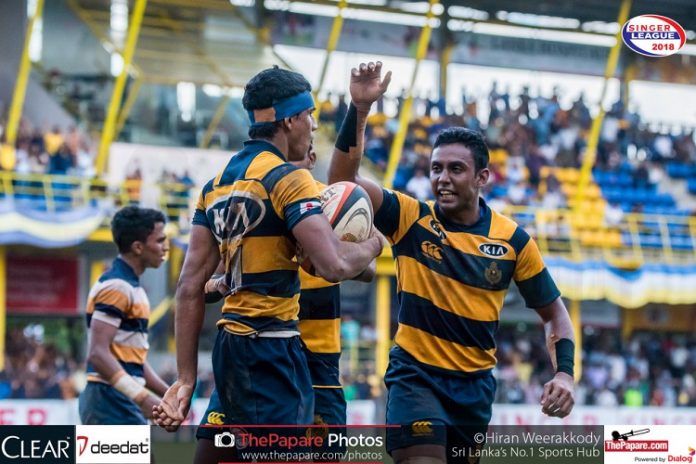 The Singer Schools Rugby League that will kick off on the 28th of February will have a slight change in its fixture come the 2nd round as the tournament organizers, the Sri Lanka Schools Rugby Football Association, intends to postpone commencement.
The Singer Schools Rugby League is a two-round competition across three divisions. Initially, 6 teams are drafted in two groups in one division and each of the teams play each other within their group in the 1st round.
The celebrated Schools Rugby League for the 2019 year will kick off…
The second round will only consist of the top 4 team from each group, battling out with each other.
Captaincy announcements:
New Skipper to lead the Lions of the Hill Capital
Experienced No.8 set to spearhead Joes
New Captain to lead the Thomian legion
A new captain for the Royalists!
According to the earlier calendar, the Schools Rugby League will kick off on the 25th Feb – 3 Mar weekend and the 1st round will conclude on the 25th March – 31st March weekend.
The second round for the league was set to kick off the following week itself starting on the 1st April – 7th April weekend.
The revised fixture will see the second round kicking off on the 15th April – 21st April week and will continue for 4 weeks.
The revised second round match weeks are as follows:
Week 6 – 15th April – 21st April

Week 7 – 22nd April – 28th April

Week 8 – 29th April – 5th May

Week 9 – 6th May – 12th May
There will be no change in dates for the 75th Bradby Shield that was scheduled for the 10th and the 25th of May 2019.
Read more: The Bradby to be played in May!
Tags – Singer Schools Rugby 2019, Singer Schools Rugby League, Schools Rugby Fixtures, Schools Rugby, bradby Shield