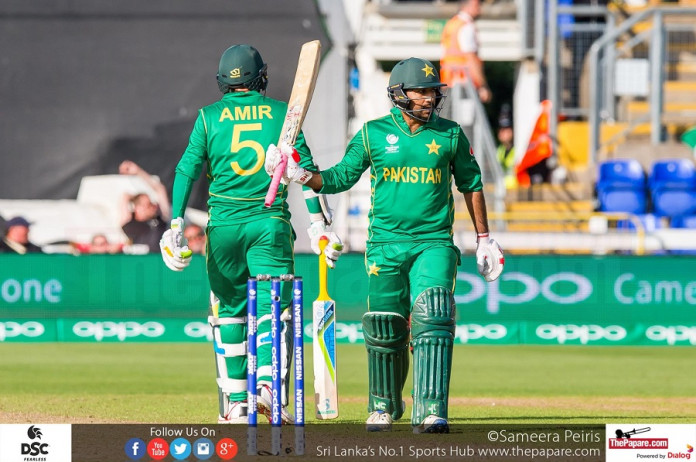 Pakistan captain Sarfraz Ahmed insisted he always believed his side could turn their fortunes around after they reached the Champions Trophy final with a dominant eight-wicket win over England in Cardiff.
Pace bowler Hasan Ali took three wickets as Pakistan dismissed England, the only unbeaten team left in the tournament, for a mere 211.
In marked contrast to their nail-biting chase in a three-wicket, virtual quarter-final, win over Sri Lanka in Cardiff on Monday, Pakistan then cruised to a total of 215 for two with a mammoth 77 balls to spare.
Azhar Ali (76) and Fakhar Zaman (57) dismissed England's attack to all parts of Sophia Gardens in an opening stand of 118. 
What made Wednesday's win all the more impressive was that it came just 10 days after Pakistan launched their Champions Trophy campaign with a woeful 124-run hammering by arch-rivals India.
But just three days later Pakistan, the lowest-ranked side in a tournament featuring the world's top eight one-day international teams bounced back to defeat number one South Africa.
Now Pakistan could have a chance for revenge against India in Sunday's final at the Oval if the title-holders beat Bangladesh in Thursday's second semi-final at Edgbaston.
"It is a cause of great pride and happiness for myself and for the entire Pakistan nation," said Sarfraz after the semi-final triumph.
"It was a team no one gave a chance, neither here nor back home," added the 30-year-old wicket-keeper, whose 61 not out was key to the victory over Sri Lanka.
"No one thought we'd reach the final."
Pakistan coach Mickey Arthur said before the semi-final that if his side played their "best game" they could "put pressure" on England. 
And they did so in style, despite being without injured left-arm quick Mohammad Amir because of a back spasm.
"Today was a perfect performance from all departments," said Azhar.
"The bowlers did extremely well and got us in a very good position. 
"Getting England out for 211 is never easy because they have a wonderful balance to their side and we knew if we didn't take wickets they would score heavily," he added.
"Credit goes to Sarfraz and the way he led the team, we kept taking wickets and kept the run-rate in check. It was a wonderful performance."
Meanwhile Sarfraz said the way Arthur and the South African's backroom staff had boosted morale after the India defeat had been central to their recovery. 
"After the first loss, we are very down, but credit goes to the team management," said Sarfraz. "They motivated us very well."
– 'India match gone' –
Asked how self-belief had been restored following a defeat by India greeted with widespread condemnation back home, Sarfraz explained: "After the India match, we just motivated the guys. 
"We said don't worry about the India match. This is gone.
"We have two (more group) matches. If we play good cricket, definitely we will win this tournament. Now we are in the final."
Sarfraz already knows what it's like to win a trophy at India's expense, having been the skipper of the Pakistan side that defeated their fellow Asian giants in the 2006 Under-19 World Cup final in Colombo 
"Yes, I will have that India Under-19 game in mind," he said. 
"It was my first big event as captain. We hope whoever comes through we manage to beat."
Pakistan, as they had when defeating England in an ODI at Cardiff last year, received plenty of crowd support.
It is something they appreciate more than most after a 2009 terror attack on Sri Lanka's team bus in Lahore turned Pakistan into a 'no-go area' for the world's top teams, with the United Arab Emirates now their adopted 'home'.
"Last time we played here although we were 4-0 down (in a five-match series), still the Pakistani supporters came to support us and it was like we were playing at home," recalled Azhar.
"It was good to have that feeling, we don't play at home, so whenever we get a crowd supporting us we love it.
"Thanks to the crowd for coming and they've been brilliant," he added.