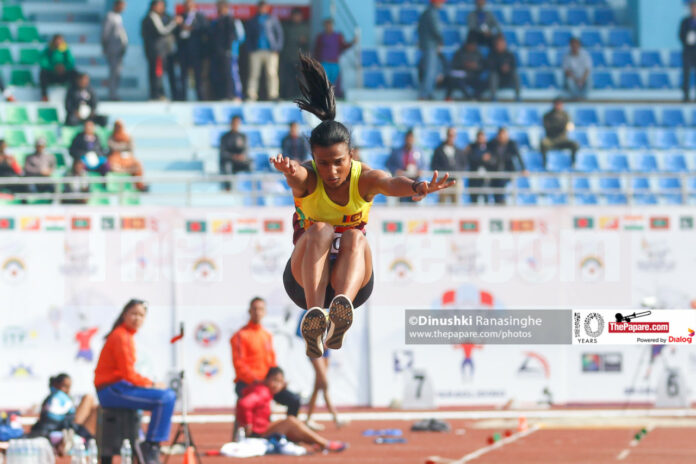 Sri Lanka's champion long jumper Lakshini Sarangi Silva participated in her 2nd competition in her Europe tour today (5th June) in the 68. ORLEN Memoriał Janusza Kusocińskiego Meet in Poland.
Silva managed to start well with a leap of 6.35m (-0.5 m/s) but couldn't better that performance in the next five attempts which resulted in a 6th place finish for her in the competition which is categorized as a "World Athletics Continental tour – Gold" meet.
>> A busy June for Sri Lanka Athletics
The competition was won by Serbia's Milica Gardasevic with a jump of 6.81m (0.2) and surprisingly, the former Diamond League meeting winner Christabel Nettey had to settle for the 3rd place.

Even though the jump of 6.35m is not among Silva's top jumps this season, this performance is crucial for Silva because this will put her on board in the 'Road to Oregon' rankings list which will determine the qualification for World Athletics Championships 2022 which will be held in the USA from 15th -24th July.
>> Five Athletes in the running to qualify for World Athletics Championships
Since this is a Grade "A" competition, she will gain extra 80 points for the 6th place finish and a total of 1158 performance points for her best leap (6.35m) which means she will be placed at 1157 average performance score in the 'Road to Oregon' rankings. With that performance score, she will probably be placed inside the top 40 athletes of the 'Road to Oregon' rankings. (The quota is 32) Before this performance, she wasn't eligible for the rankings as she didn't have 5 valid performances within the qualification duration (2021/06/28 – 2022/06/26)
>> Sarangi de Silva renews National Long Jump record
Silva will be competing in another two competitions in Switzerland before she concludes her Europe tour and will be hoping to better her rankings with another stellar performance to break in to the top 32.
Sarangi Silva's Performances after 2021/06/28
Date
Competition
Performance (m)
Wind (m/s)
10/31/2021
Sri Lankan Ch., Colombo
6.48
-0.90
11/26/2021
Army Ch., Colombo
6.14
0.70
2/12/2022
Trials Meeting, Colombo
6.65
-1.40
4/9/2022
Sri Lankan Ch., Diyagama
6.52
1.40
5/6/2022
68. ORLEN Memoriał Janusza Kusocińskiego, Chorzow
6.35
-0.50