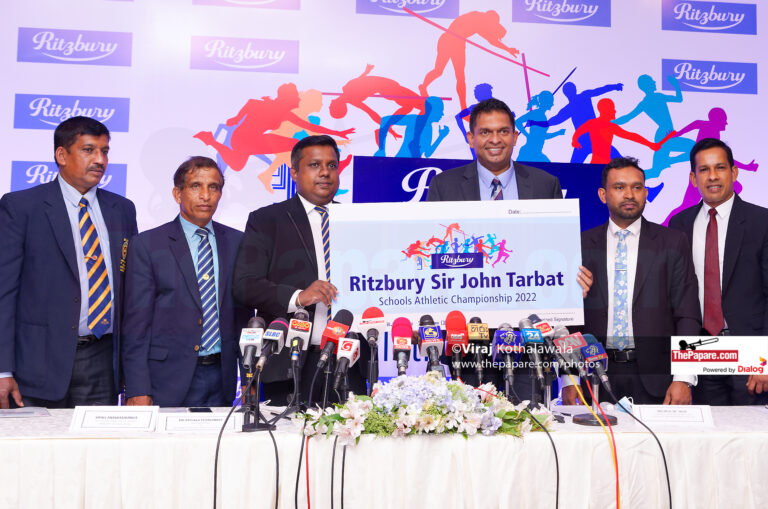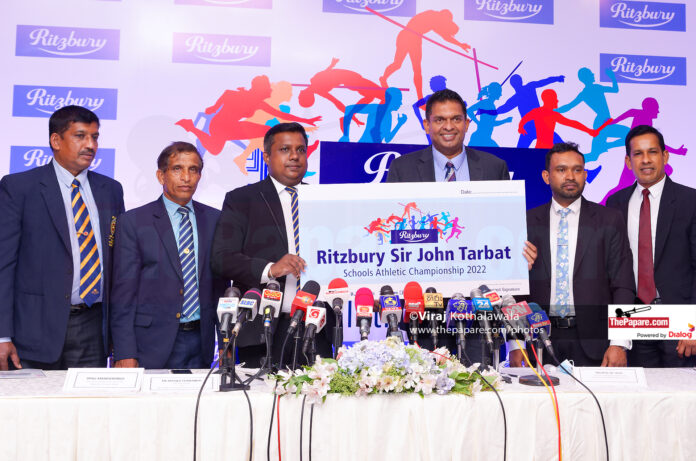 Ritzbury, Sri Lanka's No. 1 chocolate brand of CBL Foods International (Pvt) Ltd announced its 10th year sponsorship of the 90th Sir John Tarbat Schools Athletic Championship, in aim to uplift standards of sports in Sri Lanka whilst supporting budding athletes.  
Ritzbury – the sole sponsor of this year's championship will power both Senior and Junior meets which will attract over 18,000 school athletes from 800 schools.
The Junior Championship will be conducted at regional level as follows;
1st Regional Meet – 30th & 31st August | Anuradapura
2nd Regional Meet – 22nd & 23rd September | Embilipitiya
3rd Regional Meet – 29th & 30th September/01st October | Bandaragama
Athletes who qualify from regional meets will participate in the finals of the Junior Championship which will be conducted under four age groups – Under 12, 13, 14, 15. The Senior Athletics meet will take place from 13th to 16th September at the Mahinda Rajapaksa Stadium, Diyagama and feature competitors of Under 16, 18 and 20 categories.
Nilupul de Silva, General Manager Marketing of CBL Foods International (Pvt) Ltd. said, "We are proud to sponsor the Ritzbury Sir John Tarbat Schools Athletic Championship once again. This championship has such an excellent track record in fostering Sri Lanka's best sporting talents. It is noteworthy to mention that our ten year long association with this prestigious championship has been able to uplift its standards whilst supporting many budding athletes. Going beyond normal sponsorship we have been extending our support for the high performers at this event on a long term development initiative. For this purpose, identifying and supporting talent is pivotal. We strongly believe our sponsorship of these athletes will contribute towards their progress over the years as they emerge into sporting stars of the future."
Dr. Kusal Fernando, President of the Sri Lanka Schools Athletic Association (SLSAA) noted: "Ritzbury's continuous sponsorship has made a huge difference and upgraded the standard of the Sir John Tarbat Schools Athletic Championship and we see the improvement in these athletes who are among the nation's brightest prospects. We really appreciate and honour Ritzbury for taking the initiative and going out of its way to fund talented athletes who face many difficulties financially. Expenses towards their sport is a daily challenge and Ritzbury's renewed commitment to develop the skills and talents of our winning athletes through steadfast financial support is greatly appreciated. There is no doubt that this contribution and support is a massive boost and will make them more determined to succeed."
Famous for being a strong supporter of sports in Sri Lanka, Ritzbury continues to foster young, hopeful sportsmen and women. 'Ritzbury Mawbimata Weerayek' initiative launched three years ago to power dreams of out national level athletes has also produced remarkable results as a testimony to brand's true commitment towards the development of country's sports. Apart from athletics, Ritzbury also extends its sponsorship to power the Ritzbury Junior National Squash Championship, All Island Schools Kids' Tennis Carnival, Vidudaya Ritzbury Swimming Championship and Ritzbury Junior Super 16 Rugby Carnival.