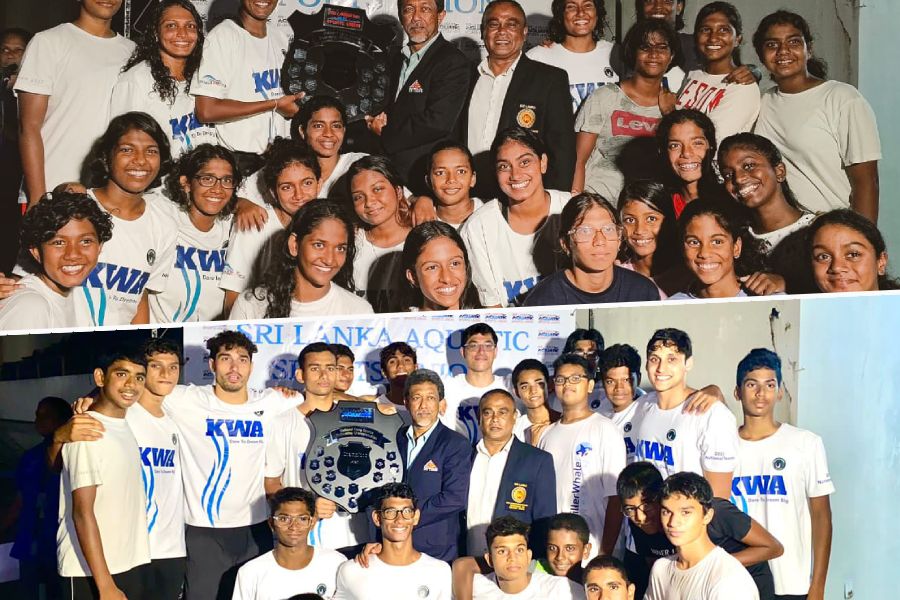 The National and Junior National Long Course Swimming Championships 2023, organized by the Sri Lanka Aquatic Sports Union, ended yesterday evening after 5 days of intense racing. The Killer Whale Aquatics ruled the pool by becoming the National Long Course Swimming champions in both the Men's and Women's categories, with 319 and 221 points respectively.
Meanwhile, the Junior boys of St. Joseph's College, Colombo with 182 points, and the Junior girls of Lyceum International School, Gampaha with 165 points, became the Junior National Long Course Champions. 
Last year's champions Sri Lanka Army finished 2nd this time, while Visakha Vidyalaya became Runners-up in the Women's category. 
Anusara Abeygoonawardane from Killer Whale Aquatics and Hiruki De Silva from Gateway College, Colombo won the individual National Champion titles. Two joint Junior National champions were crowned in both the Boy's and Girl's categories. Ginuki De Silva from Leeds International School and Sheraya Amarasekara from Killer Whale Aquatics became the joint Junior National Girls' champions. Okitha Gunasekara from Elizabeth Moir School and A. I. M. Haathim from St. Peter's College shared the joint Junior National Boys' individual champion titles. 
This is the competition where the fastest swimmers in the country race against each other in a 50m pool, and is only open for swimmers who have achieved the required National and Junior National qualifying standards. 
Swimmers from 63 different clubs and schools participated in this competition, with swimmers who are under 15 years competing in the Junior category, while swimmers aged 15 and above swam in the National category. 
In addition to this, 1 Individual National record and 2 new National Relay records were established by Ramudi Samarakoon and the Women's relay team of Killer Whale Aquatics respectively. 
Ramudi Samarakoon renewed her own record within just 10 days by swimming a time of 2:41.66 in the Women's 200m Breaststroke event. She lowered the record she established on the 22nd of June at the Singapore National Championships this time, by 1.82 seconds.   
The Killer Whale Women's relay team set 2 National records in the Women's 200m Freestyle Relay and the Women's 200m Medley Relay. The unity of Ramudi Samarakoon, Ganga Senevirathne, Akithmi Wasalathanthri, and Minuri Bartholamuse achieved these record-breaking performances. 
The competition was also a trial for the Asian Age Group Aquatic Championships 2023, which is to be held in the Philippines coming December.