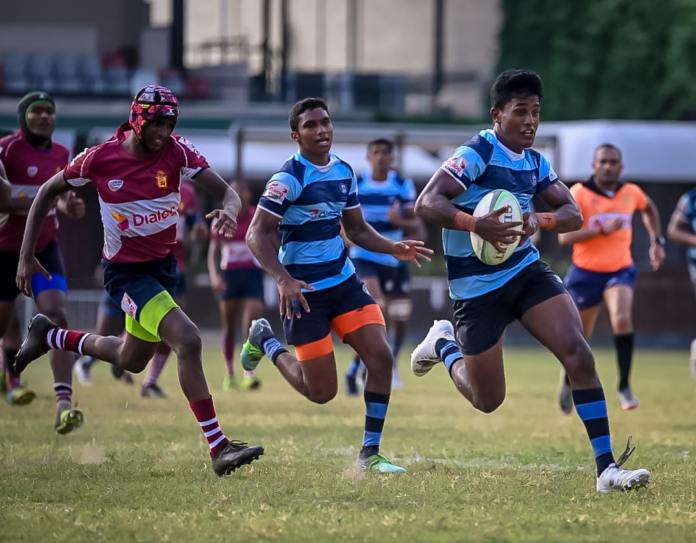 Wesley College produced an aggressive display to beat Science College by 38 points to 10 in their Dialog Schools Rugby League 2022 encounter, worked off at the CR & FC grounds on Saturday (16) evening.
Both teams came into this must-win game with enthusiasm, as a loss for either would bring the curtains down on their chances of making it to the Super Round.
Wesley College managed to dominate the early proceedings by continuously attacking the Science defense, and a long pass by the play-maker Shaveen Jayawardana opened space for Maleesha Thiranagama to go over in the right corner to break the deadlock.(WC 05-00 SC)
Wesley continued put the pressure on the Mount Lavinia outfit as their forwards played the patience game by keeping the ball for phase after phase before releasing prop forward Shem Elisha to stroll over the line. (WC 10-00 SC)
A few minutes after the second try, the Double Blues scored again through their prop Hafiz Thabeeth as he powered over the line to give the hosts a healthy lead. (WC 17-00 SC)
Science College finally made it to the Wesley red zone in the 30th minute of the game with some intelligent Rugby, as they slowed down the game to cater to their pace. The visitors' plan paid off when Malshan Perera found the white from the back of a maul from a Science line-out. (WC 17-05 SC)
A moment of brilliance from the play-maker Jayawardana saw him beat two defenders with a delicate chip kick – he managed to grab it and he went over for the bonus point try just before the break to hinder the Science comeback. (WC 24-05 SC)
Half Time: Wesley College 24 (4T,2C) – Science College 05(1T)
The second half began with a Science try as they caught Wesley napping from a set-piece, while scrum half Lakshan Silva moved the ball quickly to Kavindu Nimsara, where his step to his right created enough space for Science's second try.  (WC 24-10 SC)
Wesley took back control of the game with an important try when Jayawardana distributed the ball to his backs from a set piece. Nithila Rodrigo found an overlap and stormed over for the 5th try for the double blues. Jayawardana added the extras from a difficult angle to further increase the lead. (WC 31-10 SC)
Wesley Prop Hafiz Thabeeth continued his solid performance as bulldozed his way past the Science defenders to score his second try of the game to seal the win for the double blues and keep their Super Round hopes alive with this comprehensive win.
Full Time: Wesley College 38 (6T,2C) – Science College 10(2T)
NDB Player of the Match: Shaveen Jayawardana (Wesley College)
Score Breakdown

Wesley College: (24) 38

Try: Malesha Thiranagama,Shem Elisha, Hafiz Thabeeth 2, Shaveen Jayawardana, Nithila Rodrigo ; Cons: Shaveen Jayawardana 3, Rigesh Muralidharan

Science College: (05) 10

Try: Malshan Perera, Kavindu Nimsara;