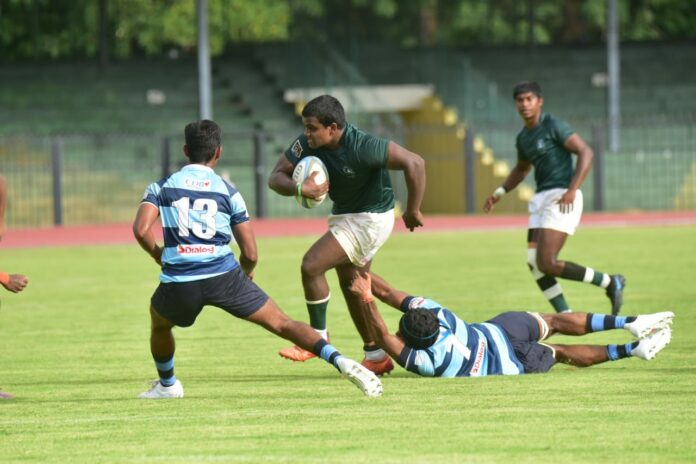 Wasteful Isipathana College was lucky to end on the winning side of things against Wesley College as the former managed to scrap to a 10 (1T 1C 1P) – nil win, in the Dialog Schools Rugby League 2022 game played at the Sugathadasa Stadium on Friday.
Both teams entered the fray with victories in the first week of the Dialog Schools Rugby League as they both looked to solidify their standing in their respective group.
The visitors from Havelocks piled pressure on the home team but their defense held firm to keep the Green Machine at bay.
Isipatha College had the opportunity to get on the board in the early exchanges, however, Fullback Malith Mihisara missed from in front.
Moments later, Wesely College Five-eight, Shaveen Jayawardhana saw yellow as he put his team in deep trouble. The hosts defense held firm as wave after wave of the Green-machine were defused as the hosts held on.
The Les-Blue Five-eight, Shaveen Jayawardhana, saw yellow a second time in the first half as he was sent off for a deliberate knock-on, leaving his team in disarray.
The visitors, however, failed to breach the Wesley defense as both teams went into the Leamon's scoreless with plenty to ponder on.
Half Time: Wesley College 00-00 Isipathana College
Both teams had plenty to work on if they were to remain unbeaten, but knew their opponents were not going to give an inch as the game intensified in the second half.
Pathana, however, managed to get themselves on the board through the boot of Rinesh Silva after the visitors overcame a bleak first 15-minutes of the second half. (WC 00-03 IC)
The game shifted back to Pathana attacking and the Les-Blu defending as the hosts defense held firm time and time again, even though their ill-discipline meant they played virtually more than a half with less than their full allocation of players.
Wesley Fullback Tharusha Jayaweera was the second player to see yellow for the hosts as their task of holding out their opponents got just that harder. the home sides' task went from hard to nearly impossible when Prop forward Shem Elisha saw yellow for continued infringements.
The home team was meters away from their opponents' white-wash in the dying embers of the game; however, continued errors meant they missed out on a golden opportunity to defuse the Green machine.
Pathana preyed on their target and struck after the hooter through lock-forward Sorya Dodangoda to seal the deal. Rinesh Silva added the cherry on top of the outing with the conversion, however, both teams have plenty to improve going into the thick of the action in the Dialog Schools Rugby League.
Full Time: Isipathana College 10 (1T 1C 1P) – Wesley College 00

NDB Player of the game: Rinesh Silva (IC Winger)
Scores and Cards Breakdown:
Wesley: Shaveen Jayawardhana (2-Yellow cards turn into Red), Tharusha Jayaweera (Yellow Card), Shem Elisha (Yellow Card)

Isiathana: Soorya Dodangoda (1T), Rinesh Silva (1P 1C)