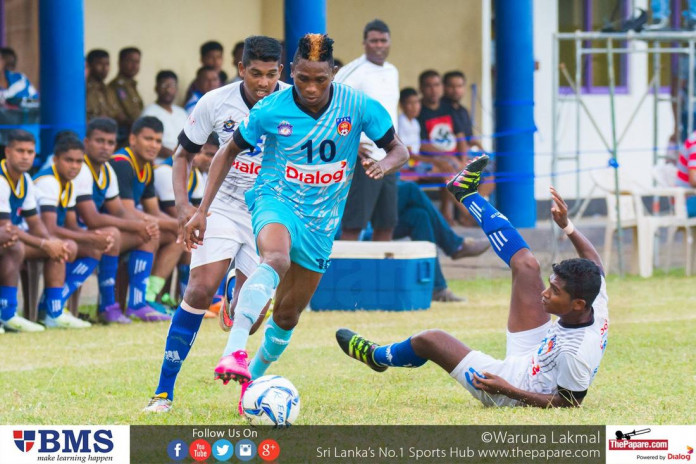 A Job Michael strike was sufficient for Renown SC to secure the points against a second fiddle Air Force SC as they edged past them on a 1-0 score line, in the Dialog Champions League group B tie worked off at Kelaniya Football Complex.
Both teams came into this weekend's clash having already secured their super 8 spots as mid week results had played out in such a manner. Further, with the defense services finals to be held this weekend, the Airmen opted to leave out some of their big names as this turned out to be a dead rubber.
The game had that tone about it right from kick off with both teams not willing to commit and showing signs of being satisfied with a draw. The Airmen left alot of bodies in defense as DK Duminda was the lone striker up front for them.
On the flip side Renown who came off a rather shock defeat, enjoyed more time on the ball which was something which wasn't a luxury they could afford against Navy SC during last weekends clash.
With both teams showing very little intent to commit, it was Renown who at least had an opportunity to trouble the scorers. Job Micheal, Afam Akram and Fazul Rahuman all had their fair share of openings to give the hosts the lead with skipper Mohamed Rifnaz coming the closest interms of grabbing a much needed opening goal through a freekick.
However, Air force held firm at the back dispite losing their shape in numerous occasions, especially with Harsha Fernando making crucial interceptions. Both teams went into the hut as things began with neither seemed to be displeased with the stalemate.
Despite the subdued nature of the game Renown had a few heated moments with the Airmen which resulted in Fazul Rahuman being taken down to the book.
Half Time – Renown SC 0 – 0 Air Force SC
The second half saw more composure on Renown's part as they seemed to make amends in midfield. Yet, Air Force's defensive set up seemed to have rather unsettled their style of play.
In a real moment of brilliance from Hakeem Kamil to break the deadlock when he stormed through midfield to pierce the Air Force defense with an inch perfect pass to Job Micheal who made no mistake as he slotted the ball home passing an advancing goalkeeper Ruwan Arunasiri, to atone himself for an earlier missed chance similar to this.
Renown was content with their one goal cushion despite a late serge by Air force to revive a point off the game. The Renown defense led by Hakeem held firm as they left little room for error at the back.
As the game to a close both teams seemed satisfied with the outcome as the all important task of qualifying for the Super 8s has been secured.
In a game which provided little spark and venom it was both defenses that held firm and Renown's ever reliable Hakeem Kamil came up trumps with a moment of brilliance to provide for the opening goal.
Full Time – Renown SC 1 – 0 Air Force SC
ThePapare.com Player of the Match – Hakeem Kamil (Renown SC)
Air Force coach Sampath Perera on his team's performance;
"It was encouraging to see this new look team perform the way they did. Of course we had our defense services final in mind and rested some of our key players but that had alot to do with the fact that we have already qualified for the super 8s as well. But we'll be back to our usual strength come the super 8 phase."
Renown SC coach Mohamed Amanulla;
"I am happy to have bounced back with a win after last week's loss but not at all happy with some of the refereeing decisions on the pitch."
Goal Scorers
Renown SC – Job Michael 62'

Bookings
Yellow cards
Renown SC – Fazul Rahuman

Substitutions
Air Force – DK Duminda out Kasun Sanjeewa in, Kelum Perera out Chamal Mendis in, Nuwan Welgamage out Kumara Fernando in
Renown SC – Dimuthu Priyadharshan out Shamil Ahamed in, Mohamed Fazal out Mohamed Humaid in