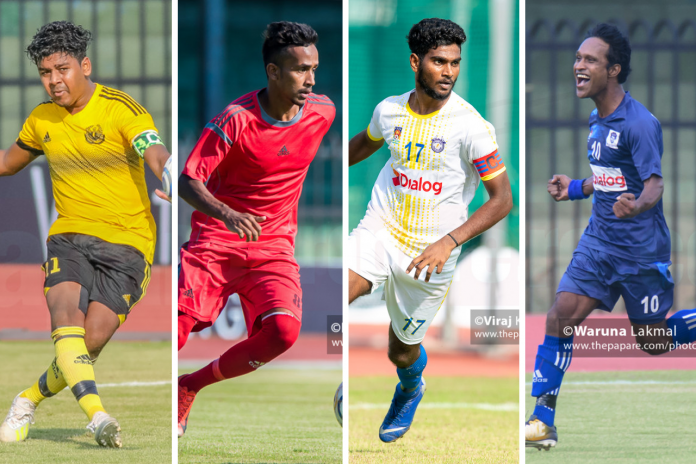 The Vantage FA Cup Round of 16 matches were completed on the 3rd, 4th and 5th of January. The 8 winners will now lock horns in the Quarter Finals stage.

Vantage FA Cup Round of 64 matches were completed today. Further, Round of 32 matches too took……………
Open draw for the Quarter Finals will take place on the 8th of January and the 4 matches will be played on the 11th and 12th of January.
Defenders FC vs SL Police SC
The defending champions Defenders FC bowed out of the tournament, losing on penalties against SL Police SC. The match ended 1-1 and the tie breaker broke the Defenders, as Mohamed Issadeen missed the 5th kick which would have given the soldiers the win. The sudden death penalty by W. A. C. Kumara converted as the Cops won 5-4.
Saunders SC vs Java Lane SC
Saunders got the better of the Slave Island team when they scored all three spot kicks and Java Lane missed their first three. The game ended 1 apiece. Java Lane took the lead through Malaka Perera and Chrishantha Abeysekara equalized soon after. 
Blue Star SC vs Up Country Lions SC
E.B Channa was on song scoring 4 and creating 2, as Blue Star eased past a hapless Up Country Lions team 6-2. Half time score was 4-1, as the Blues took an early 3-0 lead.
New Youngs, the favorites against Prison SC, went out of the Cup championship losing 5-4 on penalties. Prison led at half time and the DCL team equalized, leading the match to the tie breaker.
A woeful finishing in front of goal by Renown SC kept New Star SC in the game. Renown led 1-0 at half time and the game was finally put to bed in the 80th minute by Man of the Match Dilip Pieris.
Singing Fish SC vs Sea Hawks FC
The Northern team gave fight and a fright to the sailors, playing an excellent game. The Sea Hawks too played well and had to dig deep to come out as winners in the stoppage time, with I.H.P Kavinda scoring. 
Red Rose SC vs Civil Security SC
Civil Security SC beat Red Rose, Negombo in a penalty tie breaker, with the full-time whistle score reading 1-1. Mohamed Nafeer gave Red Rose the lead in the 23rd minute, with D. M. Senduran equalizing in the 30th minute. R. S. Samarakoon scored the winning penalty and Civil Security won 6-5.
Red Sun SC vs Blue Eagle SC
The Eagles had to fight hard to beat Red Sun SC and the Airmen finally came through with a 1-0 win. The first half ended scoreless and both teams created the chance to score.
Round of 16 Matches Results
| | | | | |
| --- | --- | --- | --- | --- |
| DEFENDERS FC | 1(4) | VS | 1(5) | SL POLICE SC |
| NEW YOUNGS FC | 1(4) | VS | 1(5) | PRISON SC |
| SAUNDERS SC | 1(3) | VS | 1(0) | JAVA LANE SC |
| NEW STAR SC | 0 | VS | 2 | RENOWN SC |
| BLUE STAR SC | 6 | VS | 2 | UPCOUNTRY LIONS SC |
| SINGING FISH SC | 0 | VS | 1 | SEA HAWKS FC |
| RED ROSE SC | 1(5) | VS | 1(6) | CIVIL SECURITY SC |
| RED SUN SC  | 0 | VS | 1 | BLUE EAGLE SC |
>>for more Football News Click Here<<