Matthew Abeysinghe's medal hopes were dashed as he had to settle for a 6th place finish in the final of the Men's 100m Freestyle event at the 2018 Asian Games.

Team Sri Lanka faced an unfortunate exit in the Men's 4x100m Freestyle Relay at the Asian Games/p>
Team Sri Lanka swam in their final individual events at the Asian Games, a short while ago at the GBK Aquatic arena. Superstar Matthew Abeysinghe was the best performer by far, making it into the 100m Freestyle final, Sri Lanka's 1st of the games.
Abeysinghe swimming in lane 6, was shaky from the start, falling behind the pack off the board. Although his difference between splits is an impressive 0.57 seconds, Abeysinghe couldn't beat his current National Record (49.11), which he established at the Commonwealth Games 2018.
With a reaction time of 0.65secs, Matthew mustered up a finish of 49.28 seconds at the line with a 50m split at 23.41 seconds to finish 6th. Shinri Shioura of Japan, fastest qualifier and Silver medalist from 2014, took home Gold as expected clocking 48.71seconds.
Earlier in the day…
Men's 50m Butterfly
The event was held across 6 heats, Akalanka Peiris placed in heat 3 and Cherantha De Silva in the 4th. Peiris, first to jump into the waters started with an impressive 0.14secs difference. Gaining speed from inception, Peiris was a mere 0.14 seconds behind Navaphat Wongcharoen of Thailand at the finish line.
Peiris ended his heat with a timing of 25.20seconds with a 2nd place finish.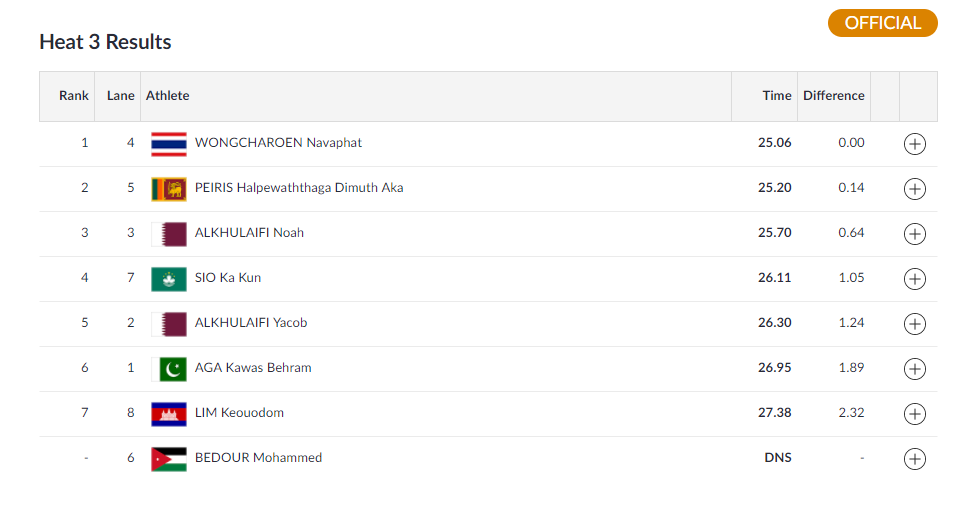 Silva finished 8th in his heat with a timing of 25.36 seconds with a difference of 1.23 seconds, not the best from Cherantha De Silva to end his time at the Games.
De Silva ended his heat with a timing of 25.36seconds with an 8th place finish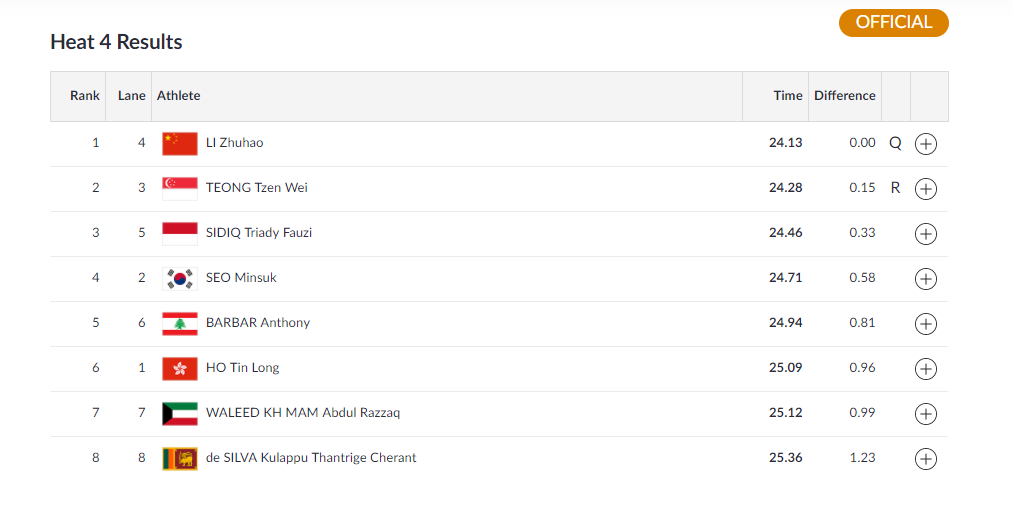 Men's 200m Backstroke
Akalanka Peiris saw a disappointing end to his run at the 2018 Asian Games, failing to qualify for his final individual event, Men's 200m Backstroke. Swimming in heat 2, Peiris finished 6th in his heat of 7 swimmers. He split the 50m at 29.42secs, 100m at 1:02.64mins and rounded the 150m mark at 1:37.39mins.
Akalanka Peiris ended his heat with a timing of 2:12.14 minutes with a 6th place finish.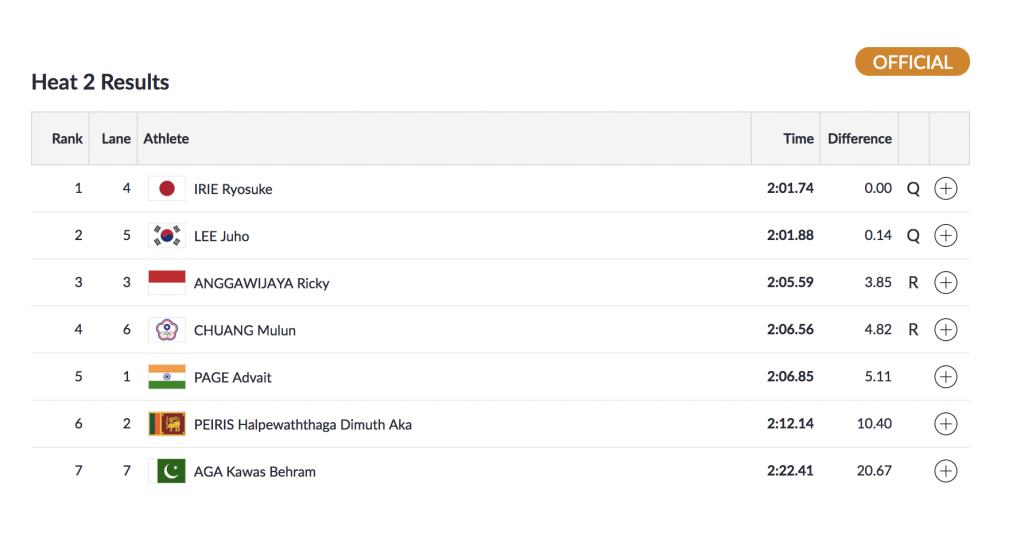 Men's 100m Freestyle
Kyle Abeysinghe swimming first for Sri Lanka in the event, swam in the fourth heat. The younger Abeysinghe finished third in his heat and 13th in the overall standings. He swam his 50m split in 24.32seconds with a reaction time of 0.63seconds.
Kyle Abeysinghe ended his heat with a timing of 50.14seconds with a 3rd place finish.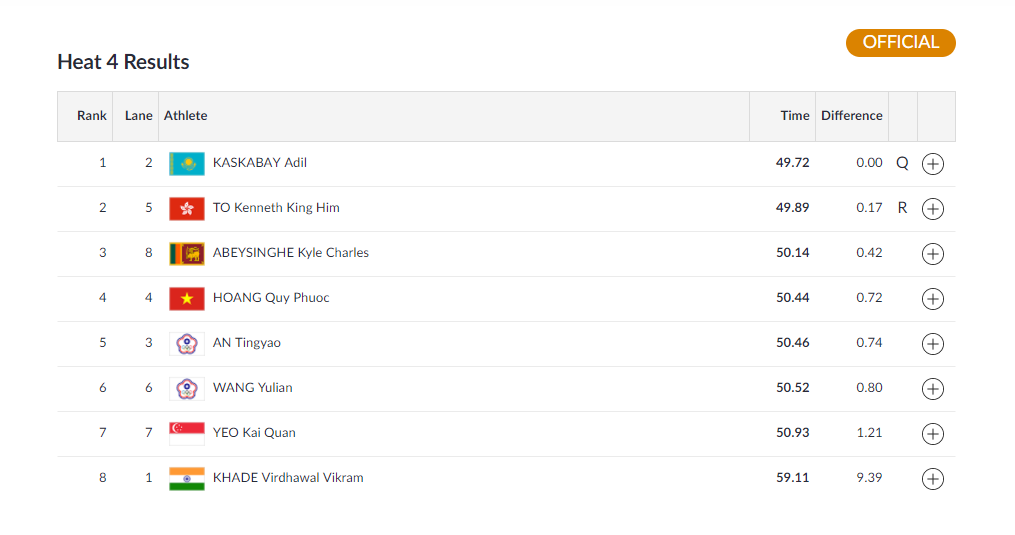 National record holder of the Men's 100m freestyle, Matthew Abyesinghe followed Kyle in Heat 5. Abeysinghe proved himself worthy of final qualification with a timing of 49.48seconds. Matthew's timing placed him third in his heat behind Shinri Shioura of Japan who had a timing of 49.32seconds.
Matthew Abeysinghe ended his heat with a timing of 49.48seconds and qualified in 4th place for the final of the Men's 100m Freestyle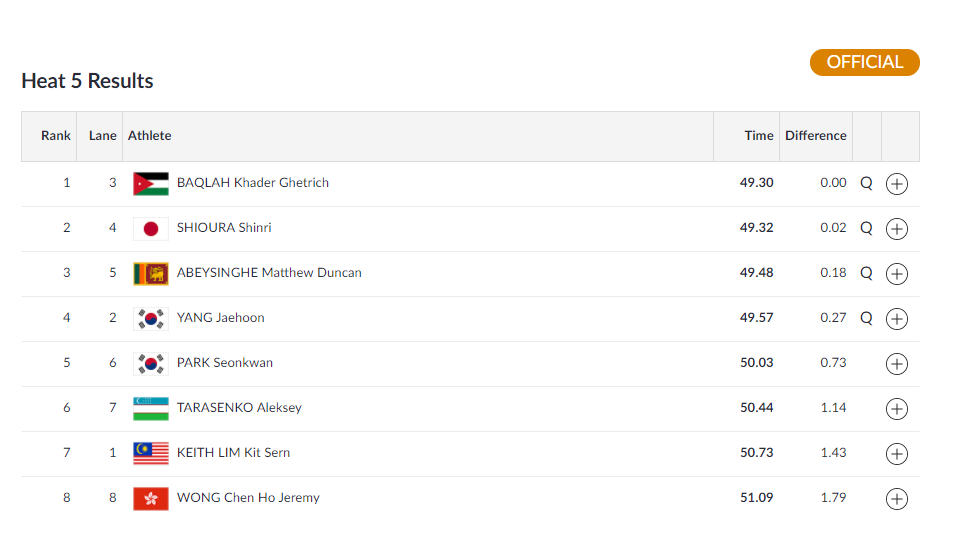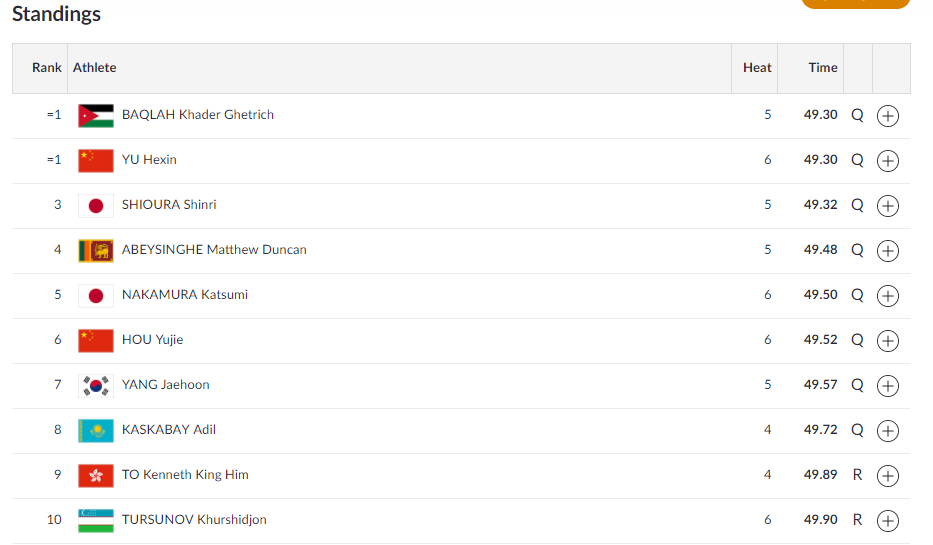 >>Click here for all things Aquatics<<