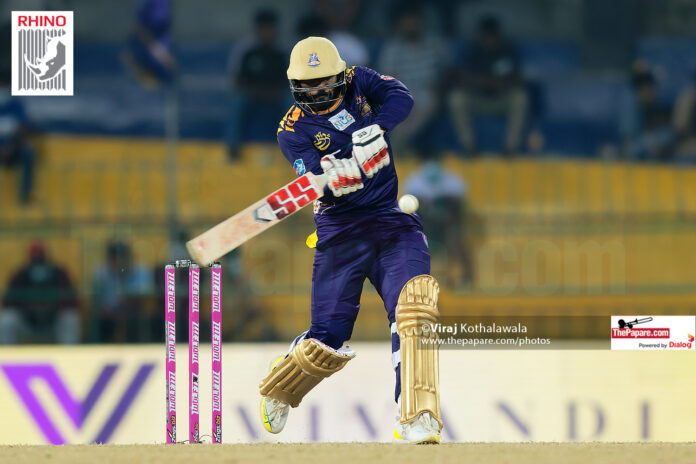 The Galle Gladiators overcame some nervy moments to register their 2nd win of the Lanka Premier League, beating the Kandy Warriors by 4 wickets in Match 5.
The Gladiators' innings was like a roller-coaster ride as the game see-sawed between the sides. They started off well with the bat in their chase of 144, with Danushka Gunathilake in particular looking in great touch.
Lahiru Kumara went for plenty in his 1st over as he had against the Dambulla Giants yesterday, the Gladiators getting 22 off his over, the 4th of the innings to propel their Powerplay score to 52.
However, the spinners came into the game just as they did in the 1st innings, squeezing g the Gladiators' middle order. Sachindu Colombage accounted for Danushka Gunathilake, Samit Patel and Ben Dunk, while getting some good support from Charith Asalanka and Kamindu Mendis from the other end.
With 30 to get off the last 3 overs, Rovman Powell came in and picked up the dangerous Bhanuka Rajapakse, but gave away 2 boundaries in the same over to undo his own good work.
TM Sampath put down Lahiru Madushanka in the same over and that mistake would come back to haunt the Warriors, as Madushanka smashed 22 off 13 to end the game in style.
Earlier in the day, the Warriors lost Kennar Lewis and Asalanka early, but Ahamed Shehzad and Kamindu Mendis put on a promising partnership, taking the scores from 16/2 in the 4th over to 99/3 in the 13th over. The pair ran brilliantly between the wickets, with Shehzad playing the aggressor and Mendis content to give him the strike.
Dhananjaya Lakshan made the crucial breakthrough for the Gladiators, dismissing Mendis and from that point, the squeeze began from the Galle bowlers.
The Warriors slumped from 99/3 to 118/6 in the 18th over, before TM Sampath smashed 17 off the last over to get the total to 143.
Lakshan was impressive in his 1st game of the tournament picking up 2/11 in 2 overs, while Samit Patel continued to baffle the batter, picking up 3/13.
The Gladiators will finally get a rest after 3 consecutive days of competition and will be pleased to have managed 2 wins in trying conditions.


Batsmen
R
B
4s
6s
SR
Kennar Lewis
c Danushka Gunathilaka b Samit Patel
0
2
0
0
0.00
Ahmed Shehzad
st Ben Dunk b Noor Ahmad
56
51
7
1
109.80
Charith Asalanka
c Lahiru Madushanka b Dhananjaya Lakshan
6
10
1
0
60.00
Kamindu Mendis
c Ben Dunk b Dhananjaya Lakshan
32
25
4
0
128.00
Angelo Perera
c Lahiru Madushanka b Samit Patel
10
12
1
0
83.33
Rovman Powell
c Danushka Gunathilaka b Samit Patel
1
4
0
0
25.00
Tillakaratne Sampath
not out
19
9
2
0
211.11
Ishan Jayaratne
not out
9
8
1
0
112.50
| | |
| --- | --- |
| Extras | 10 (b 2 , lb 1 , nb 0, w 6, pen 1) |
| Total | 143/6 (20 Overs, RR: 7.15) |
| Fall of Wickets | 1-16 (3.1) Charith Asalanka, 2-99 (12.3) Kamindu Mendis, 3-113 (16.1) Angelo Perera, 4-115 (16.6) Rovman Powell, 5-118 (17.4) Ahmed Shehzad, |
| Bowling | O | M | R | W | Econ |
| --- | --- | --- | --- | --- | --- |
| Samit Patel | 4 | 0 | 13 | 3 | 3.25 |
| Nuwan Thushara | 3 | 0 | 38 | 0 | 12.67 |
| Mohammad Hafeez | 4 | 0 | 32 | 0 | 8.00 |
| Dhananjaya Lakshan | 2 | 0 | 11 | 2 | 5.50 |
| Noor Ahmad | 4 | 0 | 22 | 1 | 5.50 |
| Suminda Lakshan | 3 | 0 | 24 | 0 | 8.00 |


Batsmen
R
B
4s
6s
SR
Kusal Mendis
lbw b Kamindu Mendis
16
21
2
0
76.19
Danushka Gunathilaka
c Angelo Perera b Sachindu Colombage
45
3
4
2
999.99
Mohammad Hafeez
c Charith Asalanka b Sachindu Colombage
13
18
1
0
72.22
Ben Dunk
lbw b Charith Asalanka
3
5
0
0
60.00
Bhanuka Rajapakse
b Rovman Powell
22
13
2
1
169.23
Samit Patel
c Angelo Perera b Sachindu Colombage
4
6
0
0
66.67
Lahiru Madushanka
not out
22
13
1
2
169.23
Dhananjaya Lakshan
not out
10
4
2
0
250.00
| | |
| --- | --- |
| Extras | 12 (b 4 , lb 5 , nb 0, w 3, pen 0) |
| Total | 147/6 (19.2 Overs, RR: 7.6) |
| Fall of Wickets | 1-62 (7.3) Kusal Mendis, 2-83 (11.4) Danushka Gunathilaka, 3-88 (12.5) Ben Dunk, 4-88 (13.3) Mohammad Hafeez, 5-111 (15.5) Samit Patel, 6-118 (17.4) Bhanuka Rajapakse, |
| Bowling | O | M | R | W | Econ |
| --- | --- | --- | --- | --- | --- |
| Tillakaratne Sampath | 4 | 0 | 18 | 0 | 4.50 |
| Al-Amin Hossain | 1 | 0 | 13 | 0 | 13.00 |
| Charith Asalanka | 4 | 0 | 19 | 1 | 4.75 |
| Lahiru Kumara | 1 | 0 | 22 | 0 | 22.00 |
| Kamindu Mendis | 4 | 0 | 24 | 1 | 6.00 |
| Sachindu Colombage | 4 | 0 | 20 | 3 | 5.00 |
| Rovman Powell | 1 | 0 | 12 | 1 | 12.00 |
| Angelo Perera | 0.2 | 0 | 10 | 0 | 50.00 |