The top two Sri Lankan quarter milers, Aruna Darshana and Kalinga Kumarage qualified to the semifinals of the men's 400m at the 18th Asian Games securing the first and the third place respectively in the first-round heats.
The two runners who were the top two seeds at the National Athletic Championship which was held in July are also members of the Men's 4X400m team that is regarded as one of the best medal hopes for Sri Lanka.
Photo Album – Athletics | Asian Games 2018 – Men's 400m Qualification (Day 7)
Personal best run for Kalinga in the heats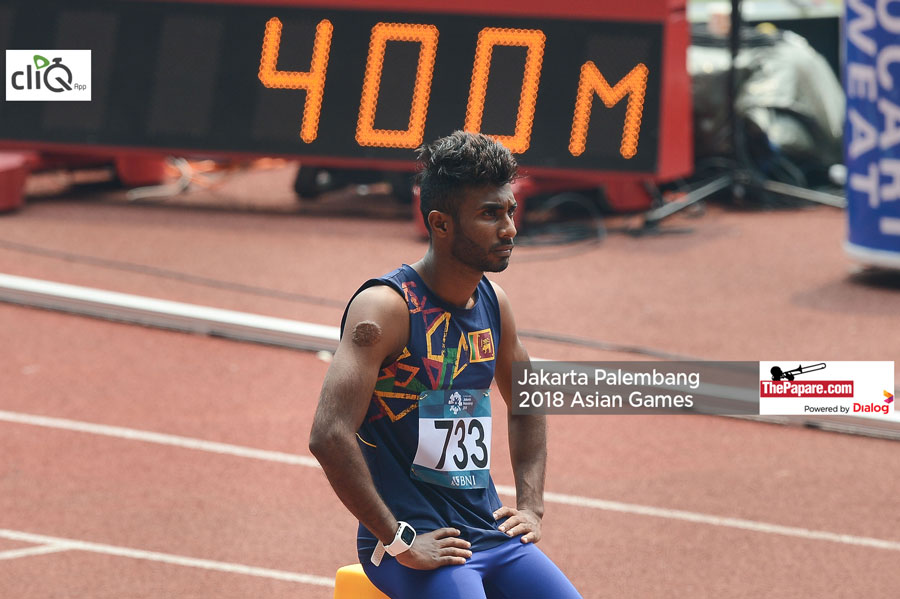 Kalinga Kumnarage was the first Sri Lankan track and field athlete to take the field at the competition competing in heat 01 of Men's 400m first round. Kalinga got on to a brilliant start off the blocks which momentarily bewildered the live commentators as to whether he took a false start as his reaction time was near perfect taking an early lead in the race. Indian Yahiya Muhammed Anas ran a superb controlled race as he managed to capitalize in the last 200m to take the win clocking 45.63secs in the first heat which turned out to be the fastest heat out of the five heats. Qatari athlete Abbas Mohamed managed to overcome the challenge by Kalinga to secure the second-place clocking 45.18secs whilst Kalinga Kumarage bettered his personal best time of 46.08 which was set at the Athletic Nationals running 45.99secs. This is the first time Kalinga has run the 400m under 46secs and will look to improve on this performance in the second round.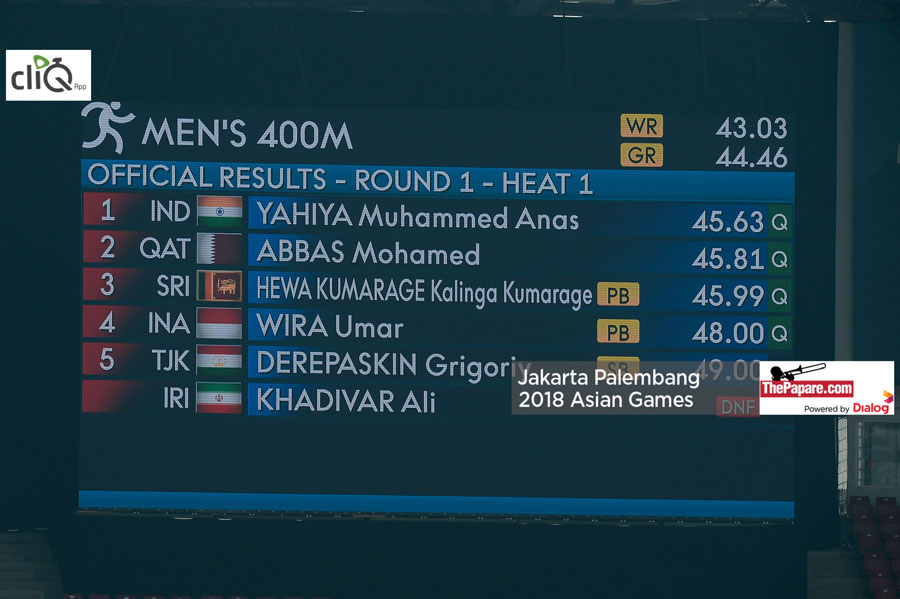 Aruna tops the heat with little trouble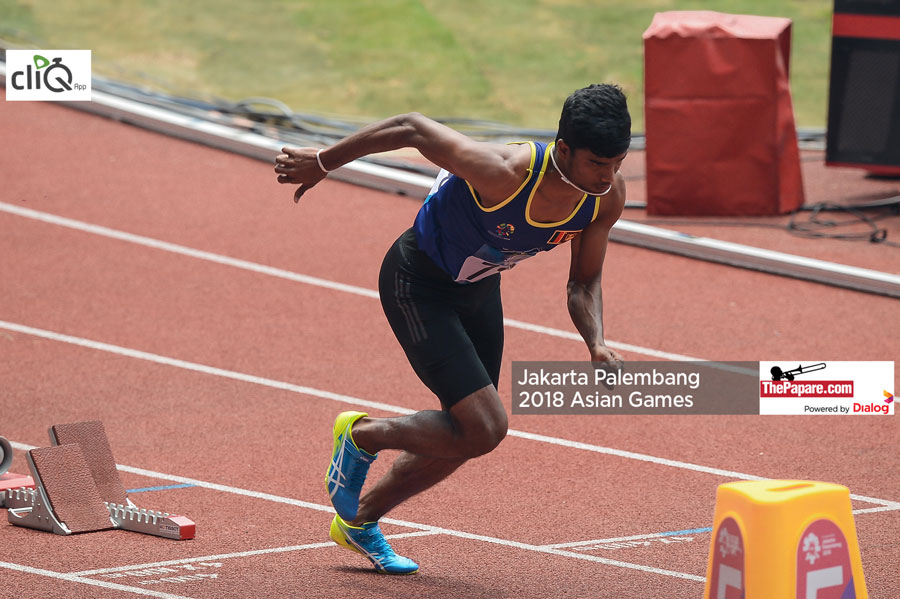 The top ranked quarter miler and the Asian Junior Champion in the event Aruna Darshana competed in the 5th heat of the event and was placed first clocking a time of 46.97secs. Darshana looked very comfortable from the get go with only the Qatari athlete Ali Khamis his closest competition in the race. With not much competition pushing him Drashana looked to be pacing himself in the final few meters of the race. Ali Khamis of Qatar was placed second while Andrey Sokolov of Kazakhstan was placed third in the heat.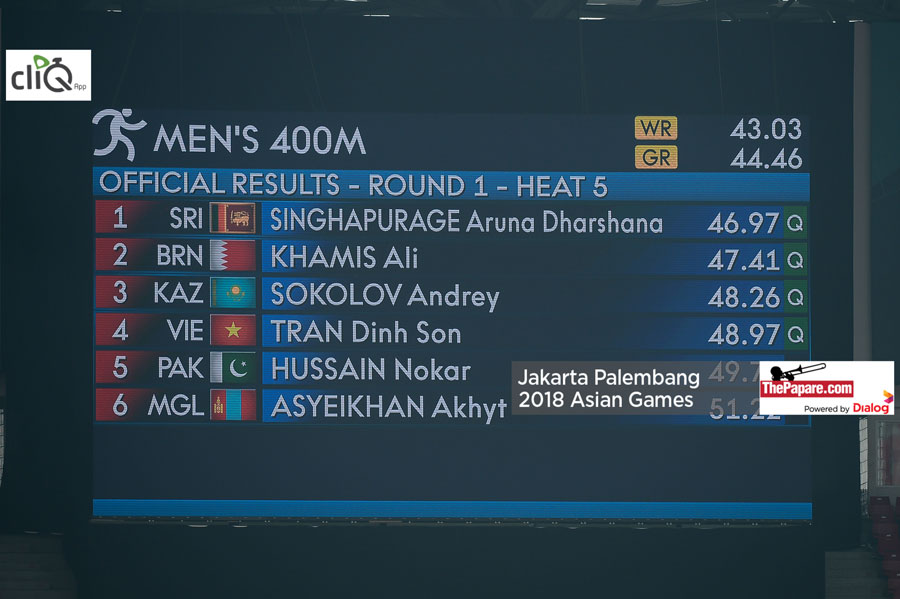 Kalinga Kumarage was placed third in the overall standings after the first-round heats thanks to being part of the fastest heat of the first round while Aruna Darshana is placed 9th overall despite being the top seed of his heat.  These positions are not accurate indicators as the main focus of the athletes in the first round is to finish amongst the top in the heats to achieve automatic qualification to the semifinal.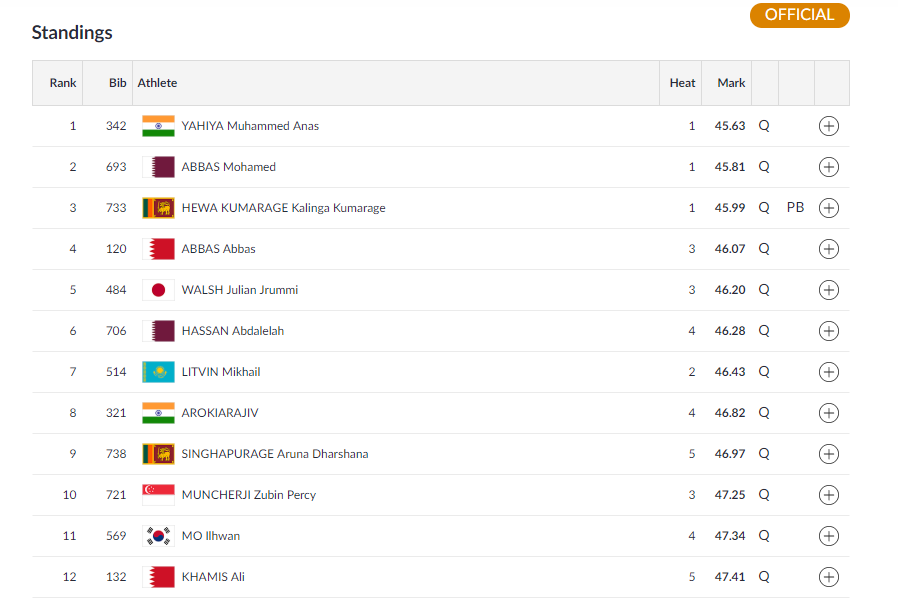 The semifinals of the Men's 400m will take place later today (25th) 7.15pm SL time. Visit ThePapare.com's Asian Games hub – https://www.thepapare.com/asiangames dedicated to bringing you exclusive updates from the 18th Asian Games 2018.