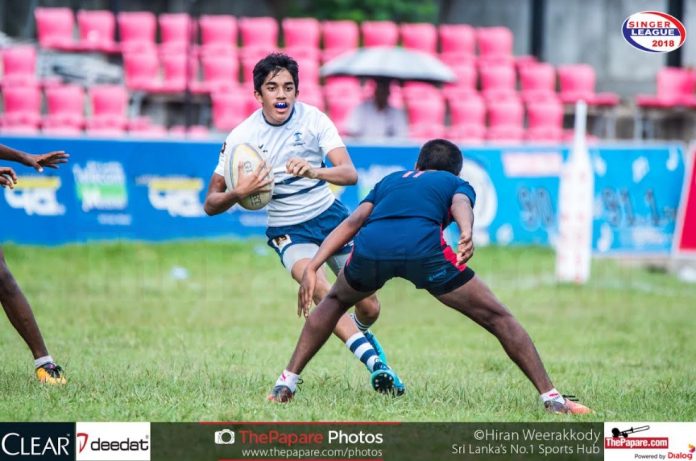 St. Joseph's College U-14s and U-16s both cruised to very dominant wins against their Kingswood College counterparts at Havelock Park a short while ago.
Both the Isipathana U14 and U16 teams finished their matches in a commanding position against Wesley juniors at the CR & FC grounds earlier this evening.
The U-14 match kicked off with the Joes getting the first try early on. They scored once more before the half-time whistle and went into the break with a comfortable 10-0 lead.
The Joes continued their dominance in the second half as they quickly got their third try. They then took a quick penalty inside the Kingswood 22, catching them off guard to score their 4th of the evening and putting the game truly out of the reach of the Kingswoodians.
They scored once more when their number 15 beautifully weaved his way past the defense to touch down, following which Joes got their final try and successfully converted for the first time in the match.
Under 14 Full Time: St. Joseph's 32-00 Kingswood
The U-16 match was equally one sided straight from the kick off as the Joes scored less than thirty seconds into the match.
The Joes juniors showed their domination as they kept bulldozing their way past the Kingswood defense on many occasions as they went on to get 5 more tries in the first half. The most spectacular one came when the Joes number 12 made a brilliant run from inside his own half, getting past the defense beautifully to place the try in between the posts, as the first half ended with the Joes leading 42-0.
The second half went just like the first as the Joes scored another try, straight from the kick off, asserting their dominance once again. The match was very physical as quite a few Kingswood youngsters took some heavy blows and one of their players had to be stretchered off the field.
Play barely moved into the Joes half as they got 3 more tries, converting 2 of them before the referee finally blew for full time, ending the misery for the youngsters from Kandy.
Under 16 Full Time: St. Josephs 61-00 Kingswood