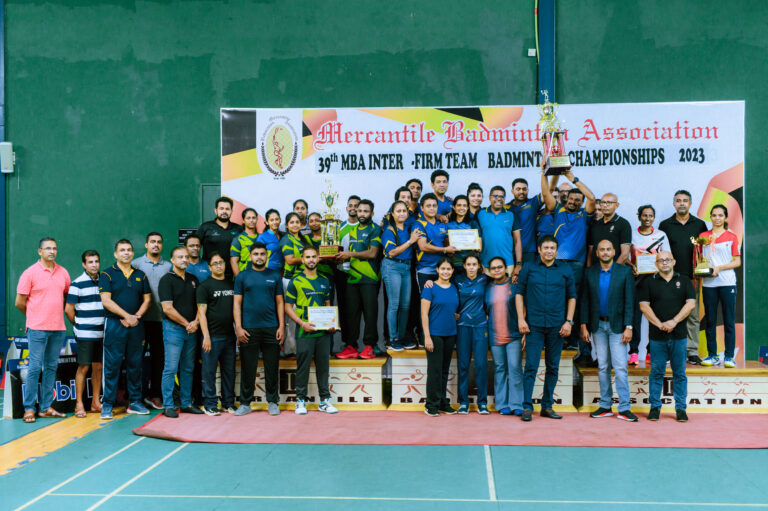 HNB (Hatton National Bank) emerged victorious, securing the prestigious title at the 39th MBA Team Championship at the Mercantile Badminton Association (MBA) badminton courts blazing with stirring action.
The prestigious annual Team Championship attracted a remarkable grouping of corporate talents from across the nation as the event proved to be a spectacular showcase of badminton prowess, camaraderie, and sportsmanship.
>>Gayanthika lose a medal by a few seconds; Ravindu into Squash top 16
A whopping 50 corporations, represented by a staggering 189 teams, made this championship one of the largest and most fiercely contested corporate badminton tournaments to date. With a total of 1,800 plus entries, the event highlighted the expanding interest and enthusiasm for badminton among professionals.
In a thrilling climax to the championship, the top five corporate teams distinguished themselves on the court, with each displaying remarkable skills and resilience. Ultimately, it was HNB (Hatton National Bank) with 206 points won the title with a marginal 9 points ahead of Hayleys with 197 points who finished second, while Seylan Bank came 3rd, followed by MAS at fourth place and Commercial Bank at 5th place.
The awards presentation was decorated by the chief Guest Mr. Shevan Daniel, Group Director, Capital Maharaja & the guest of honour Mr. Thilina Wewalpanawa along with the President Mercantile Badminton Association Mr. Roshan Fernando.
The winners were not only presented with trophies and medals but also earned the admiration of their peers and fans for their exemplary sportsmanship and dedication to the sport. This Championship celebrated more than just athleticism; it showcased the values of teamwork, discipline, and the competitive spirit that drive the corporate world.
>>Dinesh Chandimal unveils Indoor Cricket Facility in Ambalangoda
The 39th MBA Team Championship 2023 was not only a battleground for badminton enthusiasts but also a platform for networking, fostering solidarity among corporate teams, and promoting a healthy work-life balance.
Champions and Runners-up
Official Results
Men's A Division

Champions: MAS

Runner-up: Haylers
Men's B Division

Champions: IFS

Runner-up: HDDEx
Men's C Division

Champions: Expo Lanka

Runner-up: Commercial Bank
Men's D Division

Champions: DPMC 1

Runner-up: Airport Aviation 4
Men's E Division

Champions: Eagle Logistics

Runner-up: NTB
Men's F-1 Division

Champions: HSBC 7

Runner-up: SCB
Men's F 2 Division

Champions: LOLC 1

Runner-up: NESTLE 1
Men's G 1 Division

Champions: Hemas Pharmaceuticals

Runner-up: MAS 6
Men's G 2 Division

Champions 3: DH International

Runner-up: HSBC 1
Men's H 1 Division

Champions: SDB 1

Runner-up: DFCC 4
Men's H 2 Division

Champions: SYSCO LABS 1

Runner-up: Hemas 5
Men's H 3 Division

Champions: Astron 1

Runner-up: Peoples Leasing 3
Men's – Masters

Champions: H N B 11

Runner-up: SriLankan 2
Men's – Veterans A Division

Champions: Eagle Logistics

Runner-up: Commercial Bank
Men's – Veterans B Division

Champions: Dialog 1

Runner-up: HNB 6
Men's – Veterans C-1 Division

Champions: Sampath Bank 3

Runner-up: Astron 2
Men's – Veterans C-2 Division

Champions: Douglas 2

Runner-up: Douglas 2
Men's – Veterans C3 Division

Champions: Hayleys 3

Runner-up: HSBC 3
WOMEN'S
Women's A Division

Champions: Seylan Bank

Runner-up: MAS
Women's B Division

Champions: MCLarans

Runner-up: Hayleys
Women's C Division

Champions: Sampath Bank

Runner-up: HSBC
Women's D Division

Champions: JKH 3

Runner-up: DPMC 2
Women's E 1 Division

Champions: HEMAS 2

Runner-up: LOLC 3
Women's E 2 Division

Champions: IFS 3

Runner-up: Commercial Bank 7
Women's Veterans/over 35 Division

Champions: HNB 8

Runner-up: HSBC 5
MIXED OPEN

Mixed A Division

Champions: MAS 3

Runner-up: Hayleys 11
Mixed B Division

Champions: Hayleys 4

Runner-up: Mclarans 6
Mixed C Division

Champions: Commercial Bank 4

Runner-up: IFS 5
Mixed D-1 Division

Champions: SCB

Runner-up: Aviation
Mixed D 2 Division

Champions: DPMC

Runner-up: DFCC 1
Mixed E Division

Champions: CDB

Runner-up: Expo Lanka
Mixed F Division

Champions: Hemas 4

Runner-up: HNB 12
Mixed G Division

Champions: 99 X 3

Runner-up: Willey Global