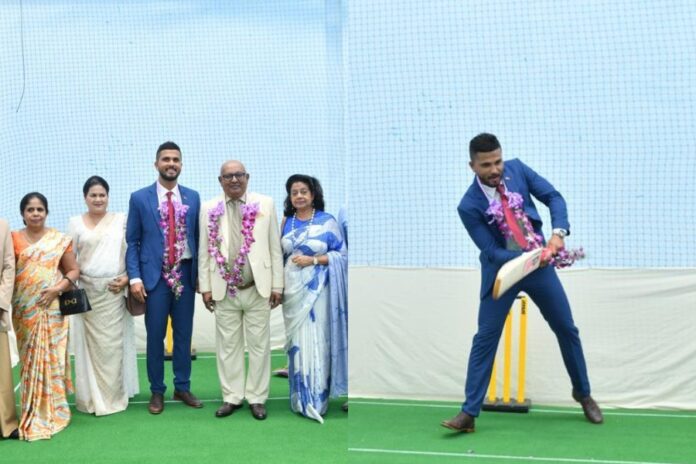 National cricketer Dinesh Chandimal has generously funded and inaugurated an Indoor Cricket Facility in Ambalangoda.
Chandimal has made a donation worth Rs. 20 million towards the construction of this facility at his Alma Mater, Dharmasoka College in Ambalangoda. It has been named the "Ranjith Pandithage Indoor Cricket Stadium" in order to pay gratitude towards Ranjith Pandithage, the mentor and supporter of Chandimal during his early cricketing days in Colombo.
This indoor cricket facility, which can be used for day and night training, has been constructed within the premises of Dharmasoka College under the guidance of Principal Sanuja Jayawickrama.
This indoor cricket facility has been constructed not only for the children of Dharmasoka College but also for the children of Ambalangoda Devananda Vidyalaya and Kularathne Vidyalaya.
The Sri Lanka Army has contributed to the construction with their manpower, and Major General Bimal Vidanage has given the guidance and planning for the project. Ashoka Kumara, the first coach of Chandimal, has also played a pivotal role in the success of this project.
Chandimal, who played U13, U15 and U17 cricket for Dharmasoka College, had also represented the team in big matches in 2004 and 2005.
Chandimal has stated at the inauguration ceremony that he wishes to see someone from his hometown, Ambalangoda, to represent the national team in future.