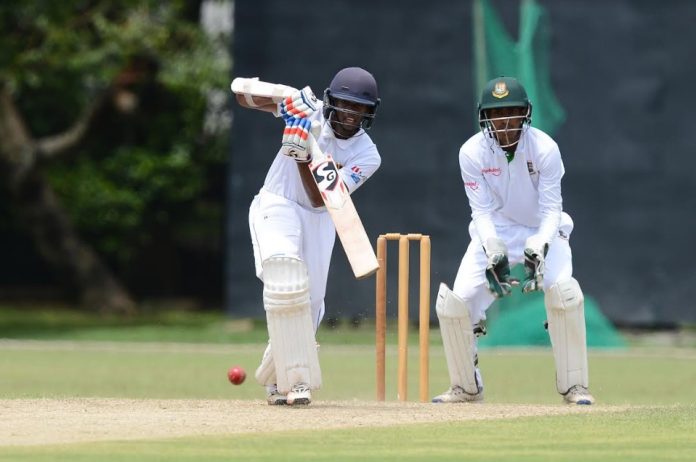 A tame opening day of the 2nd U19 Test saw Sri Lanka U19s reach 219/9 in 90 overs against the visiting Bangladeshis at the FTZ grounds in Katunayake.
The hosts who won the toss and batted first were troubled right throughout their innings by Shain Alam who went on to capture a miserly 5/37 as the Sri Lanka U19s run rate barely got close to three runs per over throughout the day.
The Sri Lanka U19s lost their skipper, Nipun Dhananjaya, for a duck before Kamil Mishara and Navod Paranavithana looked in full flow while resurrecting the innings from the early loss.
Sri Lanka U19 were bowled out for 123 runs in their chase of 137 against the touring Bangladesh U19s today at the NCC…
The duo added 115 valuable runs for the second wicket before Mishara(52) fell just after reaching his half century.
Paranavithana continued to fight against some quality bowling while Sri Lanka continued to lose wickets at regular intervals.
Towhid Hridoy also joined in the party for Bangladesh U19s as the hosts continued to stumble, including the dismissal of Navod Paranavithana for 79 off 153 balls.
The hosts who were 122/1 at one stage lost 8/73 to be reduced to 195/9 before their last pair batted them to safety with an unbroken stand of 24*.
Tomorrow is day two of the four day Test and Bangladesh U19s lead the series 1-0 after a tense win last week.
// var socket=io('http://localhost:8080'); var socket=io('http://202.124.184.250:8080');
jQuery( document ).ready(function() { console.log( "ready" ); var prev_bat_team = 0;
socket.on('message',function (message) { message = JSON.parse(message); console.log(message); if( message.data.cric.commentary){ jQuery('#cmt_wrap').prepend('
'+message.data.cric.commentary.event+'
'+message.data.cric.commentary.comment+'
'); } if(message.data.cric.match){ console.log(message.data.cric.match.teams_1_inn2_r[0]); function ove(balls) { var overs = 0; if(balls %6 == 0){ overs = balls/6; }else{ overs = parseInt(balls/6)+"."+(+balls - +parseInt(balls/6)*6); } console.log(overs); return overs; }
if(!message.data.cric.match.teams_1_inn2_r[0]){
jQuery('#score_1_'+message.data.cric.match.teams_1_r[0]['id']).html(message.data.cric.match.teams_1_r[0]['score'] + " / " + message.data.cric.match.teams_1_r[0]['wkts']); jQuery('#over_1_'+message.data.cric.match.teams_1_r[0]['id']).html("("+ove(message.data.cric.match.teams_1_r[0]['balls'])+" overs)"); }else { jQuery('#score_1_'+message.data.cric.match.teams_1_r[0]['id']).html(message.data.cric.match.teams_1_r[0]['score'] + " / " + message.data.cric.match.teams_1_r[0]['wkts']+" & "+message.data.cric.match.teams_1_inn2_r[0]['score']+" / "+message.data.cric.match.teams_1_inn2_r[0]['wkts']); jQuery('#over_1_'+message.data.cric.match.teams_1_r[0]['id']).html("("+ove(message.data.cric.match.teams_1_inn2_r[0]['balls'])+" overs)"); } if(!message.data.cric.match.teams_2_inn2_r[0]){
jQuery('#score_2_'+message.data.cric.match.teams_2_r[0]['id']).html(message.data.cric.match.teams_2_r[0]['score'] + " / " + message.data.cric.match.teams_2_r[0]['wkts']); jQuery('#over_2_'+message.data.cric.match.teams_2_r[0]['id']).html("("+ove(message.data.cric.match.teams_2_r[0]['balls'])+" overs)"); }else { jQuery('#score_2_'+message.data.cric.match.teams_2_r[0]['id']).html(message.data.cric.match.teams_2_r[0]['score'] + " / " + message.data.cric.match.teams_2_r[0]['wkts']+" & "+message.data.cric.match.teams_2_inn2_r[0]['score']+" / "+message.data.cric.match.teams_2_inn2_r[0]['wkts']); jQuery('#over_2_'+message.data.cric.match.teams_2_r[0]['id']).html("("+ove(message.data.cric.match.teams_2_inn2_r[0]['balls'])+" overs)"); }
if(message.data.cric.match.teams_1_r[0]['extras']!=null){ jQuery('#extras_1_r_'+message.data.cric.match.teams_1_r[0]['id']).html("("+ove(message.data.cric.match.teams_1_r[0]['extras'])); } if(message.data.cric.match.teams_2_r[0]['extras']!=null){ jQuery('#extras_2_r_'+message.data.cric.match.teams_1_r[0]['id']).html("("+ove(message.data.cric.match.teams_2_r[0]['extras'])); } if(message.data.cric.match.teams_1_inn2_r[0]['extras']!=null){ jQuery('#extras_1_r_2_'+message.data.cric.match.teams_1_inn2_r[0]['id']).html("("+ove(message.data.cric.match.teams_1_inn2_r[0]['extras'])); } if(message.data.cric.match.teams_2_inn2_r[0]['extras']!=null){ jQuery('#extras_1_r_2_'+message.data.cric.match.teams_2_inn2_r[0]['id']).html("("+ove(message.data.cric.match.teams_2_inn2_r[0]['extras'])); }
//extras_1_r_2_ // if(prev_bat_team != message.data.cric.team_id){ jQuery('#widget_wrapper').load(document.URL + ' #widget_wrapper'); // } // prev_bat_team = message.data.cric.team_id // }
}); });
Full Scorecard
226/10 & 233/9
(92 overs)
109/10 & 276/10
(83.1 overs)
SLU19 won by 74 runs
Sri Lanka U19's 1st Innings
Batting
R
B
Navod Paranavithana
c T Hridoy b S Alam
79
153
Nipun Dananjaya
c R Hossain b S Alam
0
13
Kamil Mishara
lbw by R Hasan
52
96
Mohomed Shamaz
b S Alam
10
34
Sonal Dinusha
c A Ali b M Chowdhury
8
36
Janishka Perera
c A Ali b S Alam
0
1
Sandun Mendis
c S Hossain b S Alam
10
26
Chaminda Wijesinghe
c M Hasan b R Hossain
17
66
Ashan Daniel
c R Hossain b M Chowdhury
3
26
Naveen Fernando
not out
20
64
Rohan Sanjaya
b M Chowdhury
14
33
Extras
13 (b 6, lb 3, nb 2, w 2)
Fall of Wickets:
1-0 (N Dananjaya, 5.1 ov), 2-122 (K Mishara, 37.5 ov), 3-144 (N Paranavithana, 48.3 ov), 4-149 (M Shamaz, 50.1 ov), 5-149 (J Perera, 50.2 ov), 6-167 (S Mendis, 58.1 ov), 7-167 (S Dinusha, 60.6 ov), 8-176 (A Daniel, 68.5 ov), 9-195 (C Wijesinghe, 80.1 ov), 10-226 (N Fernando, 90.6 ov)
| Bowling | O | M | R | W | E |
| --- | --- | --- | --- | --- | --- |
| Mittunjoy Chowdhury | 25 | 6 | 52 | 2 | 2.08 |
| Sahin Alam | 14 | 4 | 37 | 5 | 2.64 |
| Shamim Hossain | 9 | 3 | 16 | 0 | 1.78 |
| Towhid Hridoy | 7 | 2 | 25 | 0 | 3.57 |
| Rishad Hossain | 15 | 2 | 50 | 1 | 3.33 |
| Rakibul Hasan | 21 | 6 | 37 | 1 | 1.76 |
Ban U19's 1st Innings
Batting
R
B
Tanzid Hasan
c N Fernando b R Sanjaya
50
55
Sajd Hossain
c K Mishara b R Sanjaya
22
37
Hassan Joy
b A Daniel
0
3
Towhid Hridoy
b A Daniel
1
8
Shamim Hossain
lbw by A Daniel
3
11
Akbar Ali
c K Mishara b R Sanjaya
1
16
Amite Hasan
c A Daniel b R Sanjaya
0
7
Rakibul Hasan
not out
15
44
Mittunjoy Chowdhury
lbw by A Daniel
3
14
Rishad Hossain
b A Daniel
0
4
Sahin Alam
lbw by R Sanjaya
0
19
Extras
14 (b 8, lb 4, nb 2)
Fall of Wickets:
1-77 (S Hossain, 11.5 ov), 2-78 (H Joy, 12.5 ov), 3-82 (T Hridoy, 14.6 ov), 4-90 (S Hossain, 18.2 ov), 5-90 (T Hasan, 19.2 ov), 6-90 (A Hasan, 21.3 ov), 7-91 (A Ali, 23.1 ov), 8-94 (M Chowdhury, 26.4 ov), 9-94 (R Hossain, 28.2 ov), 10-109 (S Alam, 35.6 ov)
| Bowling | O | M | R | W | E |
| --- | --- | --- | --- | --- | --- |
| Naveen Fernando | 3 | 0 | 19 | 0 | 6.33 |
| Chamindu Wijesinghe | 5 | 1 | 22 | 0 | 4.40 |
| Ashan Daniel | 15 | 4 | 37 | 5 | 2.47 |
| Rohan Sanjaya | 11 | 4 | 17 | 5 | 1.55 |
| Sandun Mendis | 2 | 0 | 2 | 0 | 1.00 |
Sri Lanka U19's 2nd Innings
Batting
R
B
Navod Paranavithana
st. A Ali b T Hridoy
36
62
Nipun Dananjaya
c T Hasan b R Hasan
23
28
Kamil Mishara
c T Hasan b R Hasan
13
70
Mohomed Shamaz
st. A Ali b R Hasan
14
84
Sonal Dinusha
c T Hasan b R Hasan
37
98
Janishka Perera
c A Hasan b S Alam
0
24
Sandun Mendis
c S Hossain b R Hasan
36
71
Chamindu Wijesinghe
lbw by R Hasan
55
69
Naveen Fernando
c T Hasan b R Hasan
0
3
Ashan Daniel
not out
10
29
Rohan Sanjaya
not out
1
16
Extras
8 (b 4, lb 1, nb 2, w 1)
Fall of Wickets:
1-47 (N Dananjaya, 10.5 ov), 2-61 (N Paranavithana, 20.5 ov), 3-82 (K Mishara, 33.4 ov), 4-111 (M Shamaz, 48.5 ov), 5-120 (J Perera, 55.6 ov), 6-134 (S Dinusha, 56.1 ov), 7-215 (C Wijesinghe, 80.3 ov), 8-215 (N Fernando, 81.6 ov), 9-222 (S Mendis, 85.1 ov)
| Bowling | O | M | R | W | E |
| --- | --- | --- | --- | --- | --- |
| Sahin Alam | 14 | 1 | 31 | 1 | 2.21 |
| Shamim Hossain | 4 | 1 | 12 | 0 | 3.00 |
| Rakibul Hasan | 42 | 10 | 93 | 7 | 2.21 |
| Towhid Hridoy | 8 | 2 | 24 | 1 | 3.00 |
| Rishad Hossain | 10 | 1 | 41 | 0 | 4.10 |
| Mittunjoy Chowdhury | 14 | 7 | 27 | 0 | 1.93 |
Ban U19's 2nd Innings
Batting
R
B
Tanzid Hasan
lbw by R Sanjaya
37
48
Sajd Hossain
c K Mishara b R Sanjaya
36
80
Towhid Hridoy
c K Mishara b S Mendis
18
48
Amite Hasan
b R Sanjaya
16
53
Shamim Hossain
c J Perera b S Mendis
13
34
Akbar Ali
b R Sanjaya
90
113
Rakibul Hasan
c R Sanjaya b S Mendis
4
7
Mrittunjoy Chowdhury
c N Paranavithana b A Daniel
23
21
Mahmudul Joy
lbw by C Wijesinghe
26
74
Rishad Hossain
lbw by R Sanjaya
0
19
Sahin Alam
not out
0
4
Extras
13 (b 7, nb 2, w 4)
Total
276/10 (83.1 overs)
Fall of Wickets:
1-66 (T Hasan, 13.4 ov), 2-84 (S Hossain, 26.2 ov), 3-112 (T Hridoy, 37.2 ov), 4-122 (A Hasan, 40.4 ov), 5-128 (S Hossain, 45.4 ov), 6-144 (R Hasan, 47.5 ov), 7-174 (M Chowdhury, 53.4 ov), 8-240 (M Joy, 74.2 ov), 9-269 (R Hossain, 81.4 ov), 10-276 (A Ali, 83.1 ov)
| Bowling | O | M | R | W | E |
| --- | --- | --- | --- | --- | --- |
| Naveen Fernando | 2 | 0 | 6 | 0 | 3.00 |
| Chamindu Wijesinghe | 7 | 1 | 23 | 1 | 3.29 |
| Ashan Daniel | 24 | 6 | 87 | 1 | 3.63 |
| Rohan Sanjaya | 35.1 | 5 | 96 | 5 | 2.74 |
| Sandun Mendis | 11 | 1 | 45 | 3 | 4.09 |
| Navod Paranavithana | 4 | 0 | 12 | 0 | 3.00 |