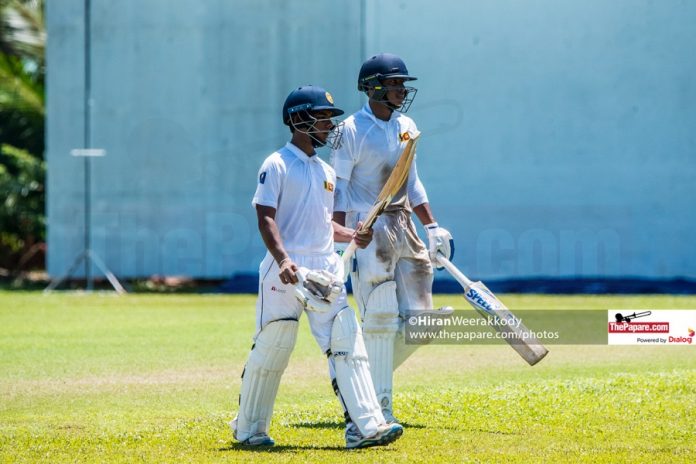 Sri Lanka U19 were bowled out for 123 runs in their chase of 137 against the touring Bangladesh U19s today at the NCC Grounds in Colombo.
Early in the day Sri Lanka restricted the Bangladesh 2nd inning for just 115 runs to set themselves a target of 136 runs.
Sri Lanka U19s ended day two of the 1st Youth Test against Bangladesh in a decent position as they scored 65 runs for the …
Hero with the ball in the 1st inning for Sri Lanka, Chamindu Wijesinghe started the Bangladeshi collapse early in the day when he dismissed Mahamudul Hassan for 14. From 30/2 Bangladesh soon reduced to 62/6.
Akbar Ali who came at 7 then together with number 8 batsman, Rakibul Hasan added 37 valuable runs for the 7th wicket. Sri Lanka's most successful bowler of the inning, left-arm spinner Rohan Sanjaya then broke the threatening partnership.
Akbar Ali stood firm for the visitors as he compiled 42 vital runs for his team to give them a chance with a lead of 136 runs.
Rohan Sanjaya and right-arm off-spinner Ashien Daniel were the chief destroyers of the Bangladesh inning as the duo claimed figures of 4/19 and 3/43 respectively.
Photos: Sri Lanka U19 vs Bangladesh U19 – 1st Youth Test | Day 3
The Sri Lankan run-chase of 137 dealt an early blow as Kamil Mishara was out LBW off a Shamim Alam delivery in the 2nd over of the inning. Since the early blow Sri Lanka managed to put on a couple of partnerships worth 26 and 23.
Sri Lanka kept losing wickets at regular intervals since the dismissal of Captain Nipun Dhananjaya for 21.
Centurion in the 1st inning, Sonal Dinusha and Sandun Mendis brought some hope for the hosts as they built up a decent partnership for the 6th wicket taking Sri Lanka close to a thrilling coming-from-behind win.
Read: Bangladesh takes lead despite Sonal Dinusha's century
Unfortunately the stand lasted only 22 runs as Mendis ran himself out leaving Sri Lanka on 76/6. In-from Sonal too was run out for 24 when the total was on 89.
Chamindu Wijesinghe once again stood up for Sri Lanka, this time with the bat as he fought alone to take Sri Lanka home in a thrilling contest. Shoriful Islam bringing his experience of representing the Bangladesh 'A' team held his nerve to dismiss Wijesinghe as the final Sri Lankan wicket and handed his team a famous 13-run win. Wijesinghe ended his heroics as the top scorer for his team with 29 runs.
In bowling for Bangladesh seamer Shamim Alam and spinner Rakibul Hasan grabbed 3 wickets each.
The two teams will meet again in the 2nd Youth Test at Katunayake on the 23rd Tuesday.
Full Scorecard
309/10 & 115/10
(45.2 overs)
288/10 & 123/10
(43.3 overs)
BAN U19 won by 13 runs
Ban U19's 1st Innings
Batting
R
B
Tanzid Hasan
b Wijesinghe
42
31
Prantik Nabil
c Mishara b Daniel
45
114
Mahmudul Joy
b Mendis
19
71
Towhid Hridoy
c Silva b Sanjaya
54
105
Shamim Hossain
c Mishara b Daniel
43
66
Akbar Ali
lbw by Sanjaya
17
28
Amite Hasan
c Mishara b Wijesinghe
64
99
Rakibul Hasan
c Dananjaya b Mendis
6
24
Rishad Hossain
c Mishara b Wijesinghe
4
38
Shoriful Islam
b Wijesinghe
4
7
Shahin Alam
not out
1
22
Total
309/10 (96.1 overs)
Fall of Wickets:
1-54 (T Hasan), 2-93 (M Joy,), 3-139 (P Nabil), 4-209 (S Hossain), 5-213 (T Hridoy), 6-235 (A Ali), 7-258 (Rakibul), 8-276 (R Hossain), 9-282 (S Islam), 10-309 (A Hasan)
| Bowling | O | M | R | W | E |
| --- | --- | --- | --- | --- | --- |
| Naveen Fernando | 4 | 0 | 24 | 0 | 6.00 |
| Chamindu Wijesinghe | 16.1 | 1 | 68 | 4 | 4.22 |
| Ashan Daniel | 20 | 4 | 64 | 2 | 3.20 |
| Rohan Sanjaya | 35 | 11 | 70 | 2 | 2.00 |
| Sandun Mendis | 18 | 1 | 69 | 2 | 3.83 |
| Navod Paranavithana | 3 | 0 | 4 | 0 | 1.33 |
Sri Lanka U19's 1st Innings
Batting
R
B
Navod Paranavithana
b T Hridoy
40
45
Kamil Mishara
b T Hridoy
19
58
Nipun Dananjaya
lbw by H Joy
11
29
Mohomed Shamaz
b S Alam
31
128
Sonal Dinusha
c S Islam b R Hasan
100
202
Janishka Perera
c A Ali b S Islam
14
40
Sandun Mendis
lbw by R Hasan
14
20
C Wijesinghe
c A Hasan b S Alam
8
19
Ashan Daniel
c A Hasan b S Islam
21
71
Naveen Fernando
c A Ali b R Hasan
15
58
Rohan Sanjaya
not out
1
1
Extras
14 (b 6, nb 3, w 3, lb 2)
Fall of Wickets:
1-55 (N Paranavithana), 2-75 (N Paranavithana), 3-78 (N Dananjaya), 4-168 (M Shamaz), 5-193 (J Perera), 6-212 (S Mendis), 7-229 (C Wijesinghe), 8-270 (A Daniel), 9-278 (S Dinusha), 10-288 (N Fernando)
| Bowling | O | M | R | W | E |
| --- | --- | --- | --- | --- | --- |
| Shoriful Islam | 20 | 2 | 57 | 2 | 2.85 |
| Sahin Alam | 20 | 5 | 43 | 2 | 2.15 |
| Mahmudul Joy | 6 | 0 | 21 | 0 | 3.50 |
| Shamim Hossain | 4 | 3 | 2 | 0 | 0.50 |
| Rishad Hossain | 12 | 3 | 23 | 0 | 1.92 |
| Rakibul Hasan | 32 | 4 | 79 | 3 | 2.47 |
| Towhid Hridoy | 19 | 4 | 55 | 3 | 2.89 |
Ban U19's 2nd Innings
Batting
R
B
Tanzid Hasan
c R Sanjaya b A Daniel
6
5
Nawrose Nabil
c S Mendis b R Sanjaya
13
48
Hassan Joy
c K Mishara b C Wijesinghe
14
32
Towhid Hridoy
c J Perera b C Wijesinghe
0
1
Shamim Hossain
lbw by R Sanjaya
19
34
Amite Hasan
b A Daniel
6
9
Akbar Ali
c M Shamaz b A Daniel
42
74
Rakibul Hasan
c N Dananjaya b S Mendis
6
21
Rishad Hossain
st. K Mishara b R Sanjaya
3
24
Sahin Alam
not out
2
11
Shoriful Islam
c R Sanjaya b A Daniel
0
5
Total
115/10 (45.2 overs)
Fall of Wickets:
1-7 (T Hasan, 1.2 ov), 2-30 (H Joy, 11.3 ov), 3-30 (T Hridoy, 11.4 ov), 4-43 (N Nabil, 17.1 ov), 5-54 (A Hasan, 20.1 ov), 6-62 (S Hossain, 23.2 ov), 7-89 (R Hasan, 32.3 ov), 8-107 (R Hossain, 40.2 ov), 9-115 (A Ali, 43.3 ov), 10-115 (S Islam, 45.2 ov)
| Bowling | O | M | R | W | E |
| --- | --- | --- | --- | --- | --- |
| Chamindu Wijesinghe | 9 | 2 | 38 | 2 | 4.22 |
| Ashan Daniel | 16.2 | 8 | 19 | 4 | 1.17 |
| Rohan Sanjaya | 16 | 2 | 43 | 3 | 2.69 |
| Sandun Mendis | 4 | 1 | 11 | 1 | 2.75 |
Sri Lanka U19's 2nd Innings
Batting
R
B
Navod Paranavithana
lbw by S Hossain
16
14
Kamil Mishara
lbw by S Alam
0
3
Nipun Dananjaya
c T Hridoy b R Hasan
21
37
Mohomed Shamaz
lbw by R Hasan
11
34
Sonal Dinusha
(runout) T Hridoy
24
57
Janishka Perera
lbw by R Hasan
1
11
Sandun Mendis
(runout) T Hasan
13
30
Chaminda Wijesinghe
c A Ali b S Islam
29
37
Ashan Daniel
c A Hasan b S Alam
0
3
Nuwanidu Fernando
c M Hasan b S Alam
2
10
Rohan Sanjaya
not out
4
25
Total
123/10 (43.3 overs)
Fall of Wickets:
1-0 (K Mishara, 1.3 ov), 2-26 (N Paranavithana, 4.2 ov), 3-49 (N Dananjaya, 12.2 ov), 4-52 (M Shamaz, 16.3 ov), 5-54 (J Perera, 18.3 ov), 6-76 (S Mendis, 27.4 ov), 8-91 (A Daniel, 33.3 ov), 9-97 (N Fernando, 35.4 ov), 10-123 (C Wijesinghe, 43.3 ov)
| Bowling | O | M | R | W | E |
| --- | --- | --- | --- | --- | --- |
| Shoriful Islam | 6.3 | 1 | 23 | 1 | 3.65 |
| Shahin Alam | 12 | 6 | 31 | 3 | 2.58 |
| Shamim Hossain | 3 | 0 | 10 | 1 | 3.33 |
| Towhid Hridoy | 7 | 1 | 24 | 0 | 3.43 |
| Rakibul Hasan | 15 | 2 | 34 | 3 | 2.27 |