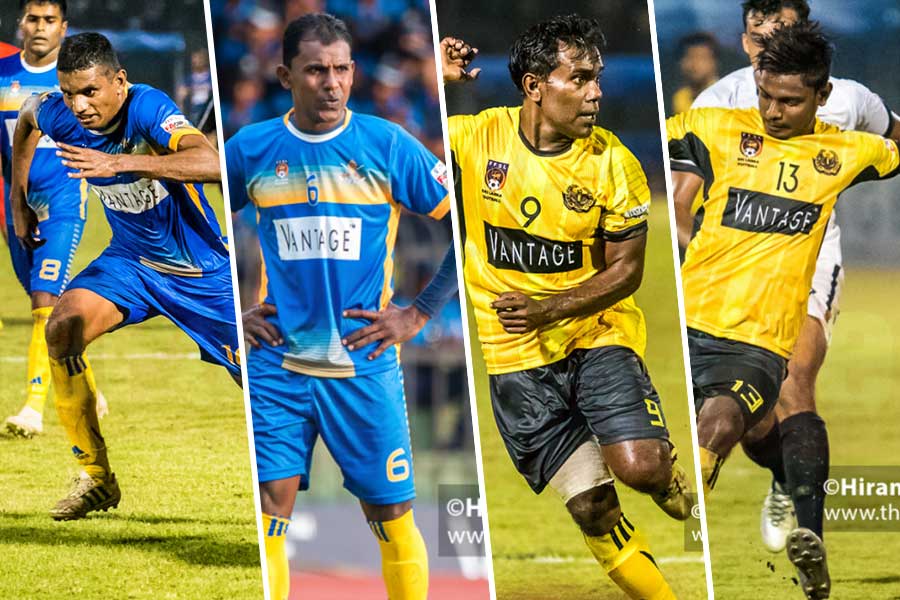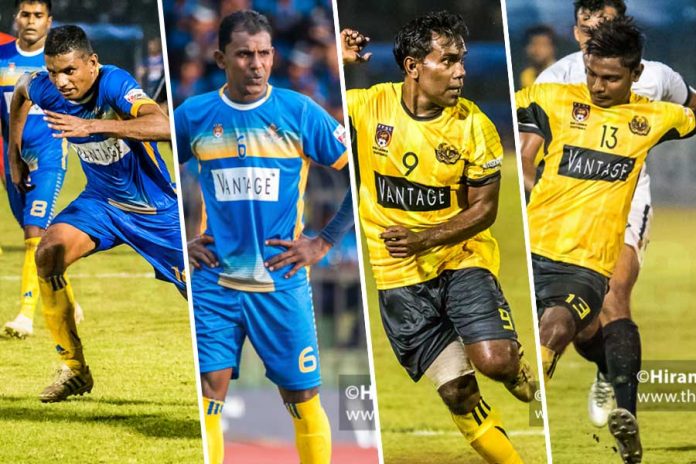 Army SC will battle Saunders SC in the Final of the Vantage FA Cup 2018 on the 1st of December from 7.00pm at the Sugathadasa Stadium.
Army will look to make it a hat-trick of FA Cup wins while Saunders SC, the most decorated club in Sri Lanka football, will be eyeing to cap off their 100th year with a trophy they have won 21 times.
Army SC
Army have made their way to 7 FA Cup finals winning it 5 times. Their record is even more impressive since the decade starting 2009 where they've come to 6 finals winning four of them.
Road to the Final
Army showed their dominance in the Round of 64 clash against Lucky Star SC when the soldiers humiliated them winning 15-0. Army then came up against lower division side Sarikamulla Youth SC where they won 3-1. The one goal Sarikamulla scored impressively was the only goal Army conceded in their campaign so far.
Army were drawn against New Star SC in the Round of 16 but eased past them with a 3-0 victory. They then clashed against SLTB SC in the quarter-finals where they again eased into a 2-0 victory.
Read More: Army ease through SLTB into semis
Army's final hurdle to the final came in form of Police SC. Police gave Army a hard battle, but the soldiers emerged 1-0 victors and booked the place in the final thanks to an own goal by Danusha Perera.
Key Players
Mohamed Issadeen has had a great start to this seasons Dialog Champions League having already scored 5 goals including a hat-trick. Issadeen's experience under pressure will be vital in the soldiers' chase of their 6th FA Cup, having been with them on previous occasions where Army were crowned champions.
Bandara Warakagoda has been a key part of Army's impressive record of conceding just a single goal in five matches so far. Warakagoda has been a rock in defense for many years and his strong heading ability has helped him contribute a number of crucial goals for his side throughout the years.
Mohamed Luthfi has been a wall in goal throughout the tournament making numerous outstanding saves. His performance will prove vital especially if the game goes into penalties. Luthfi will need to step up and put on a performance of a life-time to keep out the likes of Kasun Jayasuriya and Suntharaj Niresh.
Saunders SC
The Kings of FA Cup have had a poor run in the recent years, last making it to a final in 2007, and last winning it all the way back in 2001. Now celebrating their 100th year anniversary, they have the chance to make the year even more special by lifting the trophy.
Road to the Final
Saunders were pitted against Young Wonders SC in the Round of 64 match and thrashed them 6-0. They were then drawn against Navy SC where after a hard-fought battle Saunders won 2-0.
Saunders continued their dominant run against Eveready SC in the Round of 16 in a dominant 6-2 win, where Kasun Jayasuriya stepped up with a well-deserved hat-trick.
Read More: Saunders squeezes out of jail
Saunders met Prison SC in the quarter-final fixture, but were faced with a very tough battle. Jayasuriya yet again stepped up for his side and single handedly won Saunders the game scoring both goals in a 2-1 win.
The Price Park boys faced their toughest roadblock to the final in the form of Colombo FC in the semi-final, and indeed a fierce battle ensued with the first hour of the game going goalless. Once again it was Kasun Jayasuriya who earned a penalty, which was converted by Suntharaj Niresh, and scored the 2nd in injury time securing a place in the final.
Key Players
Kasun Jayasuriya stepped up when his side needed him scoring vital goals throughout the tournament. His experience and goal scoring prowess could prove decisive for Saunders. Jayasuriya announced his decision to retire his playing career following the final against Army, and with his good run of form he will be hoping to drive into the sunset with the FA Cup by his side.
Read More: Kasun Jayasuriya to retire from football
Suntharaj Niresh, vital midfielder for Saunders who has been setting up attacks and being a key part of Saunders dominance in controlling the midfield against their opponents. His pace and dribbling skill can prove to be the game changer in the final.
Chryshantha Abeysekara with experience will be key in a final in pressure situations he can step up and guide the team from the front. Abeysekara has already proven in this tournament that he can still step up and score goals when the chance arises, and will be hoping to link up with Jayasuriya like they have done in the tournament so far.
>>For more Football News Click Here<<