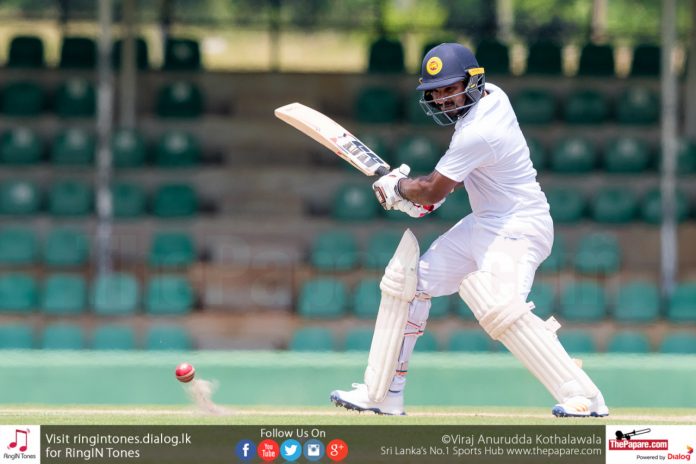 The Sri Lankan cricket selection committees over the past few years have taken some extraordinary decisions and just when you think they can't top themselves, they have managed to pull another one out of the hat.
The 15-member Test squad for Sri Lanka's tour of Zimbabwe was announced yesterday (14), and to everyone's dismay, left handed batsman Kusal Perera has been axed from the Test squad. 
Yes,,, Perera who whacked Dale Steyn and Kagiso Rabada over the boundary at will in Kingsmead at a time when Sri Lanka was really suffering from a drought of wins, Perera who was the linchpin of Sri Lanka's finest Test victory of the last decade, Perera who played the greatest Test knock of all time, that's the one.
11 months, 5 Tests and 1 pair later, he is unable to find a spot in the Test squad for Sri Lanka. That legendary innings could have given Kusal Perea immunity from getting dropped from the playing XI forever. So, one might think that the competition for a spot in this team should be at an all-time high, but the records beg to differ. 
On the subject of Perera's omission, Chief selector Asantha de Mel was quoted on ESPNCricinfo, "Yes, Kusal can make 150s, but we needed someone who can occupy the crease, which is why we chose Thirimanne" 
As bizarre as this sounds, let's give the benefit of the doubt to the chief selector and run through some numbers.
De Mel
Perera

Perera in his last Test series vs New Zealand

24 runs (Avg – 6.00)

1

0

Perera in his last Test series in Zimbabwe

193 runs (Avg – 48.25) – 1*100s, 1*50s

0

1

Test Average of Perera & Thirimanne

Perera – 31.13 > Thirimanne 22.64

0

1

Recent form (in 2019 – more than 5 matches)

Perera – 277 @ 39.57 – highest Test Avg by a Sri Lankan 

(Highest overall runs for Sri Lanka in all formats)

0

1

Greatest innings of all time

Kusal Perera 153 vs SA

0

1
Perera was the highest runs scorer in all formats for Sri Lanka in 2019 and boasts the highest average in Test Cricket during that time by a Sri Lankan. His last visit to Zimbabwe saw him hammering a century and a fifty against the Chevrons.
Of course, Kusal Perera failed in the home series against New Zealand after his heroics in South Africa. Perera was part of the squad to Pakistan, but couldn't seal a seat in the playing XI in Rawalpindi and Karachi. 
So, is a failure in one series alone good enough to see him omitted from the Test squad? Well, this is the opinion of the former Sri Lanka skipper Mahela Jayawardene.
Wasn't he the same player who won the test match in Durban single handedly 12 months ago? He has only played 3 test matches (5 Innings) since then.. 🤔🤦‍♂️ https://t.co/gyvMrcEu21

— Mahela Jayawardena (@MahelaJay) 14 January 2020
Obviously, the comparison by the chief selector was unfair to Kusal Perera and also to Lahiru Thirimanne, who opens the innings as opposed to Perera (bats in the middle order). 
On the other hand, as this test series is not part of the ICC Test championship and the opposition is lower-ranked, it could have been a perfect opportunity to try out a few young players like Pathum Nissanka, Kamindu Mendis and Sangeeth Cooray, who are scoring heavily in the domestic set up.
Rather than exposing new players to an opposition like England or South Africa, Zimbabwe would have been a perfect choice to give these players some game time at the international level. 
At a time when heroes are in dire need at Sri Lanka Cricket, Kusal Perera is one of the players who can fit the bill, who can single handedly change the destiny of a match in favour of Sri Lanka and he has proved it many times in all formats of the game. Injuries, erroneous drug bans and many ups and downs, have caused him enough trouble in his career, and hopefully, this will not be another one that would set him back.