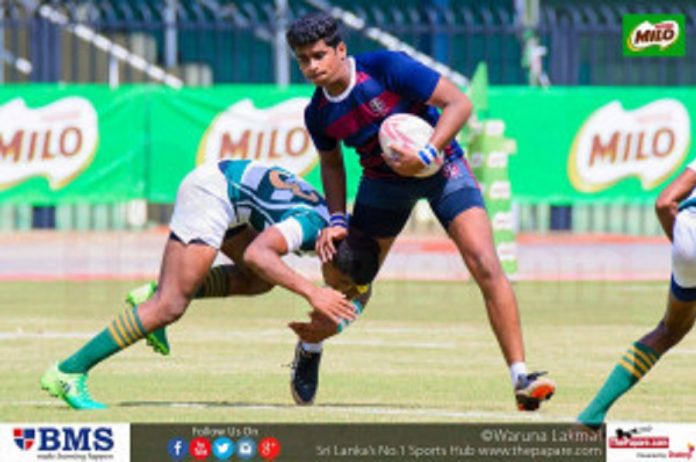 12 teams, and only the top 2 will have the privilege of earning an opportunity to progress into Division 'B' at the Schools Rugby League this year. Along with the intense battles in the upper divisions, we could expect nothing less from the lads in Division 'C', fighting for glory. 
The Sri Lanka Schools Rugby Association (SLSRFA), officially released the groups and fixtures for the Division 'C'- Schools Rugby Competition 2020.
With C.W.W. Kannangara College being demoted from the Division 'B' and Sri Sumangala College – Panadura progressing from Division II, and with teams like Piliyandala Central College and Devapathiraja College already in the mix, an intense battle awaits the supporters of these teams. 
The groups for Division 'C' are as follows:
| | | |
| --- | --- | --- |
| Rank | Division I 'C' | Division II 'C' |
| 1 | Pilyandala Central College | Devapathiraja College |
| 2 | Sri Rahula College | Richmond College |
| 3 | Sri Piyarathana College | Moratuwa Maha Vidyalaya |
| 4 | Dharmapala College | Nalanda College |
| 5 | St. Johns College, Nugegoda | Carey College |
| 6 | Sri Sumangala College – Panadura | C.W.W Kannangara College |
Richmond College – Galle is a team to watch out for, as they'll be looking to repeat their performances from the 7s tournament that was held last year.
The top two teams will compete in a Bowl Championship along with the bottom four teams from Division 'B'.
The match dates and venues are yet to be confirmed by the respective authorities.
The fixtures for the Division 'C' are as follows: 
| | | | | |
| --- | --- | --- | --- | --- |
| WEEK | DATES | HOME |  V | VISITORS |
| Week 1 | 2 Mar – 8 Mar | Pilyandala Central College | vs | Sri Sumangala College – Panadura |
|   |   | Devapathiraja College | vs | C.W.W Kannangara College |
|   |   | St. Johns College | vs | Sri Rahula College |
|   |   | Richmond College | vs | Carey College |
|   |   | Sri Piyarathana College | vs | Dharmapala College |
|   |   | Moratuwa Maha Vidyalaya | vs | Nalanda College |
| Week 2 | 9 Mar – 15 Mar | Pilyandala Central College | vs | St. Johns College |
|   |   | Carey College | vs | Devapathiraja College |
|   |   | Sri Sumangala College – Panadura | vs | Dharmapala College |
|   |   | C.W.W Kannangara College | vs | Nalanda College |
|   |   | Sri Piyarathana College | vs | Sri Rahula College |
|   |   | Richmond College | vs | Moratuwa Maha Vidyalaya |
| Week 3 | 16 Mar – 22 Mar | Pilyandala Central College | vs | Dharmapala College |
|   |   | Devapathiraja College | vs | Nalanda College |
|   |   | St. Johns College | vs | Sri Piyarathana College |
|   |   | Carey College | vs | Moratuwa Maha Vidyalaya |
|   |   | Sri Sumangala College – Panadura | vs | Sri Rahula College |
|   |   | C.W.W Kannangara College | vs | Richmond College |
| Week 4 | 23 Mar – 29 Mar | Pilyandala Central College | vs | Sri Piyarathana College |
|   |   | Devapathiraja College | vs | Moratuwa Maha Vidyalaya |
|   |   | Sri Rahula College | vs | Dharmapala College |
|   |   | Nalanda College | vs | Richmond College |
|   |   | St. Johns College | vs | Sri Sumangala College – Panadura |
|   |   | Carey College | vs | C.W.W Kannangara College |
| Week 5 | 30 Mar – 5 Apr | Pilyandala Central College | vs | Sri Rahula College |
|   |   | Devapathiraja College | vs | Richmond College |
|   |   | Sri Piyarathana College | vs | Sri Sumangala College – Panadura |
|   |   | Moratuwa Maha Vidyalaya | vs | C.W.W Kannangara College |
|   |   | Dharmapala College | vs | St. Johns College |
|   |   | Nalanda College | vs | Carey College |