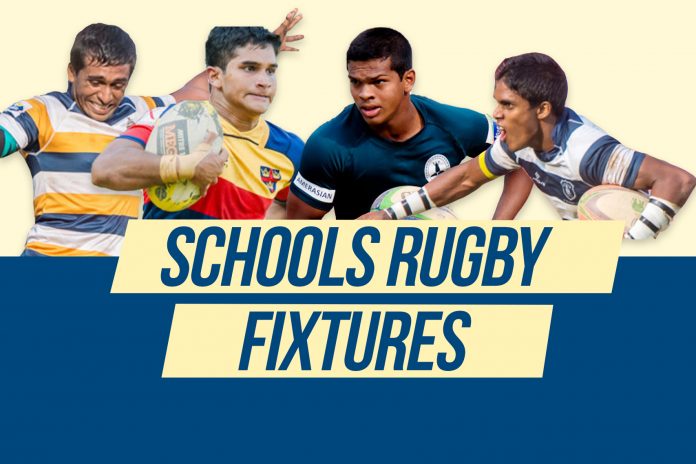 The time has come for the country's most anticipated tournament as the Schools Rugby League for 2020 will kick off on the 4th of March. 
A total of 92 schools will compete in three different divisions in the 3 month long league. Organized by the Sri Lanka Schools Rugby Association (SLSRFA), the league is set to storm the sporting arena of the country in the coming months. 
The Division 'A' will consist of 12 schools divided into 2 groups and ranked according to their standings from last year. 
Defending Champions of the Schools Rugby League Royal College will lead the IA group while the runners of the league and the President's Trophy winners St. Peter's College will lead the IIA group. 
| | | |
| --- | --- | --- |
| Rank | Division I 'A' | Division II 'A' |
| 1 | Royal College | St. Peter's College |
| 2 | St. Joseph's College | Wesley College |
| 3 | S. Thomas' College | Isipathana College |
| 4 | Trinity College | Science College |
| 5 | Kingswood College | Vidyartha College |
| 6 | St. Anthony's College | Dharmaraja College |
The tentative fixtures for the 'A' Division are as follows: 
| | | | | | |
| --- | --- | --- | --- | --- | --- |
| Week | DATE | HOME | V | VISITORS | VENUE |
| Week 1 | Mar 4, 2020 | St. Peter's College | Vs | Dharmaraja College | SPC Grounds |
| | Mar 5, 2020 | St. Joseph's College | Vs | Kingswood College | Havelock Park/Longdon Place |
| | Mar 6, 2020 | Wesley College | Vs | Vidyartha College | Longdon Place |
| | Mar 6, 2020 | Trinity College | Vs | S. Thomas' College  | Pallekelle |
| | Mar 7, 2020 | St. Anthony's College | Vs | Royal College | Nittawela |
| | Mar 7, 2020 | Isipathana College | Vs | Science College | Havelock Park |
| Week 2 | Mar 12, 2020 | St. Joseph's College | Vs | S. Thomas' College | Longdon Place |
| | Mar 13, 2020 | St. Anthony's College | Vs | Trinity College | Nittawela |
| | Mar 14, 2020 | Vidyartha College | Vs | St. Peter's College | Nittawela |
| | Mar 14, 2020 | Dharmaraja College | Vs | Science College | TBC |
| | Mar 14, 2020 | Wesley College | Vs | Isipathana College | Longdon Place |
| | Mar 15, 2020 | Royal College | Vs | Kingswood College | Royal Complex |
| Week 3 | Mar 20, 2020 | Royal College | Vs | Trinity College | Royal Complex |
| | Mar 20, 2020 | St. Joseph's College | Vs | St. Anthony's College | Nittawela |
| | Mar 21, 2020 | Science College | Vs | St. Peter's College | Science Grounds |
| | Mar 22, 2020 | Vidyartha College | Vs | Isipathana College | Nittawela |
| | Mar 23, 2020 | Kingswood College | Vs | S. Thomas' College | Pallekelle |
| | Mar 23, 2020 | Dharmaraja College | Vs | Wesley College | TBC |
| Week 4 | Mar 27, 2020 | Trinity College | Vs | St. Joseph's College | Pallekelle |
| | Mar 27, 2020 | Kingswood College | Vs | St. Anthony's College | Nittawela |
| | Mar 28, 2020 | Royal College | Vs | S. Thomas' College  | Royal Complex |
| | Mar 28, 2020 | Wesley College | Vs | Science College | Longdon Place |
| | Mar 29, 2020 | Isipathana College | Vs | St. Peter's College | Havelock Park |
| | Mar 30, 2020 | Vidyartha College | Vs | Dharmaraja College | Nittawela |
| Week 5 | Apr 4, 2020 | St. Joseph's College | Vs | Royal College | Havelock Park |
| | Apr 4, 2020 | St. Peter's College | Vs | Wesley College | SPC Grounds |
| | Apr 4, 2020 | S. Thomas' College  | Vs | St. Anthony's College | STC Grounds |
| | Apr 4, 2020 | Trinity College | Vs | Kingswood College | Pallekelle |
| | Apr 4, 2020 | Science College | Vs | Vidyartha College | Science Grounds |
| | Apr 5, 2020 | Isipathana College | Vs | Dharmaraja College | Havelock Park  |