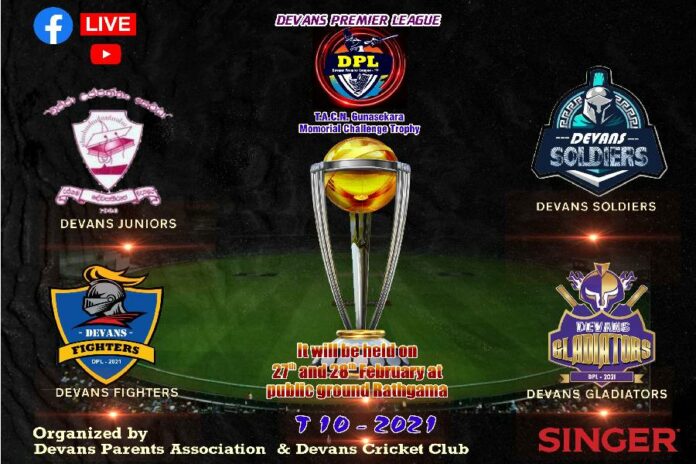 The Devans Premier League T10 Cricket tournament featuring the best current and past cricketers from Devapathiraja College, Rathgama will be in action for the T.A.C.N. Gunasekara Memorial Challenge Trophy on the 27th & 28th of February at the Rathgama Public Grounds.
Sri Lankan national players Tharindu Kaushal and Thikshila De Silva, Sri Lanka under 19 player Dilshan Kanchana, Club Cricketers Chalana De Silva, Raveen Yasas, Roshan Lakmal, Pethum Madhusanka, Tharindu Nuwan, Chathura Lakshan, Thisara Dilshan, Pethum Madhusanka, Kalpa Chethiya, Sudeera Weerarathne, Pawan Sandesh, Jeewaka Shasheen are expected to participate in this tournament.
>>Groups for the Schools U19 Cricket Tournament 2020/21 announced
Late T.A.C.N. Gunasekara, a former Principal of the school, is credited with introducing Cricket to Devapathiaraja College in 1997. Devapathiraja College Rathgama has produced many talented Cricketers at all levels.
Amongst their major achievements are the following:
Runner up of the Astra Cup under 16 division 3 tournament in 2004 under Darshana Srimal Hewawasam.
Under 13 division Two champions in 2011 under D. Nilanka Rukshitha as captain.
Runners up of Under 19 Singer Trophy division Three tournament under skipper Lahiru Madhuwantha in 2013/2014.
Champions of the Singer Trophy under 19 division Two tournament under skipper Pethum Madhusanka Mendis in 2017/2018.
Devapathiraja has played in Division One in all age groups under 13,15,17 and 19. They won these titles under Y. Nishantha Kumara, master in charge and Ranjan Lasantha De Silva as coach.
>>141st Battle of the Blues 'Play for a Cause' endures its pledge to support four deserving schools
4 teams will play on a league basis and the top two teams of the points table will meet in the final while the teams in third and fourth place will battle it out for third place in a play-off match.
Right arm off spinner Tharindu Kaushal will lead the Devan Soldiers while Darshana Srimal will lead Devan Gladiators and Tharindu Nuwan will lead the Devan Fighters. Sudeera Weerarathne, the skipper of the College team in the next season 2020/2021 will lead the Devan Juniors.
Devan Soldiers: Tharindu Kaushal (Captain), Madhuranga Piyumal, Chamara Kelum, Udesh Madhusanka, Lahiru Madhuwantha, Thilina Samith, Harsha Sandaruwan, Pasindu Madhuranga, Sammu Eranda, Upul Kumara, Nilanga Neranjana, Nuwan Sandaruwan, Kasun Lahiru, Madhusha Rasanga, Nayana Sanjeewa
>>Schools Cricket to return in March 2021
Devan Gladiators: Darshana Srimal (Captain), Mahesh Sandaruwan, Tharindu Priyankara, Umesh Kasun, Raveen Yasas, Roshan Lakmal, Indunil Kumara, Pradeep Nishantha, Pethum Madhusanka, Nimesh Chathuranga, Gihan Indrajith, Lahiru Lakmal, Lahiru Anuradha, Chamika Sandaruwan, Prasanna Karunawansha
Devan Fighters:Tharindu Nuwan, Thikshila De Silva, Rajitha Priyan, Chalana De Silva, Gayan Abesekara, Sadik Kumara, Dilshan Kanchana, Chathura Lakshan, Thisara Dilshan, Kalpa Chethiya, Ruwan Sameera, Sandun De Silva, Avishka Gimhana, Ashen Kanchaka, Nuran Dhanitha, Hasitha Sandaruwan
Devans Juniors: Sudeera Weerarathne (Captain), Pawan Sandesh, Jeewaka Shasheen, Sasanka Nirmal, Tharindu Rukshan, Isrushka Thimira, Sandaru Theekshana, Dinitha Prabhanka, Matheesha Saranga, Chaminda Sandaruwan, Pethum Shaminda, Darshaka Sandeep, Saddesh Nethsara, Hiran Chamikara, Thanush Viduranga
 Match schedule
27th February
Match No 1- Devan Fighters vs Devan Juniors
Match No 2 – Devan Soldiers vs Devan Gladiators
Match No 3 – Devan Juniors vs Devan Soldiers
Match No 4 – Devan Gladiators vs Devan Fighters
28th February
Match No 5 – Devan Juniors vs Devan Gladiators
Match No 6 – Devan Soldiers  vs Devan Fighters
Match No 7- 3rd place match (No 3 vs No 4)
Match No 8 – Final (No 1 vs No 2)