Skipper Chamari Athapaththu starred with both bat and ball as Sri Lanka completed their 4th win in as many games at the Commonwealth Games Women's Competition Qualifiers, to make it through to Birmingham 2022.
It was not all clear sailing for Sri Lanka as they came up against the other unbeaten side of the tournament, Bangladesh in the winner-takes-all encounter to decide who would go through the Commonwealth Games Women's Competition at Birmingham 2022.
Read: Madavi and de Silva star in emphatic win over MalaysiaMadavi and de Silva star in emphatic win over Malaysia
Things started off slowly with the bat, but Chamari Athapaththu got going once again, smashing 6 fours and 3 sixes on her way to 48 off just 28 deliveries. However, with her dismissal at the end of the 10th over, Sri Lanka stuttered.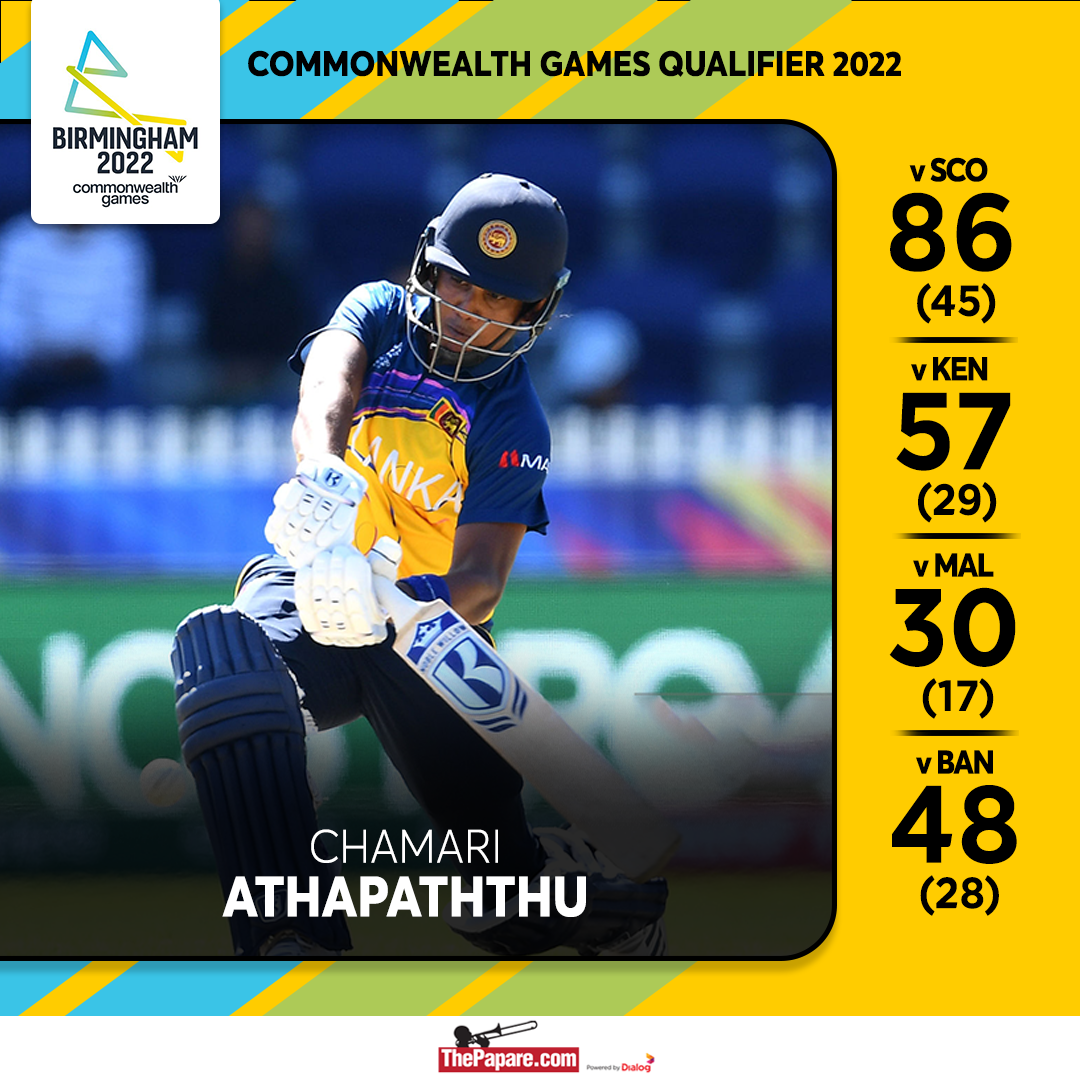 The stars with the bat in the last game, Harshitha Madavi and Nilakshi de Silva looked like they would put on another match-winning partnership, but Madavi was unfortunately run-out at the non-striker's end, with the ball ricocheting off Rumana Ahmed's hand off a drive by de Silva.
De Silva was busy at the crease and kept the runs flowing, while Anushka Sanjeewani, who hadn't had the opportunity to bat all tournament, joined her for a 41-run partnership. Though the boundaries were hard to come by thanks to some tight bowling by Bangladesh's spinners, Sri Lanka ran hard and managed 42 off the last 5 overs.
Read: Chamari Athapaththu stars in another thumping win for Sri Lanka
136 was about par on the track that had a little bit of spin in it, but things started badly for Sri Lanka, as they conceded 10 off Udeshika Prabodhani's 1st over – 5 overthrows were conceded by de Silva.
In fact, Nilakshi de Silva had a poor day in the field, putting down 2 catches off the bowling of Kavisha Dilhari – Sri Lanka were sloppy overall, conceding plenty of runs through misfields and overthrows.
The Bangladeshis made the most of the fielding lapses, Murshida Khatun and Fargana Hoque putting on 50 runs for the 2nd wicket. Things were looking good for Bangladesh when Chamari Athapaththu brought herself back into the attack and struck straight away, getting rid of the dangerous Khatun for 36.
Read: Nisansala impresses on debut; Athapaththu flattens Scotland
That proved to be the turning point of the game as the Sri Lankan spinners put the brakes on the Bangladesh innings. Particularly impressive were 20-year-old left arm spinner Sachini Nisansala and 21-year-old Kavisha Dilhari, who bowled great lines during the dying stages of the game, ensuring that the required rate kept climbing,
Bangladesh managed just 26 off the last 5 overs and ended up short by a comfortable 22-run margin.
With the win, Sri Lanka go through to Birmingham 2022, which will feature 7 other teams – England, Australia, New Zealand, India, Pakistan, South Africa & West Indies.


Batsmen
R
B
4s
6s
SR
Vishmi Rajapaksha
c Fargana Hoque Pinky b Suraya Azmim
7
13
0
0
53.85
Chamari Athapaththu
st Shamima Sultana b Rumana Ahmed
48
28
6
3
171.43
Hasini Perera
lbw b Salma Khatun
7
14
0
0
50.00
Harshitha Madavi
run out (Rumana Ahmed)
19
22
2
0
86.36
Nilakshi de Silva
c Fargana Hoque Pinky b Nahida Akter
28
25
1
1
112.00
Anushka Sanjeewani
not out
20
16
1
0
125.00
Ama Kanchana
lbw b Nahida Akter
0
1
0
0
0.00
Kavisha Dilhari
not out
1
1
0
0
100.00
| | |
| --- | --- |
| Extras | 6 (b 0 , lb 3 , nb 0, w 3, pen 0) |
| Total | 136/6 (20 Overs, RR: 6.8) |
| Fall of Wickets | 1-14 (3.4) Vishmi Rajapaksha, 2-61 (8.3) Hasini Perera, 3-72 (9.6) Chamari Athapaththu, 4-91 (14.1) Harshitha Madavi, 5-132 (19.2) Nilakshi de Silva, 6-133 (19.4) Ama Kanchana, |
| Bowling | O | M | R | W | Econ |
| --- | --- | --- | --- | --- | --- |
| Salma Khatun | 4 | 0 | 14 | 0 | 3.50 |
| Suraya Azmim | 2 | 0 | 12 | 1 | 6.00 |
| Nahida Akter | 4 | 0 | 34 | 2 | 8.50 |
| Rumana Ahmed | 4 | 0 | 33 | 1 | 8.25 |
| Mst Ritu Moni | 3 | 0 | 23 | 0 | 7.67 |
| Mst Shanjida Akther Maghla | 3 | 0 | 17 | 0 | 5.67 |


Batsmen
R
B
4s
6s
SR
Shamima Sultana
c Udeshika Prabodhani b Ama Kanchana
6
9
0
0
66.67
Murshida Khatun
lbw b Chamari Athapaththu
36
36
3
0
100.00
Fargana Hoque Pinky
run out (Vishmi Rajapaksha)
33
39
2
0
84.62
Nigar Sultana
c Harshitha Madavi b Chamari Athapaththu
20
21
2
0
95.24
Sobhana Mostary
not out
11
13
0
0
84.62
Mst Ritu Moni
c & b
0
1
0
0
0.00
Rumana Ahmed
not out
2
2
0
0
100.00
| | |
| --- | --- |
| Extras | 6 (b 1 , lb 1 , nb 1, w 3, pen 0) |
| Total | 114/5 (20 Overs, RR: 5.7) |
| Fall of Wickets | 1-18 (2.2) Shamima Sultana, 2-68 (11.2) Murshida Khatun, 3-93 (15.3) Nigar Sultana, 4-111 (19.2) Fargana Hoque Pinky, 5-111 (19.3) Mst Ritu Moni, |
| Bowling | O | M | R | W | Econ |
| --- | --- | --- | --- | --- | --- |
| Udeshika Prabodhani | 2 | 0 | 22 | 0 | 11.00 |
| Kavisha Dilhari | 4 | 0 | 21 | 0 | 5.25 |
| Ama Kanchana | 2 | 0 | 13 | 1 | 6.50 |
| Inoka Ranaweera | 4 | 0 | 22 | 0 | 5.50 |
| Sachini Nisansala | 4 | 0 | 17 | 0 | 4.25 |
| Chamari Athapaththu | 4 | 0 | 17 | 3 | 4.25 |