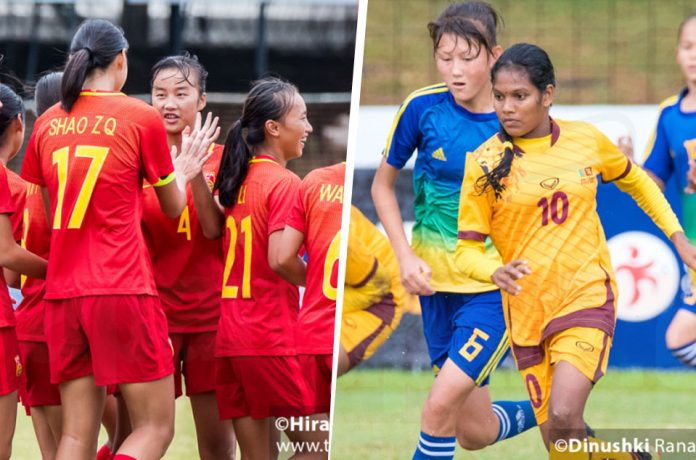 China destroyed competition to advance to the 2nd round in style while Sri Lanka bowed out, failing to register even a point in the AFC U16 Girl's Championship Group A Qualifiers that took place in Colombo Sri Lanka.
Jordan v China
China continued their utter domination of Group A as this time they thrashed Jordan 9-0. Shao Ziqin who scored an impressive hat-trick against Sri Lanka in their previous match once again impressed, this time scoring 4 good goals in the first half alone, with China ending the first half 8-0.
Photos: China vs Jordan – AFC U16 Women's Championship Qualifiers
Midfielder Wang Jingyi scored 2 goals, while Fu Congcong, Shi Xiaomin and Chi Shiying scored a goal each, with Fu Congcong's strike being the only goal of the second half.
Sri Lanka fell to a massive 17-0 defeat against China in the 'AFC U16 Girls' Championship Qualifiers match at the..
Uzbekistan v Sri Lanka
Photos: Sri Lanka vs Uzbekistan – AFC U16 Women's Championship Qualifiers
Sri Lanka's struggles in the tournament continued as Leyla Oraniyazova gave her nation the lead in the 43rd minute, ending the first half with a 1-0 lead to the Uzbeks. Sri Lanka failed to improve in the second half as Diyora Juraboeva, Oysara Suyunova and Ugiloy Saydullaeva scored a goal each as the match ended 4-0 to Uzbekistan.
Guam v Jordan
Jordan had an impressive first half, with Enas Faris scoring 2 and Aleen Hussein scoring another. Jordan's domination only increased in the second half with Enas going onto complete her hat-trick. Joud Salah-Aldin, Lina Tawfiq, Jana Anad and Lujain Yaseen also got onto the scoresheet, ending the match with an impressive 9-0 victory.
Photos : Guam Vs Jordan | AFC U16 Women's Championship Qualifiers 2018
This result secured the second place position for Jordan, giving them another chance to qualify. Meanwhile this saw Guam end the qualifiers with the most goals conceded with 34, however Guam finished only 3rd worst in the goal difference with Bahrain being the worst with -34 while Sri Lanka were second worst with -30.
Sri Lanka scored twice but lost 4-2 to Guam in their opening Group A encounter in the AFC U16 Women's Championship 2019…
China v Uzbekistan
China came into this match having scored 46 goals in just 3 matches, and their domination continued in this fixture as well. Shao Ziqin, who was the leading goal scorer of group A having already gotten 2 hat-tricks, once again impressed scoring 2 goals in the opening half. Chen Jiayu, Wang Siqian and Wang Yuling also added a goal each, with China ending the first half 5-0.
Photos : China Vs Uzbekistan AFC U16 Women's Championship Qualifiers 2018
Fu Congcong continued her impressive tournament scoring in the second half along with Dai Xinyao and Shao Zijia, ending the game with an 8-0 win.
This result saw China end their 4 games in top spot, qualifying for the U16 Girls Championship in impressive fashion, scoring 54 goals in 4 games and not conceding even one.
>>For more Football News Click Here<<