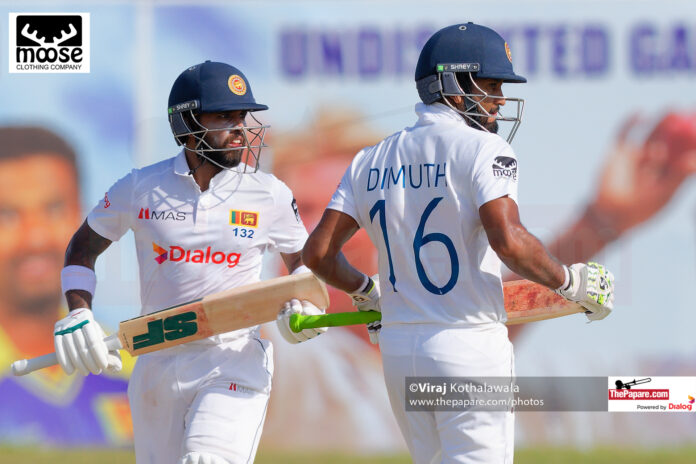 Dimuth Karunaratne and Kusal Mendis put together a 152-run partnership for the 2nd wicket after Prabath Jayasuriya became the 6th Men's Test Cricketer to pick up a 5 wicket-haul on debut for Sri Lanka on day 2 of the 2nd Test against Australia.
>>Sri Lanka v Australia 2022<<
Neither Karunaratne nor Mendis looked in any sort of trouble against the Aussie attack, coming together with the scores on 12/1, at the dismissal of Pathum Nissanka. The right-hander was dismissed in similar fashion to how he went in the 1st Test, his lack of footwork and playing away from his body causing his downfall as Cameron Green took a brilliant catch diving high to his left at gully.
Karunaratne and Mendis started slow, going at just over 2 runs an over early in their partnership, before both got comfortable at the crease and looked to score more freely. Karunaratne almost went too far, mishitting a full-toss back at Mitchell Swepson on 34, but the leggie had moved to his left initially, and was unable to hold on to the ball as it passed over his right shoulder.
The Sri Lanka skipper kicked on from there, going to his 50th 50-plus score in Tests and was looking good for his 15th Test ton when Swepson had him trapped in front for 86.
Mendis seemed to be back to his fluent best with the bat on both the back and front foot, continuing his form from the ODIs as he ended the day on 84* alongside Angelo Mathews (6*).
Earlier in the day, overnight batters for Australia, Steve Smith and Alex Carey added 31 in 8.1 overs before debutant Jayasuriya struck for the 1st time in the day, dismissing Carey for 28, ending a 77-run partnership for the 6th wicket between the pair.
Steve Smith continued from where he left off on day 1, but Jayasuriya kept picking up the wickets on the other end, sending Starc packing, before Kasun Rajitha trapped Pat Cummins in front for 5 on review.
Jayasuriya, who was brought into the attack in the 5th over of the innings, picked up his 6th when he got Nathan Lyon out LBW – he ended with the 2nd best figures by a Sri Lankan debutant in Test cricket with 6/118 (best figures are by Praveen Jayawickrama – 6/92)
Maheesh Theekshana, who had been used sparingly by skipper Dimuth Karunaratne – he bowled just 16 overs to 33 by Ramesh Mendis and 36 by Jayasuriya – cleaned things up taking his 1st Test wicket, with the 3rd LBW of the day, Mitchell Swepson going for 3.
Smith finished with 145*, his highest score since making 211 in Manchester back in 2019.
Trailing by 180, Sri Lanka are not yet out of the woods, but will be happy with today's performance – firstly bowling Australia out for less than 400 and then putting up a strong reply thanks to Karunaratne and Mendis.
>>Click Here For More Cricket News<<
364/10 (110) & 151/10 (41)


Batsmen
R
B
4s
6s
SR
Usman Khawaja
b Ramesh Mendis
37
77
4
0
48.05
David Warner
b Kasun Rajitha
5
13
1
0
38.46
Marnus Labuschagne
st Niroshan Dickwella b Prabath Jayasuriya
104
156
12
0
66.67
Steve Smith
not out
145
227
16
0
63.88
Travis Head
b Prabath Jayasuriya
12
36
0
0
33.33
Cameron Green
lbw b Prabath Jayasuriya
4
14
0
0
28.57
Alex Carey
c Ramesh Mendis b Prabath Jayasuriya
28
61
4
0
45.90
Mitchell Starc
c Kusal Mendis b Prabath Jayasuriya
1
8
0
0
12.50
Pat Cummins
lbw b Kasun Rajitha
5
6
1
0
83.33
Nathan Lyon
lbw b Prabath Jayasuriya
5
6
1
0
83.33
Mitchell Swepson
lbw b Maheesh Theekshana
3
14
0
0
21.43
| | |
| --- | --- |
| Extras | 15 (b 5 , lb 6 , nb 3, w 1, pen 0) |
| Total | 364/10 (110 Overs, RR: 3.31) |
| Bowling | O | M | R | W | Econ |
| --- | --- | --- | --- | --- | --- |
| Kasun Rajitha | 25 | 4 | 70 | 2 | 2.80 |
| Ramesh Mendis | 33 | 1 | 117 | 1 | 3.55 |
| Maheesh Theekshana | 16 | 2 | 48 | 1 | 3.00 |
| Prabath Jayasuriya | 36 | 3 | 118 | 6 | 3.28 |


Batsmen
R
B
4s
6s
SR
Pathum Nissanka
c Mitchell Starc b Cameron Green
6
25
0
0
24.00
Dimuth Karunaratne
lbw b Mitchell Swepson
86
165
10
0
52.12
Kusal Mendis
lbw b Nathan Lyon
85
161
9
0
52.80
Angelo Mathews
c Marnus Labuschagne b Mitchell Starc
52
117
4
0
44.44
Dinesh Chandimal
not out
206
326
16
5
63.19
Kamindu Mendis
b Mitchell Swepson
61
137
7
0
44.53
Niroshan Dickwella
c Pat Cummins b Nathan Lyon
5
13
0
0
38.46
Ramesh Mendis
lbw b Mitchell Starc
29
98
0
0
29.59
Maheesh Theekshana
b Pat Cummins
10
27
2
0
37.04
Prabath Jayasuriya
b Mitchell Starc
0
9
0
0
0.00
Kasun Rajitha
lbw b Mitchell Swepson
0
9
0
0
0.00
| | |
| --- | --- |
| Extras | 14 (b 4 , lb 6 , nb 1, w 3, pen 0) |
| Total | 554/10 (180 Overs, RR: 3.08) |
| Bowling | O | M | R | W | Econ |
| --- | --- | --- | --- | --- | --- |
| Mitchell Starc | 29 | 3 | 89 | 4 | 3.07 |
| Pat Cummins | 30 | 5 | 95 | 1 | 3.17 |
| Nathan Lyon | 64 | 5 | 194 | 2 | 3.03 |
| Cameron Green | 6 | 0 | 20 | 0 | 3.33 |
| Mitchell Swepson | 37 | 2 | 100 | 3 | 2.70 |
| Travis Head | 8 | 0 | 27 | 0 | 3.38 |
| Marnus Labuschagne | 6 | 0 | 16 | 0 | 2.67 |


Batsmen
R
B
4s
6s
SR
David Warner
lbw b Ramesh Mendis
24
44
4
0
54.55
Usman Khawaja
c Oshada Fernando b Prabath Jayasuriya
29
47
4
0
61.70
Marnus Labuschagne
lbw b Prabath Jayasuriya
32
59
3
0
54.24
Steve Smith
lbw b Prabath Jayasuriya
0
4
0
0
0.00
Travis Head
b Ramesh Mendis
5
4
1
0
125.00
Cameron Green
st Niroshan Dickwella b Prabath Jayasuriya
23
32
2
0
71.88
Alex Carey
not out
16
28
0
0
57.14
Mitchell Starc
c Prabath Jayasuriya b Kusal Mendis
0
2
0
0
0.00
Pat Cummins
lbw b Maheesh Theekshana
16
18
1
0
88.89
Nathan Lyon
lbw b Maheesh Theekshana
5
3
1
0
166.67
Mitchell Swepson
b Prabath Jayasuriya
0
5
0
0
0.00
| | |
| --- | --- |
| Extras | 1 (b 1 , lb 0 , nb 0, w 0, pen 0) |
| Total | 151/10 (41 Overs, RR: 3.68) |
| Bowling | O | M | R | W | Econ |
| --- | --- | --- | --- | --- | --- |
| Kasun Rajitha | 5 | 1 | 16 | 0 | 3.20 |
| Maheesh Theekshana | 5 | 0 | 28 | 2 | 5.60 |
| Ramesh Mendis | 15 | 2 | 47 | 2 | 3.13 |
| Prabath Jayasuriya | 16 | 2 | 59 | 6 | 3.69 |