Sri Lankan athletes won three medals at the second leg of the Asian Grand Prix second leg which was held today (7th June) in Chongqing, China.
The Sri Lankan contingent won four medals at the first leg of the Asian Grand prix which was also conducted in China on Tuesday (4th June). All medal winners except Gayanthika Abeyrathne managed to feature in the podium at the second leg, as well.  
Related – Four medals for Sri Lanka in the Asian Grand prix
The women's 800m which has been one of the most successful events for Sri Lanka in the international competitions, which also yielded two medals in the first leg of the 2019 Asian Grand Prix with Nimali Liyanarachchi winning Silver and Gayanthika winning Bronze in the event.  However in the second leg of the Grand Prix Sri Lanka had mixed results in the event as Nimali managed to retain her place on the podium winning Silver with a time of 2:04.17min while Gayanthika Abyerathne, despite being a member of the races' leading pack missed out on a medal as she lost pace in the home stretch and finished 5th overall.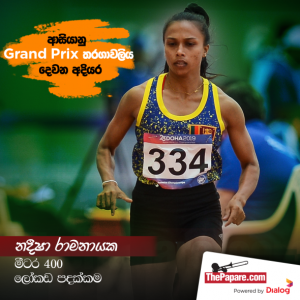 Silver medalist in the first leg of the Asian Grand Prix, Quarter miler Nadeesha Ramanayake secured herself another podium finish in the women's 400m.  Nadeesha who had a terrific run during the Asian Athletic Championship despite not being able to win a medal was a part of the record breaking 4X400m women's team. Nadeesha was involved in a tough battle for the second spot but had to be satisfied with a Bronze medal coming third in the race. Olympian Sumedha Ranasinghe won Sri Lanka's third medal of the Asian Grand Prix second leg winning Bronze in the Men's Javelin throw.
Both legs of the two-legged Asian Grand Prix 2019 were conducted in Chongqing, China with Sri Lanka sending a total of 9 athletes for the competition. Sri Lanka finished the Grand Prix with a medal bag of 7 medals which included 3 Silver and 4 Bronze medals having won four medals in the 1st Leg and three in the 2nd  leg of the championship.
>>for more Athletics News Click Here<<