Having taken to the game at the tender age of ten, Ashan set foot into the cricket arena under the guidance of Jayantha Seneviratne from the Bloomfield Cricket Academy. After representing Ashoka College, Maradana in the under 13 age category as an eleven year old, Ashan was recruited by Nalanda College via the intervention of Jayantha Seneviratne.
It is any schoolboy cricketer's dream to represent their alma mater in the prestigious big match. Ashan's dream was no different, as he aspired to wear the coveted maroon and silver since his boyhood following the likes of the great Mahela Jayawardena, one of Nalanda College's greatest ever products.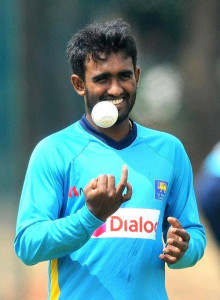 Ashan got the opportunity to live his dream at the age of fifteen when he played the first of four big matches. The nerves were evident as a young Ashan walked out to the center without head gear to pair up with Charith Jayaweera. The young debutant was soon approached by the seasoned campaigner and asked why he wasn't wearing a helmet. The young Ashan responded "I'm not used to playing with a helmet on". Rather stunned by the young man's response, Ashan recalls how Charith walked back to his mark with a wry smile on his face.
As all healthy rivalries transpire there's always a bit of brotherly jibes your opponents would make during a big match. Ashan tasted some of that hostility himself for his helmetless adventure.
"Well the opposition players had something to say about it too" he recollected with a grin.
Ashan Priyanjan went on to play three more big matches as he grew in stature into one of the promising talents of that era. He represented the Sri Lanka under 19s and went on to play at the club level, representing both his childhood club Bloomfield Cricket and Athletic Club as well as Tamil Union Cricket and Athletic Club. Ashan's ability as an all-round performer soon attracted the interest of the national selectors as he was called up to the national squad.
"It was huge dream come true and as a schoolboy cricketer, the training and exposure I had helped me a lot. I learned to be a team player, handle different individuals and personalities in a team, behave in a dressing room environment, to work with coaches and specially live up to an audience"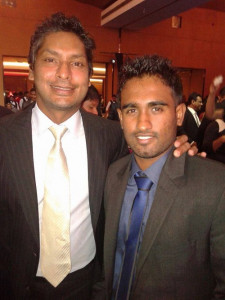 Ashan made his international debut against Pakistan in ODIs and managed to become a part of an elite club, making a half century on debut in the United Arab Emirates. Regardless of currently not featuring in that national picture, Ashan has impressed domestically forming a new alliance with the Colombo Cricket Club and in the Sri Lanka A set up. He led the Sri Lanka A team on their tour of England as they locked horns against the England Lions and Pakistan A. He has emerged through the ranks as a hard-hitting middle order batsman, who has a decent bowling arm on him, is able to handle pressure well which has labeled him as one for the future.
After taking a walk down memory lane in an exclusive interview with the ThePapare.com, Ashan wished this year's team good luck, "First of all I would like to thank ThePapare.com for giving me this opportunity. We have a good coach at the helm this season in Keerthi sir, we have done well under him and I would wish them good luck to win back the trophy because we haven't won the big match in many years"
Undoubtedly, a school boy cricketer is nurtured and built in stature to face the cricketing world when the door of opportunity opens. The big match provides the limelight, the hostile yet embracing atmosphere from which some shine. Beyond the mere facade of the glamour of the big match, these are the untold stories in which boys grow into men.