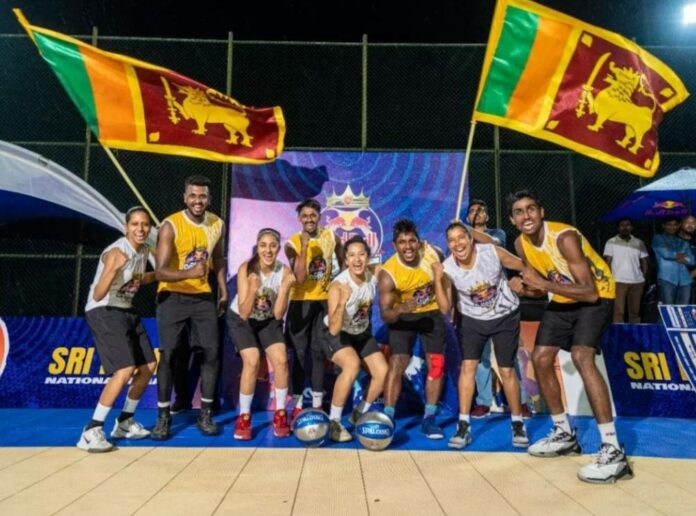 Team Air Brothers and Team TSM emerged victorious in the Red Bull Half Court Sri Lanka 2022 as they booked their slot at the World Red Bull Half Court Championship.
The tournament was carried out under 4 divisions over the last month, with the champion team of each division battling with each other on the 23rd of April 2022 for the title of "Red Bull Half Court Sri Lanka Champions". Teams Air Brothers, Blacks, Chotta & Vazians BC emerged champions under the Men's category, whilst teams TSM, Raptors, Warriors & Gateway Girls were crowned as champions under the Women's category at the divisional matches held at Colombo, Matara, Jaffna & Kandy respectively.
The defending champions, the Air Brothers, proved their class by winning over their rival team, Team Blacks, at the finals. The Air Brothers ended the game with 19 points as opposed to the 14 points team Blacks scored. Team Air Brothers played an exceptional game at the Red Bull Half Court finals despite the pressure given by the Blacks. Janith Gamage (Sri Lanka Number two in 3×3 Basketball) and Chenura De Alwis of team Blacks stepped into the game with three pointers, and the defensive pressure and the rebounds of Sasindu Gajanayake and Aaron Fonseka helped their team on various occasions. It was a stiff fight until they headed to the last four minutes of the game. The defending champions answered the Blacks with massive back to back three pointers and unselfish playouts. The Air Brothers carried out an outstanding defense throughout the game. Chanuka Fernando, Nimesh Fernando and Pawan Gamage played brilliantly throughout the campaign. However, the standout performer was none other than Rukshan Athapaththu (Sri Lanka Number one in 3X3 basketball). Back to back three pointers and the intensive defense carried out by Rukshan Athapaththu all throughout the tournament led his team towards the Championship.
The Women's final was yet another exciting game, as Team TSM took over Raptors.
The much-anticipated Women's finals ended in a 10-point lead in favor of Team TSM. Hazeena Abdul, Ayesha Gamage, Thewagettige Jayani and Thisari Kapuge carried out a challenging defense over the opposition team. Team TSM had the services of Anjalee Ekanayake, Benika Thalagala, Lubna Morseth and Nihari Perera who recently participated at the World Cup Asian qualifiers. The defensive pressure given by team TSM outsmarted the offensive plays of the Raptors. Lubna and Anjalee scored massive three-pointers and side jumpers all throughout the tournament. The support rendered by Benika and Nihari helped the team immensely towards the championship. However, the standout performer was Anjalee Ekanayake – the experience Anjalee possessed helped her team in achieving the spot at the world championship.
Coach Ajith Kuruppu and Coach Sivashakthi Selvaraja, the Head Coaches of Air Brothers and Team TSM, have done a brilliant job in molding these players into achieving their national level performance.
Both the teams will be participating at the Red Bull Half Court World Championship in Egypt.
Stay tuned for more details.