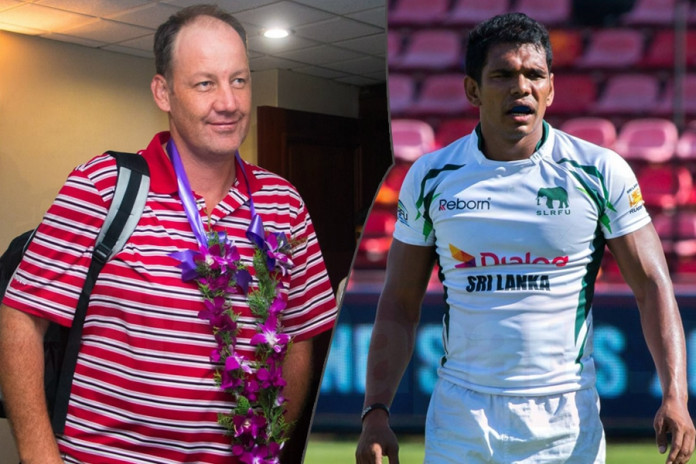 Sri Lanka, defending champions of Asian Division I Rugby, will once again compete in the same category from the 8th – 14th of May in Malaysia.
Former Kandy SC champion coach South African Johan Taylor will be guiding the Tuskers yet again. Last year he coached the team that saw success in the Philippines.
Sri Lanka will play hosts Malaysia on the 8th of May followed by Kazakhstan on the 11th and the Philippines on the 14th of May, all games will be played in Kuala Lumpur.
Taylor will be back in the island today to start his duties from Saturday. Although he took Kandy SC to the title in the 2014/15 Dialog Rugby League he was then named as the consultant to the hill country club for the concluded 2015/2016 season while Sean Wijesinghe was named Head Coach.
Taylor has been in the island on and off during the last season and he knows the players strengths and weaknesses. The Tuskers have a good chance to claim the title once again in this division one category, meanwhile Japan, Hong Kong and South Korea will compete in the top level category.
The 45 man squad will start training from Saturday at the Race Course grounds. It will be interesting to see whether some new faces in the likes of Thilina Weerasinghe, the Navy SC full back and the highest points scorer in the league, Prasath Madusankha, the Havelock's hooker and the top try scorer of the league and Mushin Faleel of Police will make their debuts after some exceptional performances in the club rugby league. .
Captain Fazil Marija may miss the tour due to injury and Havelock's star Sudarshana Muthuthantri, who is the current sevens captain, is likely to lead the Tuskers for the first time in XVs.
Stay tuned for more news from the Tuskers camp.