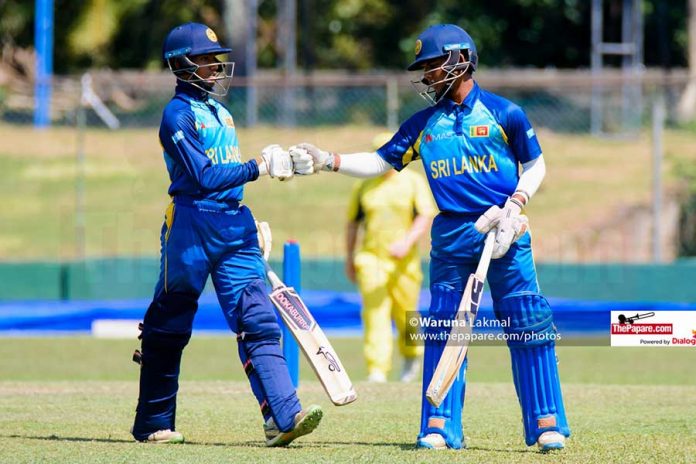 Sri Lanka U19s succumbed to a close 7-run defeat at the hands of Australia U19s in their second youth ODI played on Saturday at P. Sara Oval Grounds.

Photos: Australia U19 Team Tour to Sri Lanka 2019 – 2nd ODI
With the visitors having taken a 1-0 lead prior to this match, the hosts needed an improved performance to topple the junior Aussies.
Australia U19s won the toss and opted to bat first on a belter of a surface. Right arm seamer Chamindu Wijesinghe took two early wickets to peg back the visiting team. But, a fine defiance from Keegan Oates and Oliver Davies set a solid foundation.
Kamil Mishara century to no avail; Australia take lead
Davies in particular scored at a brisk pace to score a 48-ball 52 with 6 fours and 2 sixes. He fell to the left-arm spin of Rohan Sanjaya in the 24th over.
Just when the home team looked to tighten the screws on the run flow, Will Sutherland came in and smashed a brilliant 115 off just 91 balls with 10 boundaries and 5 maximums to put Australia over the 300-run mark.
Oates played the anchor role scoring an excellent 95 at number three position. He and Sutherland added 112 runs for the fourth wicket.
Chasing a stiff target of 305, Sri Lanka got off to the worst possible start when in-form Navod Paranavithana fell in the very first ball. The centurion from the last game, Kamil Mishara fell cheaply. But, Mohammed Shamaaz and skipper Nipun Dhananjaya steadied the chase with a 115-run stand for the 3rd wicket.
The highs and lows (mostly lows) of Sri Lanka Cricket's 2018
Shamaaz had to retire himself due to an injury, which brought Avishka Tharindu to the crease. Tharindu and Dhananjaya, both fell within two deliveries as Liam Marshall dented the Lankan innings.
Thereafter, Chamindu Wijesinghe and Sonal Dinusha gave a fighting opportunity for the young Lions with a 98-run stand. Wijesinghe scored at nearly 120, accumulating 63 off 53 balls with 9 fours. His dismissal triggered yet another collapse as Sri Lanka failed to surpass the Aussie score.
Left-handed Dinusha held his fort scoring an unbeaten 59 off 56 balls. But, there was no support from the tailenders as the Sri Lanka U19s fell short by 7 runs.
With Australia U19s already taking an unassailable 2-0 lead in the three-match series, the third and final ODI will be played for pride on 8th January at the same venue.   
Aus U19 won by 7 runs
Australia U19's Innings
Batting
R
B
Sam Fanning
b C Wijesinghe
2
6
Corey Hunter
c N Paranavithana b C Wijesinghe
15
37
Keegan Oates
(runout) N Paranavithana
95
100
Oliver Davies
c & b R Sanjaya
52
48
Will Sutherland
(runout) Madushanka
115
91
Lachlan Hearne
not out
17
18
Fall of Wickets:
1-7 (S Fanning, 1.6 ov), 2-39 (CB Hunter, 9.5 ov), 3-117 (O Davies, 23.2 ov), 4-229 (K Oates, 42.2 ov), 5-304 (W Sutherland, 49.6 ov)
| Bowling | O | M | R | W | E |
| --- | --- | --- | --- | --- | --- |
| Dilshan Madushanka | 8 | 0 | 34 | 0 | 4.25 |
| Chamindu Wijesinghe | 9 | 0 | 60 | 2 | 6.67 |
| Ashan Daniel | 6 | 0 | 39 | 0 | 6.50 |
| Avishka Tharindu | 1 | 0 | 18 | 0 | 18.00 |
| Rohan Sanjaya | 10 | 0 | 51 | 1 | 5.10 |
| Raveen de Silva | 7 | 0 | 31 | 0 | 4.43 |
| Navod Paranavithana | 9 | 0 | 65 | 0 | 7.22 |
Sri Lanka U19's Innings
Batting
R
B
Navod Paranavithana
c Holt b Carlisle
0
1
Kamil Mishara
c Holt b Carlisle
15
23
Mohamed Samaaz
c Marshall b Kann
79
75
Nipun Dananjaya
c Oates b Marshall
54
71
Avishka Tharindu
c Hearne b Marshall
0
1
Sonal Dinusha
not out
59
56
Chamindu Wijesinghe
lbw by Freeman
63
53
Raveen de Silva
c Sutherland b Freeman
1
3
Ashan Daniel
c Oates b Carlisle
10
15
Rohan Sanjaya
c Davies b Carlisle
4
2
Dilshan Madushanka
not out
0
0
Fall of Wickets:
1-0 (ND Paranavithana, 0.1 ov), 2-35 (K Mishara, 6.3 ov), 3-151 (A Tharindu, 27.2 ov), 4-151 (ND Perera, 27.3 ov), 5-249 (C Wijesinghe, 42.1 ov), 6-257 (Mohamed Samaaz, 43.5 ov), 7-259 (R de Silva, 44.4 ov), 8-281 (A Daniel, 48.2 ov), 9-286 (R Sanjaya, 48.5 ov)
| Bowling | O | M | R | W | E |
| --- | --- | --- | --- | --- | --- |
| Iain Carlisle | 9 | 0 | 60 | 4 | 6.67 |
| Liam Marshall | 6 | 0 | 37 | 2 | 6.17 |
| Josh Kann | 10 | 0 | 73 | 1 | 7.30 |
| Oliver Davies | 10 | 0 | 44 | 0 | 4.40 |
| Jarrod Freeman | 10 | 0 | 53 | 2 | 5.30 |
| Lachlan Hearne | 5 | 0 | 28 | 0 | 5.60 |