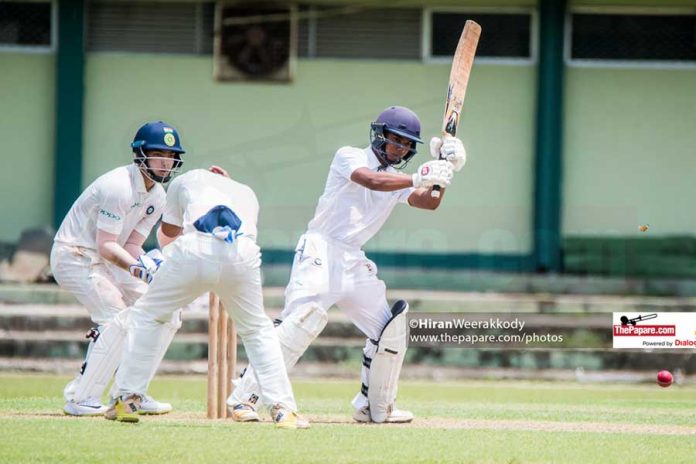 The visiting India U19 team took on the Sri Lanka President's XI in a 2-day warm up match at NCC grounds today. The home team was led by Royalist Kamil Mishara. On a dry NCC track, Mishara won the toss and elected to bat first.
Sri Lanka Presdient's XI

Kamil Mishara (c), Kalindu Chihan, Muditha Premadasa, Sonal Dinusha, Muditha Lakshan, Dilum Sudeera, V. Viyaskanth, Ruvin Pieris, Chamindu Wijesinghe, Lakshan Gamage, Ashan Fernando, Kevin Perera, Maheesh Theekshana, Ravindu Fernando, Menduka Wijethilaka, Chamika Gunasekera, S. Mathushan
Read: Sachin Tendulkar's son picked for India under 19s
The two openers Kamil Mishara and Ashen Fernando started steadily for the hosts adding 40 runs in 10 overs. However, right-handed Ashen Fernando (15) threw his wicket away to first change bowler Akash Pandey, by giving an easy catch to S. Chowdry at mid-on to end a good opening partnership.
No.3 batsman Mudith Premadasa got an early chance in the 12th over as Devdutt dropped him on 5 at slips. Anyway he didn't make most of the given chance as he gave a straight forward catch to Chowdry at extra cover becoming Pandey's 2nd wicket.
Skipper Kamil Mishara also couldn't resist further as his well-built innings came to an end courtesy a full Pandey delivery.
Anuj Rawat, the Indian skipper took 21 overs to expose his main spinner Harsh Tyagi, in fact it was the first time a spinner was given the ball. Tyagi straight away struck as he trapped Kevin Perera (5) in his 2nd ball.
Sonal Dinusha and Kalindu Chihan two stand by players of the Sri Lanka U19 team, then got together and put up a superb 85-run partnership. During the cause Kalindu who came after Sonal overtook his partner and scored a well composed half-century.
Read: Nipun Dananjaya to lead Sri Lanka U19s against India
Just before tea, India's Taide displayed a glimpse of India's fielding brilliance by getting rid of the dangerous looking Kalindu with a direct hit. With just one wicket to aim at, Taide did a brilliant job to brake a stubborn and steady partnership.
Ravindu Fernando who then paired with Sonal made sure the Lankan inning doesn't fall apart as he cautiously built the home team's innings with Sonal. The duo had added 46 runs when play stopped due to rain. Luckily the showers didn't last for long.
Just after the break, Sonal hit a well-connected slog wide away from the long-on fielder which brought up his 50 and also the 50-run partnership between him and Rvaindu. In the following over he was made to retire and a new batsman Maheesh Theekshana walked in.
Soon after that, Ravindu miscued one straight to the hands of long-on giving Taide his first wicket. Taide struck again claiming with the wicket of Muditha Lakshan. Lakshan Gamage then scored 15 off 20 to remain unbeaten with Maheesh Theekshana who was also on 15.
The hosts ended the day on 253 for 7 after batting for 88 overs.
Match draw
Sri Lanka U19 Board XI's 1st Innings
Batting
R
B
Kamil Mishara
lbw by A.Pandey
40
55
Ashen Fernando
c S.Chowdary b A.Pandey
15
30
Muditha Premadasa
c S.Chowdary b A.Pandey
5
19
Kevin Perera
c A.Rawat b H.Tyagi
3
14
Sonal Dinusha
not out
50
167
Kalindu Chihan
(runout) A.Taide
61
90
Ravindu Fernando
c A.Pandey b A.Taide
37
70
Maheesh Theekshana
not out
15
53
Muditha Lakshan
c H.Tiyagi b A.Taide
5
10
Lakshan Gamage
not out
15
20
Fall of Wickets:
1-40 (A.Fernando ,9.6 ) , 2-62 (M.Premadasa ,15.5) , 3-64 (K.Mishara ,17.4) , 4-69 (K.Perera ,21.3) , 5-154 (K.Chihan ,51.3|) , 6-219 (R.Fernando ,72.6) , 7-230 (M.Lakshan ,79.6)
| Bowling | O | M | R | W | E |
| --- | --- | --- | --- | --- | --- |
| Arjun Tendulkar | 8 | 1 | 34 | 0 | 4.25 |
| Mohit Jangra | 7 | 2 | 26 | 0 | 3.71 |
| Akash Pandey | 12 | 5 | 27 | 3 | 2.25 |
| Yatin Mangwani | 8 | 0 | 37 | 0 | 4.63 |
| Harsh Tyagi | 24 | 4 | 71 | 1 | 2.96 |
| Ayush Badoni | 13 | 1 | 28 | 0 | 2.15 |
| Siddharth Desai | 7 | 3 | 6 | 0 | 0.86 |
| Sameer Choudary | 4 | 1 | 8 | 0 | 2.00 |
| Atharva Taide | 5 | 1 | 10 | 2 | 2.00 |
India U19's 1st Innings
Batting
R
B
Pawan Shah
not out
70
70
Anuj Rawat
b M.Theekshana
28
27
Atharva Taide
c K.Perera b L.Gamage
25
36
Devdutt Padikkal
not out
75
82
Aryan Juyal
not out
50
54
Nehal Wadhera
c A.Fernando b M.Wijethilaka
8
11
Yash Rathod
b V.Kanthan
36
57
Ayush Badoni
c M.Lakshan b V.Kanthan
59
54
Sameer Choudhary
c K.Mishara b V.Kanthan
8
10
Arjun Tendulkar
c C.Ruvin b V.Kanthan
5
7
Harsh Tyagi
not out
1
7
Extras
19(4LB ,8NB , 6B ,1WD)
Fall of Wickets:
1-82 (A.Rawat ,11.3) , 2-131 (A.Taide ,24.3) , 3-236 (N.Wadhera ,39.5) , 4-325(Y.Rathod ,58.4) , 5-345(S.Chowdary ,62.1) , 6-354(A.Tendulkar ,64.2) , 7-384(A.Badoni ,68.1)
| Bowling | O | M | R | W | E |
| --- | --- | --- | --- | --- | --- |
| Chamika Gunasekara | 7 | 1 | 49 | 0 | 7.00 |
| Selvarasa Mathushan | 4 | 0 | 21 | 0 | 5.25 |
| Lakshan Gamage | 5 | 0 | 36 | 1 | 7.20 |
| Rohan Sanjaya | 2 | 0 | 16 | 0 | 8.00 |
| Maheesh Theekshana | 15 | 2 | 60 | 1 | 4.00 |
| Dilum Sudeera | 5 | 0 | 19 | 0 | 3.80 |
| V.Kanthan | 9.1 | 1 | 63 | 4 | 6.92 |
| Ravindu Fernando | 4 | 0 | 26 | 0 | 6.50 |
| Medulaka Wijethilaka | 5 | 0 | 22 | 1 | 4.40 |
| Chamindu Wijesinghe | 5 | 0 | 26 | 0 | 5.20 |
| Ruwin Chandisha | 2 | 0 | 10 | 0 | 5.00 |
| Muditha Lakshan | 4 | 1 | 21 | 0 | 5.25 |