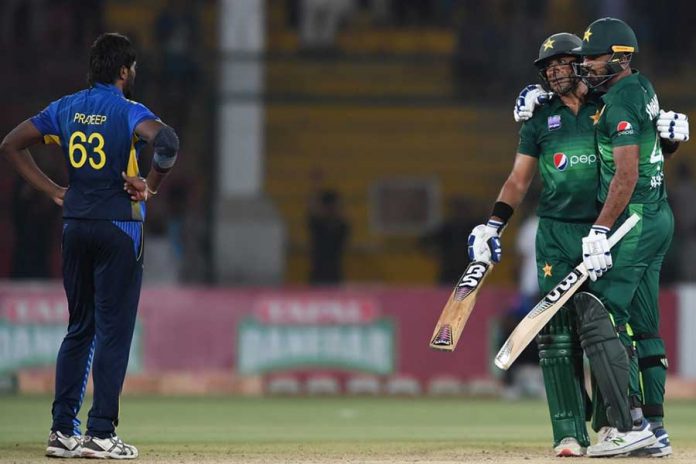 A steady batting effort from the hosts Pakistan, saw them winning the 3rd ODI against Sri Lanka by 5 wickets chasing down the 297 they made with the help of a brilliant century from opener Danushka Gunathilaka and an entertaining knock from Dasun Shanaka. With this Pakistan clinch the 3-match series in Karachi 2-0. 
Sri Lanka once again took the game to the wire as they made a strong comeback after a blistering opening stand between Abid Ali and Fakhar Zaman in their run-chase of 298. Experienced pacie Nuwan Pradeep led the way for the visitors after promising leg-spinner Wanindu De Silva broke the threatening opening stand.
The Lankan bowlers, apart from Wanindu, looked pretty ordinary as Abid and Fakhar faced no threat in cruising towards the target. Chinaman Lakshan Sandakan was a bit wayward although he seemed to be an improved bowler than he was previously. Lahiru Kumara, despite being very quick showed the lack of experience as he couldn't find a way to stop the free-flowing Pakistani openers.
Read: Record partnership by Shehan & Shanaka not enough for Sri Lankan victory
Babar Azam started merrily and looked as if he was going to finish the game with Fakhar at the other end, but Sri Lanka once again took a review which was spot on and got them the wicket of Babar. Interestingly, Abid's wicket off Wanindu was also a revised decision.
Pradeep, in his brilliant spell went on to dismiss the in-form Fakhar to slow things down for Pakistan during which Kumara claimed his only wicket, castling up the opposition skipper Sarfaraz Ahmed. However, it was him again who helped Pakistan take the game under their control with an 18-run over. When Shehan Jayasuriya dismissed Haris Sohail in the 48th over it was too late as he had done all the damage steering his team very close to the victory line.
Sri Lanka's fielding was on par despite a crucial dropped catch by substitute fielder Sadeera Samarawickrama and hard stumping which was missed by debutant wicket-keeper Minod Bhanuka.  
Early in the day Gunathilaka, who opened the innings with his new partner Avishka Fernando, looked solid from the first ball and remained positive even after the early loss of Fernando, who ended the series with two poor outings. Skipper Lahiru Thirimanne who joined him then also showed positivity in his game as the duo saw off the new ball threat by the Pakistani pacers smartly.
The duo seemed to have done their homework as they remained untroubled by the early introduction of spin and built a solid foundation for the Lankan innings, something which they couldn't do in the previous game. Assisted by sloppy fielding from the Pakistanis, the two left-handers added a valuable 88 runs before all-rounder Mohammad Nawaz, who's in the XI for Imad Wasim, dismissed Thirimanne for a well-made 36 in his first over.
Angelo Perera, replacing Oshada Fernando, despite all the promise he showed during his schools cricket career and tons of runs in the domestic circuit seemed to be under a lot of pressure and struggled his way to make 13 off 25 before getting out to a soft dismissal. Being nervous in the biggest stage has been his undoing since the day he debuted for Sri Lanka in 2013. 
Read More : Pakistan squad for Sri Lanka T20Is announced
Sadeera Samarawickrama along with Oshada Fernando, who were dropped quite unfairly after just 1 game, may complain about the inclusion of Perera, but definitely not about the debutant Minod Bhanuka. The wicket-keeper batsman from Kurunegala started off cautiously and took off with a thumping six off Usman Shinwari in the 40th over when Sri Lanka were desperate for boundaries. His promising stay in the crease came to an unfortunate end after another six as he ran himself out after a mix-up with a tired Gunathilaka for 36.
Gunathilaka on the other hand just kept scoring as he reached his 2nd ODI century, almost 2 years after his first ton. This is also the first ODI hundred for a Sri Lankan opener since Upul Tharanga last scored one in October 2017. After battling towards the death with a niggle he picked up during the innings, Gunathilaka perished to a Mohammad Amir yorker setting the stage for a Dasun Shanaka onslaught.
Shanaka's 24-ball 43 steered Sri Lanka to a competitive total of 297 as the visitors scored 82 runs in the last 10 overs, which is well above what Sri Lanka's average score has been in the last 10 overs in the recent past. Apart from average bowling from the bowlers, Pakistan also will worry about the ordinary fielding they displayed today allowing an inexperienced Lankan batting order to put a good score on the board.
The two teams will now travel to Lahore for the 3-match T20 series starting on the 5th of this month.


Batsmen
R
B
4s
6s
SR
Avishka Fernando
c Sarfaraz Ahmed b Mohammad Amir
4
6
1
0
66.67
Danushka Gunathilaka
b Mohammad Amir
133
134
16
1
99.25
Lahiru Thirimanne
c & b Mohammad Nawaz
36
53
4
0
67.92
Angelo Perera
c Haris Sohail b Usman Khan
13
25
0
0
52.00
Minod Bhanuka
run out (Mohammad Nawaz)
36
39
0
2
92.31
Shehan Jayasuriya
c Iftikhar Ahmed b Shadab Khan
3
6
0
0
50.00
Dasun Shanaka
c Haris Sohail b Wahab Riaz
43
24
4
2
179.17
Wanindu Hasaranga
b Mohammad Amir
10
12
0
0
83.33
Lakshan Sandakan
run out (Mohammad Amir)
0
1
0
0
0.00
Nuwan Pradeep
not out
1
2
0
0
50.00
| | |
| --- | --- |
| Extras | 18 (b 1 , lb 7 , nb 2, w 8, pen 0) |
| Total | 297/9 (50 Overs, RR: 5.94) |
| Did not bat | Lahiru Kumara, |
| Fall of Wickets | 1-13 (2.1) Avishka Fernando, 2-101 (19.5) Lahiru Thirimanne, 3-151 (29.1) Angelo Perera, 4-225 (40.6) Minod Bhanuka, 5-236 (42.5) Shehan Jayasuriya, 6-243 (44.3) Danushka Gunathilaka, 7-284 (48.4) Wanindu Hasaranga, 8-284 (48.5) Lakshan Sandakan, 9-297 (49.6) Dasun Shanaka, |
| Bowling | O | M | R | W | Econ |
| --- | --- | --- | --- | --- | --- |
| Mohammad Amir | 10 | 0 | 50 | 3 | 5.00 |
| Usman Khan | 8 | 1 | 41 | 1 | 5.12 |
| Iftikhar Ahmed | 9 | 1 | 43 | 0 | 4.78 |
| Wahab Riaz | 10 | 0 | 81 | 1 | 8.10 |
| Shadab Khan | 9 | 0 | 50 | 1 | 5.56 |
| Mohammad Nawaz | 4 | 0 | 24 | 1 | 6.00 |


Batsmen
R
B
4s
6s
SR
Fakhar Zaman
c Dasun Shanaka b Nuwan Pradeep
76
91
7
1
83.52
Abid Ali
lbw b Wanindu Hasaranga
74
67
10
0
110.45
Babar Azam
lbw b Nuwan Pradeep
31
26
2
0
119.23
Sarfaraz Ahmed
b Lahiru Kumara
23
33
1
0
69.70
Haris Sohail
b Shehan Jayasuriya
56
50
3
1
112.00
Iftikhar Ahmed
not out
28
22
3
1
127.27
Wahab Riaz
not out
1
1
0
0
100.00
| | |
| --- | --- |
| Extras | 10 (b 3 , lb 5 , nb 0, w 2, pen 0) |
| Total | 299/5 (48.2 Overs, RR: 6.19) |
| Fall of Wickets | 1-123 (19.3) Abid Ali, 2-181 (29.1) Babar Azam, 3-189 (31.3) Fakhar Zaman, 4-244 (41.1) Sarfaraz Ahmed, 5-287 (47.4) Haris Sohail, |
| Bowling | O | M | R | W | Econ |
| --- | --- | --- | --- | --- | --- |
| Nuwan Pradeep | 9.2 | 1 | 53 | 2 | 5.76 |
| Dasun Shanaka | 5 | 0 | 28 | 0 | 5.60 |
| Lahiru Kumara | 7 | 0 | 55 | 1 | 7.86 |
| Lakshan Sandakan | 10 | 0 | 62 | 0 | 6.20 |
| Wanindu Hasaranga | 10 | 0 | 54 | 1 | 5.40 |
| Shehan Jayasuriya | 7 | 0 | 39 | 1 | 5.57 |