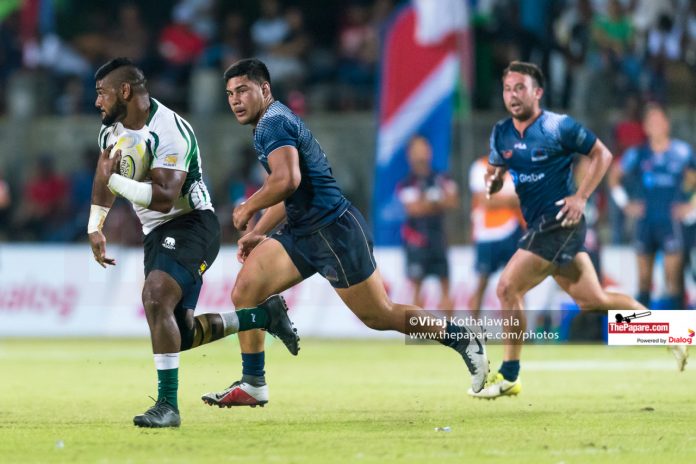 Sri Lanka Rugby (SLR) has appointed Omalka Gunarathna as the new Skipper of the Sri Lanka XV's team ahead of the Asia Rugby Championship Division 1 tournament which is scheduled to take place on 29th of this month.
At just 23 years old, the former Isipathana Skipper who was also the deputy-in-charge of the 2016 Asia U20 Sevens Cup Championship winning team, has now reached greater heights in his rugby career as the youngest Captain to lead Sri Lanka at an international tournament.
Read: New Captain to lead the Sri Lanka Presidents XV's
Gunarathna joined the Navy Sports Club as a school leaver and later switched to CR & FC where he acted as the Captain in the recently concluded Dialog Rugby League in the absence of the club's usual skipper Kavindu Perera. Later, in a post-league encounter, Gunarathna led the Colombo Origins team against a Roshan Weerarathna led Outstation Origin team in a selection National selections trial.
Read: Omalka's last-minute heroics go in vain
However, filling Weerarathna's boots as skipper in a tour to Malaysia earlier this month, Omalka displayed a few key attributes that is a must have for a good leader. Hence, SLR has opted to hand the privilege of captaincy to Gunarathna with the confidence that the young skipper has the capabilities of marshaling the Tuskers up front.
"I think Omalka has showed leadership and we will consider him as the captain for Asia Division I as well", stated the Chairman of Selectors Sri Lanka Rugby, Rohan Abeykoon.
Read: President's Tuskers too strong for the Barbarians
Omalka led the Sri Lanka Presidents XV's against the Malaysian Barbarians and managed to convincingly secure a victory, but fell short against the Malaysia National team in a close game. However, the Asia Rugby Championship will be a real tester for the newly appointed captain and a tournament the whole rugby fraternity will be looking forward to.