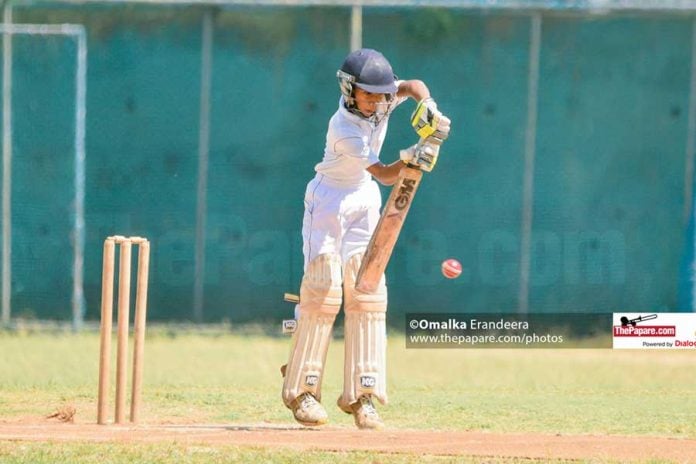 The 3rd and 4th Quarter finals of the Singer Schools U13 Division I Cricket Tournament were played on 19th January at Maliyadeva Grounds between St.Peters College, Colombo and Trinity College, Kandy while Royal College, Colombo took on Mahanama College, Colombo at Hanwella Rajasinghe Grounds.
St.Peters vs. College vs Trinity College, Kandy
Playing away from home grounds, the juniors from Bambalapitiya won the toss and opted to bat first against the Kandy lions. They managed to puts up a huge total on board for their first inning by scoring 259 runs for the loss of 7 wickets completing 85.4 overs. Chamindu Perera was the highest run scorer for St.Peters who scored 82 runs while Isira Ayupala scored a half century. It was a team effort all together as the others also contributed well with the bat with Nithesh Fernando scoring 27 runs, Anupa Garumanna 23 runs and Sarith Gallage scoring 21. Malith Rathnayake and Thisum Rajarathne of Trinity shared 2 wickets each between them with figures of 2 for 66 and 2 for 46 respectively.
Pahan Binara takes Prince of Wales to quarters!
Chasing the target with only a few overs left for the day the juniors from the Hill Capital managed to score 99 runs for the loss of just 2 wickets, completing 19 overs. Janith Ravishka scored 42 runs and Yevan Hulangamuwa scored an unbeaten 41 runs.
The match ended up draw while St.Peters won on bonus points and qualified to the Semi-Finals.
SINGER U13 DIVISION I TOURNAMENT 2018/19 – QUARTER FINALS

St. Peters College, Colombo 259/7 d (85.4): Chamindu Perera 82, Isira Ayupala 58, Nitesh Fernando 27, Anupa Garumanne 23, Sarith Gallage 21, Malith Rathnayake 2/66 Thisum Rajarathne 2/46

Vs

Trinity College, Kandy 99/2 (19): Janith Ravishka 42, Yevan Hulangamuwa 41*

MATCH DRAWN (ST PETERS WON ON BONUS POINTS & QUALIFIED TO SEMI FINALS)

1 Day 4-Innings Match At Maliyadeva Ground (Toss: Peters won & bat)

Match date : Jan 19, 2019
---
Royal College, Colombo vs Mahanama College, Colombo
The 4th Quarter finals of the Singer Schools U13 Division I Cricket Tournament between Royal College, Colombo and Mahanama College, Colombo was played at the Hanwella Rajasinghe Grounds. The match was a low scoring thriller where both teams couldn't reach a team total of 100 runs.
Prince of Wales Juniors into Semi Finals
The Mahanama College captain invited the Royal Juniors to bat first after winning the toss and managed to bowl them out for just 79 runs in 49.5 overs. Hiruna Hasarinda was the top scorer for Royal scoring only 20 runs. Duvindu Ranathuga grabbed 4 wickets for 17 runs while Chamika Jayananda chipped in with 3 wickets for 23 runs.
Even after scoring so low, the Royal Juniors didn't give up the fight when they managed to bowl the opposition out for just 71 runs in 38.3 overs and take the lead on the first inning.  Nethwin Dharmaraththne seized 4 wickets for 17 runs while Bulana Weerathunga took 3 wickets for 25 runs.
Massive score by the Mahanama Juniors
Batting their second innings Royal College scored 57 runs for no wickets in 9 overs when the match officials called it for the day. Ovin Abanpola notched 37 runs.
The match ended up a draw while Royal College, Colombo won the first innings point and went through to the Semi-Finals.
SINGER U13 DIVISION I TOURNAMENT 2018/19 – QUARTER FINALS

Royal College, Colombo 1st Inning 79 (49.5): Hiruna Hasarinda 20, Duvindu Ranathunga 4/17, Chamika Jayananda 3/23, Migara Ranasinghe 2/05 & 2nd Inning 57/0 (9): Ovina Abanpola 37

Vs

Mahanama College, Colombo 71 (38.3): Nethwin Dharmarathne 4/17, Bulana Weerathunga 3/25 

MATCH DRAWN (ROYAL WON FIRST INNINGS POINTS & QUALIFIED TO SEMI FINALS)

1 Day 4-Innings Match At Hanwella Rajasinghe Ground (Toss: Mahanama won & field)