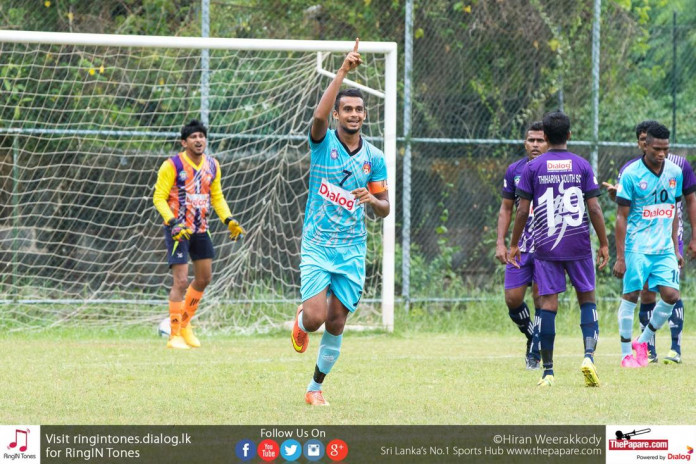 Renown SC put up a relentless display against a lacklustre Thihariya Youth SC as they hammered them by a 9-1 score line in a Dialog Champions League group B clash worked off at the Kelaniya Football Complex.
Renown took just 6 minutes to stamp their authority on the game as their early pressure paid off when skipper Mohamed Rifnaz volleyed home the opener off a Mohomed Fazal flick inside the box.
They didn't look back from that moment onwards as they piled on the misery on a clueless Thihariya outfit as Afam Akram latched on to a Job Micheal cross to double their advantage on the stroke of the 10th minute.
The charismatic striker came to life from that point onwards as Micheal combined with Fazal thrice in the 15th, 19th and 29th minutes respectively to complete a swift first half hat-trick leaving the visitors in disarray.
Photo Album – Renown SC vs Thihariya Youth SC | Group Stage | DCL16
The provider turned scorer as Fazal got his much deserved goal in the 33rd minute making the score line 6-0 as the goalkeeper fumbled the ball from a cross from the left, right onto the feet of Fazal.
Fazal went on to score his brace as he combined with his skipper Rifnaz in another scintillating counter attack to put the game beyond site in the 44th minute.
Half time – Thihariya Youth 0 – 7 Renown SC
With the game done and dusted both teams were going through the motions in the forty-five.
It was the hosts who drew first blood in the second half as Mmaduaburchci in the 68th minute beat substitute goalkeeper Danushka Rajapaksha on his near post to grab a much deserved goal.
Despite losing out on a much needed clean sheet, Renown didn't hold back as Rifnaz scored his brace in the 76th minute and Afam Akram added his second on the stroke of 92nd minute summing up an emphatic day for the lads from Kotahena.
Mohomed Fazal proved to be the clinical link between the Renown midfield and the forwards as he ran behind the Thihariya defense on countless occasions. He was talisman in launching the counter as Renown was brilliant in turning defense into attack.
Full time – Thihariya Youth 1 – 9 Renown SC
ThePapare.com Player of the Match: Mohomed Fazal (Renown SC)
Renown SC skipper Mohomed Rifnaz on their unbeaten run;
"We have been unbeaten this year except for that one defeat in the FA Cup final. We want to maintain this run going into the Super 8's and pile on the results as we did last year and go all the way."
Goal Scorers
Thihariya Youth – P.T. Mmaduaburchci 68'
Renown SC – Job Michael (15', 19' & 29'), Afam Akram (10' & 90+2'), Mohamed Fazal (33' & 44'), Mohamed Rifnaz (6' & 76')

Substitutions
Renown SC – Danushka Rajapaksha on Mohamed Uzman off (45'), Mohamed Humaid on Job Micheal off (69')
Thihariya Youth SC – Mohomed Arushan on Chanaka Hettiarachchi off (45'), Mohomed Ali on Mohomed Imran off (67')

Bookings
Thihariya Youth – Sanuka Madusanka 44', P.T.Mmaduaburuchci 52'
Renown SC – Mohamed Rizkhan, Mohamed Humaid 90'