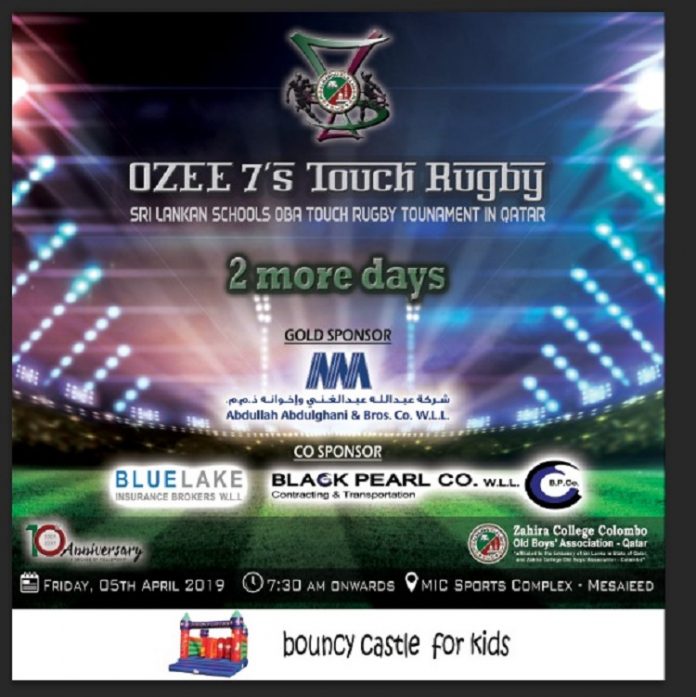 The much anticipated OZEE 7's Sri Lankan Schools' OBA Touch Rugby championship will be held on 05th April 2019 at MIC Sports Complex in Mesaieed, State of Qatar.
A total of 8 formidable teams have already been confirmed for the Fourth Edition of OZEE 7's Touch Rugby tournament and it is expected to be a fascinating rugby tournament as the popularity of the game has evolved over the past years among the Sri Lankans living in Qatar. OZEE 7's Touch rugby was the first ever Sri Lankan community Touch Rugby tournament to be held in Qatar in 2010 and since then OZEE has been phenomenal in touch rugby tournaments.
According to Murshid Ahmed the Project Chairman of OZEE 7's Touch Rugby, the main objective of this event is to create fellowship among the Sri Lankans living in Qatar. All the past editions of OZEE touch rugby witnessed the enthusiasm of the rugby lovers in Qatar and this year's event too is expected to be one of the best touch rugby tournaments in Qatar.
The event's main sponsor is Abdullah Abdulghani Co. W.L.L. which is one of the pioneers in automotive industry in Qatar and co-sponsors are M/s. Black Pearl Co. W.L.L and Blue Lake Insurance Brokers. The event is organized by Zahira College Colombo – Old Boys' Association Qatar, which was formed in 2009 to promote and to help educational facilities of underprivileged students and also for the foster social interaction among old boys of the college, as well as the Sri Lankan Community residing in Qatar. The association is affiliated with the Sri Lankan Embassy in Qatar.