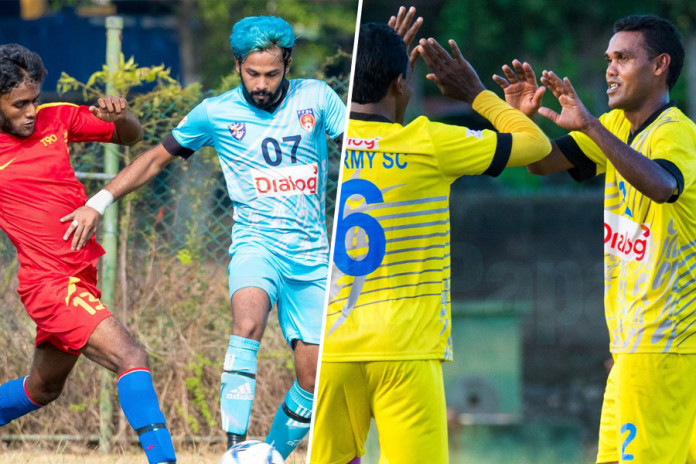 In lopsided FA Cup Round of 32 encounters, Negombo Youth and Army SC defeated Jet Liners and Easwaran SC 6-0 and 20-0 respectively.
In a fiercely contested match, Civil Security SC defeated Old Mazenodians SC 3-2 in a 2016/17…
Negombo Youth v Jet Liners SC
Negombo Youth, after a quiet first half, burst into a five goal 2nd half to win 6-0 against Jet Liners at the Kelaniya Football Complex.
From the onset the hosts Negombo Youth showed good communication and passing skills. The Jet Liners defence held on against the onslaught of the youthful forwards of Negombo Youth.
After the Jet Liners got their first shot on target, Negombo Youth broke their resistance when Harindra Peiris scored the opener in the 24th minute.
Half time – Negombo Youth 1 – 0 Jet Liners SC
After the disappointing first half where they missed a few chances, Negombo Youth came out all guns blazing with Peiris scoring his 2nd seven minutes into the 2nd half.
Priyankara Silva made it 3-0 in the 65th minute and a minute later Peiris completed his hat-trick with a neat finish.
Brian Weerappuli had a good game with the youngsters from midfield against a side which lacked the basics on that day. Jet Liners got into a few heated exchanges with the referee instigated by Sampath Pathirana. Pathirana's frustration was clearly evident, with Negombo Youth racking up the goals, which did not bode well with the team.   
The only shining light for Jet Liners was Kumara Perera who troubled the opposition defence and goalkeeper with his powerful shots and free-kicks.
Fresh legs provided late goals as Pradeep Fernando and Indika Suranga got on the score sheet.
Full time – Negombo Youth 6 – 0 Jet Liners SC
ThePapare.com Player of the Match – Harindra Peiris
Goal Scorers
Negombo Youth – Harindra Peiris 24', 52 & 66', Priyankara Silva 65', Pradeep Fernando 82', Indika Suranga 86'
---
Easwaran SC v Army SC
Reigning FA Cup Champions Army SC showed no mercy against Easwaran SC from Vavuniya as they went on a demolition derby at the Prison Grounds, Anuradhapura.
For Army, Sajith Kumara scored 8 and Mohamed Issadeen added 5. Bandara Warakagoda, Asikur Rahuman, Bandara, Mohamed Rimzan, Suchira Anurudda and Punsara Thiruna scored a goal each. There was also an own goal scored by Easwaran.