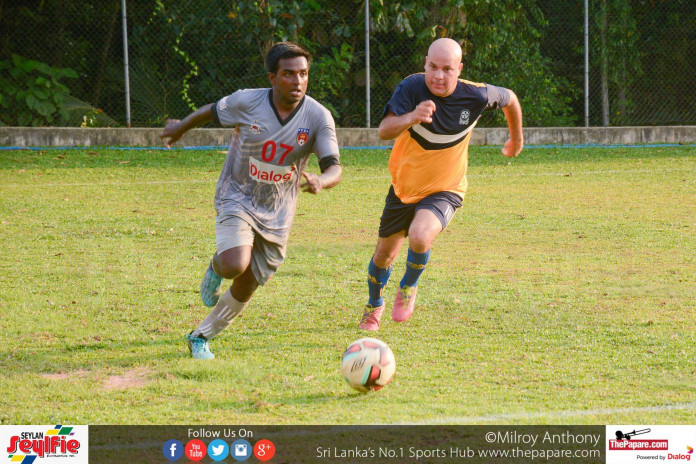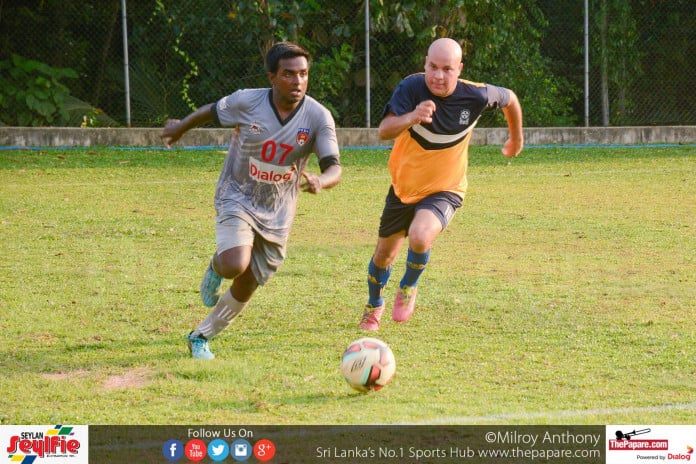 In a fiercely contested match, Civil Security SC defeated Old Mazenodians SC 3-2 in a 2016/17 FA Cup Round of 64 encounter at the De Mazenod College Grounds, Kandana.
Old Bens SC (Colombo FL) eased their way into 3rd round of the FA Cup by convincingly beating Sunshine SC (Divulapitiya FL) 3-1 in the 2nd round…
As the match began, the early pace was shown by the hosts when former Sri Lanka cap Kasun Jayasuriya scored the opening goal in the 4th minute.
Both sides had a rough few minutes thereafter where the referee was forced to dish out a couple of yellow cards.
As the game went on, with the Old Mazenodians missing chances, Civil Security SC came back strongly into the game to equalize just before half time through D.D.Weeramanthree.
Half time – Old Mazenodians SC 1 – 1 Civil Security SC
A few minutes after the start of the second half Charindu Sampath gave the visitors the lead with a wonderfully taken goal.
After failing numerous times, Old Mazenodians made it 2-2 when Supun Kumara scored their 2nd but the comeback was short lived as N.U.Madushanka retook the lead for good in the 78th minute for the visiting side.
Old Mazenodians tried their utmost but were unable to breach the strong Civil Security SC defense in the final 12 minutes.
Full time – Old Mazenodians SC 2 – 3 Civil Security SC
Speaking to ThePapare.com Civil Security SC Head Coach B.L.Priyanga Peiris;
"We had so many good players in our team. But, when they got opportunities from teams such as Police and Navy they all went there and joined. We had to play with the players who are currently with us but still we did well. Also, we lost so many matches before this match, and I am happy to come back strongly. We are probably expected play against Air Force in our next match and looking forward to try and win all of them."
Old Mazenodians SC Head Coach Luxman Cooray;
"Before the match we could not have a proper practice. That is the reason why certain players played without understanding among them where we missed so many match winning goal opportunities. We are prepared to play for Division I. Looking forward to do carryon with the hard practice to come on strong in future."
Goal Scorers


Old Mazenodians SC – Kasun Jayasuriya 4', Supun Kumara 73'

Civil Security SC – D.D.Weeramanthree40', Charindu Sampath 51', N.U.Madushanka 78'
Other Results

Up Country Lions 5 – 1 Gold Moon SC (Matale FL)

Old Bens SC 1 – 2 New Star SC

Negombo Youth 9 – 0 Green Light SC (Trincomalee FL)

Police SC 9 – 0 Liberty SC (Bandarawela FL)

Leo SC (Kurunegala FL) 2 – 0 Thihariya Youth SC

Sivanantha SC 0 – 3 Kirulapone Utd

Renown SC 3 – 0 Young Birds SC (Mulativu FL)