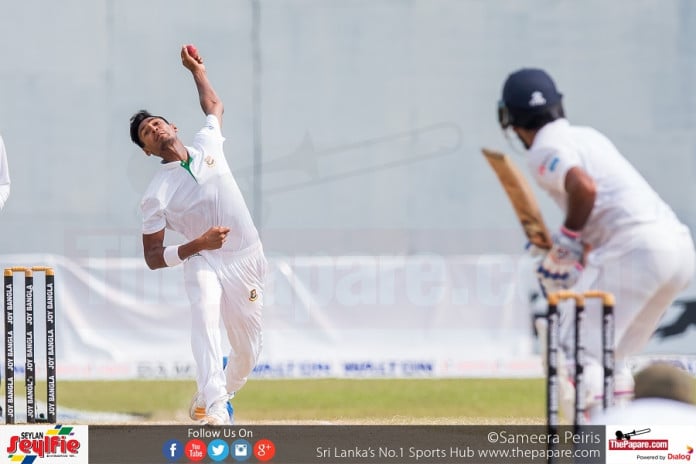 Dimuth Karunaratne reiterated the fact that Mustafizur Rahim's spell after lunch was the turning point in 2nd Test between Sri Lanka and Bangladesh at the P Sara Oval. Mustafizur was key in Bangladesh's performance on day 4 as he helped reduce the hosts from 131/1 to 190/6 at one point.
Mustafizur bowled 7 overs for 24 runs while also picking up the key wickets of Kusal Mendis, Dinesh Chandimal and Dhananjaya De Silva during that period, putting Bangladesh firmly on top in a game that was hanging in the balance until then.
The left arm quick was able to extract some movement from what had otherwise seemed like a harmless pitch throughout the Test, taking the ball away from the right handers.
"Even though the breeze was to the opposite direction, he was able to take the ball away from the off the pitch. That angle was a little difficult for the right-handers to handle. I spoke to each batsman who walked in and explained that this was his plan and that we should try and cover our stumps and leave the wider balls alone because we knew that his spell would last 4-5 overs." – Karunaratne
Mendis fell in controversial fashion when he was given out on review, despite there seemingly being insufficient evidence to overturn the on-field decision. Mustafizur Rahman bowled a peach of a delivery that looked to have gone past the batsman's outside edge, a belated appeal followed and Mushfiqur Rahim decided to review the on field call. He was rewarded when umpire Marais Erasmus had a long look and decided that there was in fact a noise as the ball went past the bat.
Speaking at the end of the day's play, Karunaratne seemed to think that it was Mendis' reaction that had led to the 3rd umpire overturning the on-field call, despite there being no tangible evidence of a nick with no 'Snicko' available for the series.
"I feel like the fact that he looked back, it may have changed the umpires mind because normally we look back if we felt something."
Mustafizur struck again not long after when he had 1st innings centurion Dinesh Chandimal chasing a wide one only to nick behind to a diving Rahim. This time it was loose shot from the batsman but nevertheless a reward for some excellent bowling.
He further strengthened Bangladesh's position when he had Dhananjaya De Silva fishing uncertainly outside the off stump. The batsman was caught in two minds as to whether he should play the ball or not and ended up giving Rahim a simple catch as Sri Lanka fell to 177/5.
Speaking on the two dismissals, Karunaratne said, "I don't think we understood what to do at that moment. Because the wicket seemed good, we tried to continue with the same rhythm we had maintained in the morning session."
Karunaratne went on to say that the pitch still did not seem to be doing too much and that Sri Lanka would have to build a lead of  200 plus  if they are to have any chance in this Test.