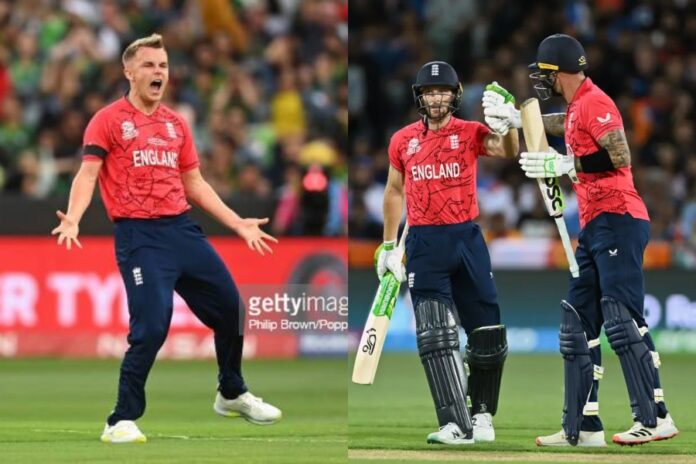 Sam Curran starred with the ball as England managed to restrict Pakistan to just 137, before Ben Stokes once again anchored a nervy chase to take England to the ICC men's T20 World Cup title.
Curran, named both Player of the Final and Player of the Tournament award, picked up 3 wickets for 11 runs with the ball, effectively turning the game in England's favour at the half-way mark. The left-armer's spell included 15 dot balls as Pakistan struggled to get their innings going.
At no stage did the men in green look to be ahead of the game with the bat, losing wickets at regular intervals and struggling to come to terms with the quality being dished up by the Englishmen.
Adil Rashid was as good as Curran, despite not featuring as much in the wickets column, finishing with 2/22 including a wicket maiden that helped stall the Pakistani innings just when they were threatening to get going.
Shan Masood was the top-scorer for Pakistan with 38, but a total of 137 always looked slightly below-par, especially given England's batting depth.
Babar Azam's men gave it all they could with the ball, however, as they have all tournament. Shaheen Afridi started in customary fashion with a wicket in the 1st over, getting rid of the dangerous Alex Hales, who has looked in ominous form over the last couple of games.
Pakistan kept things tight with Haris Rauf also coming to the party, but with just 137 to defend it was going to take a massive collapse from England to give them the win. The collapse never came, and it was that man Ben Stokes who remained there in the end, the steady hand behind another nervy chase. The all-rounder finished with 52 off 49 to go with his 1/32 with the ball.
With the win, England are now current holders of both the ODI and T20I world titles, the first instance of such an occurrence in the men's game.


Batsmen
R
B
4s
6s
SR
Mohammad Rizwan
b Sam Curran
15
14
0
1
107.14
Babar Azam
c & b Adil Rashid
32
28
2
0
114.29
Mohammad Haris
c Ben Stokes b Adil Rashid
8
12
1
0
66.67
Shan Masood
c Liam Livingstone b Sam Curran
38
28
2
1
135.71
Iftikhar Ahmed
c Jos Buttler b Ben Stokes
0
6
0
0
0.00
Shadab Khan
c Chris Woakes b Chris Jordan
20
14
2
0
142.86
Mohammad Nawaz
c Liam Livingstone b Sam Curran
5
7
0
0
71.43
Mohammad Wasim Jnr
c Liam Livingstone b Chris Jordan
4
8
0
0
50.00
Shaheen Shah Afridi
not out
5
3
1
0
166.67
Haris Rauf
not out
1
1
0
0
100.00
| | |
| --- | --- |
| Extras | 9 (b 1 , lb 1 , nb 1, w 6, pen 0) |
| Total | 137/8 (20 Overs, RR: 6.85) |
| Bowling | O | M | R | W | Econ |
| --- | --- | --- | --- | --- | --- |
| Ben Stokes | 4 | 0 | 32 | 1 | 8.00 |
| Chris Woakes | 3 | 0 | 26 | 0 | 8.67 |
| Sam Curran | 4 | 0 | 12 | 3 | 3.00 |
| Adil Rashid | 4 | 1 | 22 | 2 | 5.50 |
| Chris Jordan | 4 | 0 | 27 | 2 | 6.75 |
| Liam Livingstone | 1 | 0 | 16 | 0 | 16.00 |


Batsmen
R
B
4s
6s
SR
Jos Buttler
c Mohammad Rizwan b Haris Rauf
26
17
3
1
152.94
Alex Hales
b Shaheen Shah Afridi
1
2
0
0
50.00
Phil Salt
c Iftikhar Ahmed b Haris Rauf
10
9
2
0
111.11
Ben Stokes
not out
52
49
5
1
106.12
Harry Brook
c Shaheen Shah Afridi b Shadab Khan
20
23
1
0
86.96
Moeen Ali
b Mohammad Wasim Jnr
19
12
3
0
158.33
Liam Livingstone
not out
1
2
0
0
50.00
| | |
| --- | --- |
| Extras | 9 (b 0 , lb 1 , nb 0, w 8, pen 0) |
| Total | 138/5 (19 Overs, RR: 7.26) |
| Bowling | O | M | R | W | Econ |
| --- | --- | --- | --- | --- | --- |
| Shaheen Shah Afridi | 2.1 | 0 | 13 | 1 | 6.19 |
| Naseem Shah | 4 | 0 | 30 | 0 | 7.50 |
| Haris Rauf | 4 | 0 | 23 | 2 | 5.75 |
| Shadab Khan | 4 | 0 | 20 | 1 | 5.00 |
| Mohammad Wasim Jnr | 4 | 0 | 38 | 1 | 9.50 |
| Iftikhar Ahmed | 0.5 | 0 | 13 | 0 | 26.00 |